A trial started 18 months ago is looking at technology that has the potential to monitor safe social distancing, says Stewart Milne's Stewart Dalgarno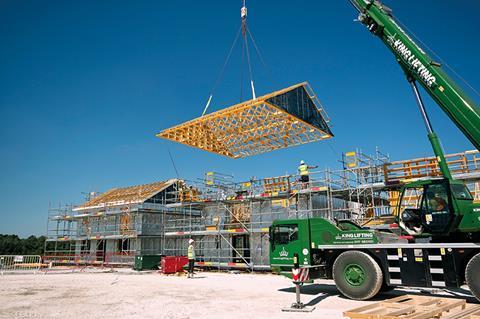 The global coronavirus pandemic will have a wide-reaching impact on us all. It is difficult to see how any industrial sector will come through this unscathed and without re-examining how to do things differently. What will be important is that we emerge stronger and more resilient, and open to new and innovative ways of working.
As more of the housebuilding industry returns to work, sites re-open, and companies re-examine their business strategies and models, it will become even more important to embrace new technologies and processes to ensure the restart and development of the sector is done in such a way that it can thrive in the long term.
Given that many construction sites have been on pause, efficient delivery will be vital as the industry gets back up to speed. Particularly as the demand for more high quality, cost-effective housing, that can be quickly and efficiently built, has never been more acute.
During this health crisis, our homes have provided a safe haven, a place to work and, for many, a place of education. The need to deliver more homes, quickly and cost effectively, will be essential in tackling the UK housing crisis. But it is vital that we are not simply back building, and instead building better homes.
Key to this will be the ability to embrace modern methods of construction (MMC), such as panelised offsite construction systems and lean construction, in a more integrated way, capitalising on digital technologies and advanced manufacturing.
The Advanced Industrialised Methods for the Construction of Homes (AIMCH) project started 18 months ago to trial solutions that could help to tackle the housing crisis by mainstreaming the use of these methods and lean technologies.
At that time, the consortium set out to transform how the industry builds homes to meet current and future demands. Today we are almost halfway through the three-year project and, more than ever, we are convinced that modern methods of construction, such as offsite panelised systems and digital working, offer unrivalled benefits.
Getting back to work
The fast delivery of much-needed housing is critical. However most construction sites will continue to face operational restrictions.
With a smaller labour resource onsite and the potential reduction in the supply of materials, coupled with the physical challenges of getting them onsite and maintaining social distancing safety measures, it will be some time before productivity is at the level it was pre-lockdown, never mind the level it needs to be at to tackle the housing crisis.
So offsite panelised construction offers a way forward and a viable solution. It is less labour intensive, with fewer personnel on site compared with traditional building methods.
As part of the AIMCH project pre covid-19, partners have been undertaking productivity measurement studies, using time and motion and more innovative blue-tooth enabled tracking of operatives to monitor site efficiency of traditional and MMC systems. This technology has the potential to monitor safe social distancing, providing useful data on worker compliance and site operating guidelines.
Bringing panelised offsite systems on to sites can also aid a quicker and more efficient delivery of homes, and AIMCH has been assessing the benefits of standardisation.
Through research studies, the partners are now developing a suite of standardised product families, that can be configured and used within future housing pattern books. They provide digitally enabled, efficient and cost-effective home designs that can be built fast to higher quality standards and with less labour input. Homes can then be externally finished using conventional materials, to provide robust, durable and beautiful homes and to suit any planning or aesthetic requirement.
Modern methods of construction, such as offsite panelised building systems, help business to recover through securing a more integrated and robust supply chain, by adopting a manufacturing led approach, which can be scaled up quickly to meet demand.
The AIMCH project has utilised automotive learning from around the world to develop advanced manufacturing approaches, such as simulation, to build a model of the "future offsite factory", where digital technology and automation such as robotics drives productivity, lowering production costs and increasing capacity.
The AIMCH solution will help to attract new talent with digital, logistics, engineering, design, robotics and project management skills, thus making the sector more appealing to a wider pool of employees
The mathematical model and simulation program under development will enable robust assessment and validation of future MMC investments, which will be crucial as the industry, housebuilders and businesses reset, recover and re-plan for the future during these uncertain economic times.
Through industrialising housing and embracing modern methods of construction, the AIMCH solution will help to attract new talent with digital, logistics, engineering, design, robotics and project management skills, thus making the sector more appealing to a wider pool of employees.
With more automation in a factory setting, digital working, integrated supply chains, lean construction assembly and with staff collaborating with onsite teams, the greater efficiencies achieved will support the construction of the additional 120,000 homes that are needed each year to address the housing shortage. That is a challenge that the housebuilding sector simply cannot meet using traditional construction methods alone.
Offering integrated supply chain solutions, increased efficiencies, greater collaboration, increased productivity and commercially competitive mainstream offsite panelised construction methods, the AIMCH project has a significant role to play in the recovery. Offsite construction can become the new normal in the sector.
Stewart Dalgarno is the AIMCH project director and director of product development at Stewart Milne Group