The UK can create a role for itself to help countries across the world to improve how they build. If we don't, that prize will go to someone else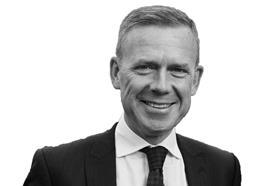 Having largely missed the huge productivity gains seen in other industries in the past 40 years, the global construction sector is now finally waking up the transformative impact of the next generation of construction technology and innovation. One of the reasons why it has been slower than most is the way in which construction adopts new innovations. In some industries, new ideas and techniques can quickly become global. Once you've introduced a new type of phone in one market, it's relatively easy to do so in another.
On BIM we are already seeing huge demand for British expertise overseas
New ideas in construction spread much more slowly – or at least they have done so far. Every country has its own regulations, labour market issues and materials constraints. Low margins and high-risk projects make it harder to build a business case for innovation, and so risk-averse clients are happy to ignore new developments and build every project in the same way they built their last one.
The reality is that in many countries the local construction industry is just not yet mature enough to take advantage of a lot of new technology, processes and methodologies without help and input from consultants who have mastered them elsewhere. For those of us working to deliver infrastructure programmes and construction projects globally, this can be frustrating; but it also represents a huge opportunity.
The UK is leading the way on much of this innovation and our industry transforms itself we have a chance to help others do the same.
On BIM, for example, we are already seeing huge demand for British expertise overseas. Our government's timely and impactful BIM mandate has meant that we have some of the most advanced government construction clients in the world, with digitised portfolios and a requirement to deliver BIM on their projects and programmes. In turn, this has forced almost every UK contractor and consultant to put the pens and paper down and digitise, familiarising themselves with the benefits and opportunities on offer from BIM in the process.
The result is that the UK has emerged as a global leader in the field. In Peru, for example, the UK project delivery team for the Lima 2019 Pan-American Games – led by the Department for International Trade (DIT), and supported by Mace, Arup and 4Global – introduced BIM on the delivery of the venue infrastructure. Alongside ensuring smooth project delivery on time and under budget, the programme helped to drive adoption in the wider local construction market and left a positive post-Games legacy.
The DIT has identified a huge opportunity and has rightly jumped on it. They are leading an initiative to explore how UK consultants can leverage our particular expertise in BIM to help transform international project delivery – and as a result, help out clients to build better cities and communities.
Alongside a wider programme of promoting British engineering and construction expertise all over the world – backed up by support and financing from UK Export Finance – that effort has the potential to put the UK in the forefront of global project delivery.
This isn't just about delivering individual projects more effectively. The UK can create a role for itself to help countries across the world to improve how they build. We see the DIT's programme as a key opportunity to engage at a government and policy level to support developed and developing countries to accelerate their own digital mandates.
With Brexit on the horizon, we need to ensure that our sector is in the right shape to go out, identify opportunities and be ready to promote British expertise all over the world. If we don't, we're going to miss out. We must be conscious that our competitors are not standing still. We are not the only experts in BIM technology and process. From the Nordics to Singapore and Hong Kong, data-driven digital construction is taking great strides forward with their data. American consultants have decades of experience selling their expertise across the globe, and our Chinese competitors are being driven forward by a global infrastructure investment programme on a vast scale.
Government support can only do so much and open so many doors. British businesses need to make sure that they are able to compete with the rest of the pack. That means being ambitious, leveraging the connections and experience you've got and making sure you're quick to adopt new international standards. It also means British companies being better at working together to win work and deliver projects. As project managers, designers and engineers, firms can help each other to win work, benefiting everyone and helping to promote UK expertise even further.
The competition will not wait for us if we don't move quickly, and if we fail to effectively leverage our position we will soon be well behind our competitors. With the right support from government and the right drive and attitude from industry, we could put British expertise at the heart of every global programme and construction project, generating huge revenues for the UK economy and helping to ensure better project delivery all over the world.
If we don't, that prize will go to someone else.
Jason Millett is chief operating officer for consultancy at Mace