An industry titan has gone
Forget whether hospitals will get cleaned or prisoners locked up every night, for construction Carillion going bust, confirmed in a statement to the Stock Exchange this morning at 7am, is a disaster.
A disaster for subcontractors who face being out of pocket and a disaster for the industry as a whole: this is not some middle of the road contractor. This is one of the most famous names in the business, with a heritage stretching back to the early 1900s, a blue chip contractor that mixed it in the FTSE 100 index when it was known as Tarmac. It was once one of this country's biggest firms, nevermind one of its biggest builders.
The present day Carillion – it was spun out of Tarmac in 1999 and got its name from a London firm of brand consultants – has all sorts of government contracts and for many its problems are a verdict on the Private Finance Initiative itself – the method of building new public projects like schools and hospitals set up by John Major's government but one accelerated by Tony Blair's successor – and how private firms should never be trusted to run public sector contracts. One headline even had Carillion down as the company that runs Britain which is stretching it a little but sympathy for the firm – and its 40,000 odd staff – is in short supply. The fat cats getting their just desserts seems to the sum of some commentary.
The industry will know the firm better – when it was a builder and before it started getting all funky and picking up a ton of support services work. For construction, the second biggest builder going to the wall, reduced to getting out the begging bowl by a mountain of debt and pension deficits, will be the biggest shock in a generation.
Construction tends to make the national news for the wrong reasons: the last time a firm in this industry garnered so much national media attention was when Multiplex was mired in problems rebuilding Wembley stadium. That was a dozen years ago.
For the construction industry, Carillion's collapse eclipses the shock back in 2000 when John Laing said it was selling its construction arm because, in short, the Laing family had had enough of watching the once blue riband contractor – this firm built the M1, its alumni reads like a who's who in construction – bleed money.
Laing was one of the few building companies that transcended its industry. Wimpey was another, Tarmac another. In the mid 1990s Wimpey was picked up by Tarmac, the construction and aggregates business headed by the charismatic Neville Simms who had been at the business since the 1970s.
Thanks to the current crisis, the world and his wife knows the firm had been due to build parts of the HS2 railway. It has done other things, though: Building's office is a stone's throw away from the Tate Modern, the art gallery hailed as revolutionising the way such complexes operate today. Who turned this former power station on the banks of the river Thames into what it is today? Carillion-owned Schal. Simms, by then Sir Neville, was pictured with the Queen at its opening.
Carillion also helped build one of the country's first brand new motorways in years – the M6 Toll which opened in 2003. It was part of a team called Cambba – the other members were Balfour Beatty, Amec and Alfred McAlpine.
Of that group, only Balfour Beatty seems to be relatively stable – and it too was haemorrhaging millions of pounds not so long ago; Carillion has now gone into liquidation, while Amec pulled out of contracting altogether – dragged down by a slew of endless loss-making jobs relating to its construction business – to concentrate instead on engineering work in the oil and gas industries, eventually flogging its construction business to Morgan Sindall back in 2007. And Alfred McAlpine? Historically a road builder that later fancied itself as a support services business so much it ended up with such a listing on the Stock Exchange, it was bought by Carillion in 2008.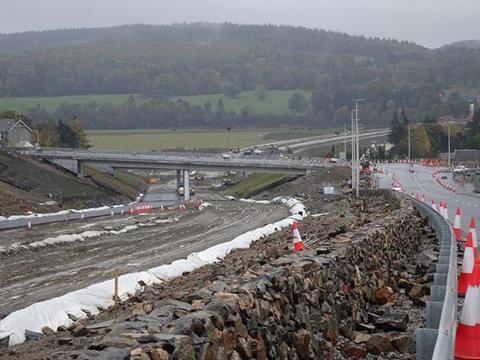 Is contracting worth it? In Carillion's case, no: at Friday's Stock Market close, when it was still trading, the firm was worth £14m less than the £75m Liverpool – another of its famous clients, having worked with the club for years – shelled out for a defender a couple of weeks ago, a Dutchman called Virgil van Dijk.
Here's a bit of history: Laing pulled the plug on construction not just because of the disaster unfolding on its loss-making Millennium stadium job in Cardiff but because of a rather less glamorous scheme called the National Physical Laboratory in west London. A PFI job, it was supposed to be a sure thing. But it wasn't: it proved almost impossible to build so complex were its technical specifications and the weekly penalty charges it ended up paying were eye-wateringly high. The government had to bring in Bechtel, the go-to US firm at the time, to help finish it off.
It's no coincidence that the UK jobs that had been giving Carillion the most grief – a road job in Aberdeen and two hospital schemes in Liverpool and the West Midlands – are all PFI jobs. They're not quite the quick road to easy profits some like to think.
Now Carillion has gone, people will want to know why, point to a date when it all started heading south. There's no doubt the firm changed course when Simms left and was replaced in 2000 by John McDonough, a former vice president of FM at US firm Johnson Controls, the company set up after its founder invented the first electric room thermostat. Such was the relentless focus on support services at the time – it bought Mowlem in 2006 for its support services contracts in particular its work for BT – it was sometimes a job to remember that Carillion still had a construction listing and built things rather than just cleaned offices and washed hospital bedlinen. At results presentations during that time, construction director Roger Robinson, who spent 20 years at the firm before leaving in 2009, turned up but most of the talking was done by McDonough and its then finance director Chris Girling. Contracting was playing second fiddle to the new kid on the block.
Talk to industry veterans, ones who used to work for the firm, and they will say Carillion flip flopped from between wanting to be a support services firm that also did building work – muddy boots have always been less glamorous to those in the City – and one that a few years ago decided it wanted to be a bit more of a builder again with recent schemes including the media centre at the 2012 Olympic Games and its work helping turn Battersea power station in London into a vast residential complex. In short, it was falling between two stools.
It's not only the firm's employees who must be in despair at this morning's news, Carillion's army of subcontractors and suppliers must be beside themselves with worry. Some will face ruin as a result.
And a penny for the thoughts of the highly-regarded Andrew Davies. No doubt he was been part of the high-level meetings that have taken place these past few days to try and stave off collapse. He was probably expecting a tough time of it but this?
It seemed a coup when Carillion persuaded him last autumn to leave the safe environs of Wates – a private contractor without the national profile Carillion has acquired in recent weeks – and join the firm. The chance to save a famous old name no doubt proving too much to resist, he was due to start as chief executive at the beginning of April and the joke in the industry was would Carillion actually be around by the time he moved in? Last month, Carillion said he would be arriving 10 weeks early in what seemed a morale boost for staff as they headed off for their Christmas breaks. He was due to start his new role in a week's time. Today he's out of a job before he's even begun.
Postscript
This story has been updated since it first appeared on 13 January