Vivalda Group's Ben Jayes thinks the UK construction industry's lack of supply chain and management skills could be the Achilles' Heel of the fast-growing off-site fabrication market.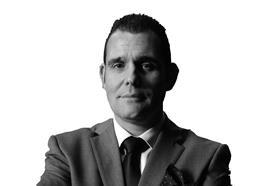 Seen by many industry commentators as a great way to satisfy the UK's chronic housing shortage, the opportunities created by off-site or modular housing are significant. Given the lack of skilled labour and our industry's historically poor productivity levels, modular housing is steeped in expectation. Indeed, underlining the importance of modular construction to the economy, back in November the Treasury confirmed that it will favour off-site construction for all publicly funded projects after 2019.
This is hugely exciting for the UK construction sector, but while many in the industry are reaching for the stars, others may be tripping in the mud and falling flat. While most big manufacturers are up to speed with the demands of off-site construction, there are significant numbers of suppliers further down the supply chain with no idea how to engage with a just-in-time production line. Crucially, this is at the centre of the modular building sector. And we all know the adage that a supply chain is only as strong as its weakest link.
In our experience, there are three vital operational areas that suppliers need to consider before jumping into the deep end of the off-site construction market; logistics, customer interface and finance.
It might seem obvious, but the logistical demands of supplying high precision performance cladding, for example, manufactured at one of our productions sites, to a major modular housing project are very different from the average construction site. The supply chain ethos adopted on most off-site construction projects is similar an automotive plant – where parts are required at specific times and in specific quantities. It's not simply a case of dropping off the products at the site gates. Product needs to be delivered at a certain time, quality checked and then made ready for its slot within the assembly process.
Also, presenting products in the correct order can be vital – so approved packing and synchronous delivery is a major consideration.
Many smaller suppliers will need to plan their logistics in much greater detail than they have ever before. This could mean extra training, bringing in skilled logisticians or employing reputable third-party logistics providers (3PLS).
Customer interface is another key area where unwary suppliers could come unstuck in the new world of off-site construction. Good modular construction lives and dies on the quality of communication and systems beween customer and supplier. It's about simple processes such as proof of delivery notes that are reliable, accurate and integrated into both parties' systems. In the case of traditional construction sites, if a consignment of tiles or cladding is delivered and signed for, this can be double checked with a phone call or email to the site. However, when modular construction projects ramp up production, there's no room for this type of error. Delivery reporting systems need to be slick and fail safe.
Finally, many smaller, privately owned construction suppliers will need to check out their headroom when it comes to credit before committing to an off-site contract. While new business is always enticing, it's important to consider credit limits from both the supplier's and customer's perspective. Firstly, suppliers need to ensure they have the facility to buy materials to cover the duration of the project in question. It is also important to ensure that suppliers check that their customer's credit limit is adequate, so that an unexpected 'credit celling' is not reached halfway through the project!
Off-site construction offers a great opportunity for the industry to transform its productivity, produce better margins and provide much needed housing stock. However, for the unwary supplier, this opportunity could turn into disaster without careful planning.
Postscript
Ben Jayes is managing director at Vivalda Group