Angela Brady is director of Brady Mallalieu Architects and was RIBA president from September 2011-2013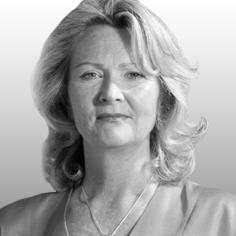 Angela Brady qualified as an architect in London 1984 where she worked for GMW and SEH. She then set up in private practice Brady Mallalieu Architects with Robin Mallalieu in 1987, which is an award winning practice specialising in contemporary sustainable design.
Angela has worked with RIBA education for 15 years and was a RIBA validation inspector. She was external examiner at the Mackintosh, Brighton, and Dublin schools of architecture. She is an guest critic at many universities including London Metropolitan University (also designed by BMA) where she is also involved with the mentoring scheme and the returner's course, to encourage people back in to the workforce following a career break
Angela has been active in creating and delivering architectural design workshops in schools for 15 years, inspiring kids about our sustainable built environment. She has designed workshops with RIBA, RIAI, Architecture Centres Network, Building Exploratory Hackney, Open City, Galleries and Museums in Dublin and London, promoting architecture to the kids and the public. She led Shelter architect in the house Dublin in 2009
Angela is part of the team that set up RIBA 'Architects for Change' 13 years ago and chaired Women In Architecture for five years. She was one of the instigators and curated the world tour of DiverseCity which has been to 34 cities around the world promoting diversity of people in our profession and has set up a European network of women architects including Dublin China Sydney Auckland USA and 6 cities in Europe. Angela is an Ambassador for the Government Equality Office, a STEMnet Ambassador volunteer teaching school children about design and a British Council Ambassador for innovation and design in Vietnam following recent visits to make long term contacts
She is an active campaigner for quality sustainable design and is passionate about contributing to a better understanding of architecture by the general public and promoting community and public engagement with architectural projects. She campaigns for saving Historic Buildings such as Ancoats dispensary and Modernist Brutalist buildings such as Preston Bus station. She gives talks on the importance of Heritage in relation to History Culture and Identity and was keynote speaker in MIPIM 2012
Recent roles; President of RIBA, vice chair of Civic Trust Awards; CABE Enabler; council member of RIAI and chair RIAI London Forum; British Council W@W leader; DiverseCity curator; guest critic London Met.; and external examiner Mackintosh; WIA committee.; mentor. STEM net ambassador; speaker for international women in architecture: London, Dublin, Paris, Hamburg Linz and Athens.
Past roles: Design champion of London Development Agency Board; member of the CABE/English Heritage Urban Panel, trustee director of the Building Exploratory Hackney; external examiner Macintosh, Brighton University and Bolton St Dublin schools of architecture; chair of Women in Architecture; RIBA 'Architects For Change' committee