You thought the silly season was in August? Well, this week, a Formula One racing driver performs donuts on top of the Burj Al Arab, Mace's buildings grow moustaches and one architect creates a cyborg pumpkin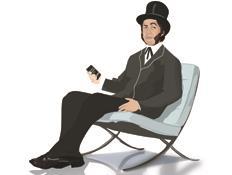 High jinks
What do you get when you combine a Formula One racing car, motorsport's most square-jawed man David Coulthard and the helipad on top of the 210m Atkins-designed Burj Al Arab tower in Dubai? A dramatic stunt, that's what. Last week, Coulthard performed "donut" manoeuvres at said heart-thudding altitude in a Red Bull Formula One racing car. Coulthard said afterwards: "That was a lot of fun." Atkins returned to its celebrated building with a team of engineers to test the structural integrity of the helipad before the stunt, as 210m is a long way to fall, in a racing car or otherwise.
Playing to the crowd
Government planning minister Nick "shoot me if I'm planning minister after the next election" Boles wants housing developers to build more bungalows. He told the Politicians in Planning Association conference last week that opinion polls showed people love bungalows. He said most pensioners want to "end their days" in a bungalow. Boles, who has portrayed himself as a defender of the countryside, conceded that a programme of bungalow building would require councils to open up more land for development. But he suggested people would be less likely to oppose bungalow developments due to their popularity. Could this finally herald a big Tory housebuilding push? No doubt it helps that a one-storey focus will likely go down well with Tory voters, who tend to be older.
Not so sweet
My team would like to thank recruitment consultant Holtby Turner for their gift of a selection of Halloween-themed cupcakes, made by upmarket bakers Konditor & Cook. The cakes sported a selection of Halloween-inspired designs, including spiders, ghosts and black cats. Unnervingly two of my staff were found fighting over the tombstone cake - there's clearly a darker side to Building …
Lip service
It's that time of year again - wisps of unkempt facial hair are starting to appear above the upper lips of construction's males. It's Movember, the month when many gentlemen - even some who really shouldn't - grow moustaches to raise awareness of prostate cancer. This year even under-construction buildings are getting in on the act. Mace has erected large multi-coloured moustaches on several of its buildings, including 30 storeys up on London's South Bank Tower. Email your Movember efforts to hansom@ubm.com or tweet @JosephHansom.
What a carve up!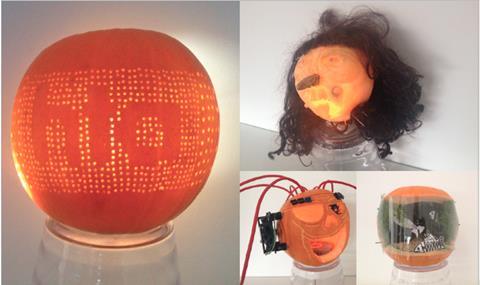 Architecture practice HTA Design held its annual pumpkin carving competition to celebrate Halloween, with variable results. The clear winner was the studio's IT manager Paul Leask, who cannibalised parts from broken down electronic equipment to create a kind of cyborg pumpkin (bottom middle). Other efforts were impressively terrifying (-ly bad, top right), disco-ball-like (left) or pleasingly surreal (bottom right). Managing partner Ben Derbyshire said: "Last year was more architectural, whereas this year was more allegorical. As a multidisciplinary team we were delighted IT won."
Send any juicy industry gossip to hansom@ubm.com