News from contracting's big beasts, an estate agent's imaginative reworking of geography, Washington is taken down a peg or two (as is a former RIBA president) - plus, it's true, our readers really are getting younger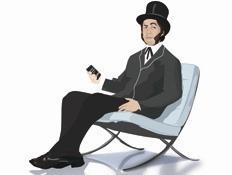 The Special One
News from the City, and the contrasting fortunes of two of contracting's big beasts - Galliford Try and Balfour Beatty. In conversation with analysts last week, outgoing Galliford Try chief executive Greg Fitzgerald apparently bemoaned the difficulties of hiring in the housebuilding sector, compared with contracting. I'm told he complained the problem was that there "hadn't been a Balfour Beatty" in housing - that is, a firm on a run of bad news prompting talented staff to move to rivals. Meanwhile, at said Balfour Beatty, the new broom Leo Quinn went on a charm offensive with selected analysts the week before. Kevin Cammack of Cenkos subsequently noted: "The man certainly lacks for nothing in the self-confidence stakes and forthwith I will refer to Leo Quinn as the Mourinho of the construction sector." I think that one could stick.
Smaller than you'd think
My American relative, Uncle Sam Hansom, wrote me a worried letter last week. It seems that one of his country's most revered icons, the Washington Monument, has shrunk - albeit not by much. Surveyors measuring the obelisk discovered that its height - 554ft, 7 and 11/32 inches, that's about 169m to you and me - is nearly 10 inches lower than when it was built in 1885. Apparently the elements are responsible for the "shrinkage". No rude jokes at the back there!
Spanking new basement
More concrete excitement to report. Last week, Evans Concrete Products got me hot under the hi-vis with its news that Fifty Shades of Grey has a subliminal message about concrete. This week, I was looking out of Building's splendid new offices at 240 Blackfriars, when I realised that a giant concrete pour was taking place next door at One Blackfriars - a record, no less, according to Laing O'Rourke, which poured 3,200m3 of the grey stuff over 24 hours. From our vantage point I can certainly see there will be lots of basement space for any millionaire Christian Grey-types moving in over the road.
Not so close encounters
"Close to one of the world's leading financial districts … one of the most cosmopolitan areas of London … cultural attractions right on your doorstep …" Flowers Way sounds like just the sort of street I should be living on. However, closer scrutiny of this property ad from estates agents
Re/max reveals the street is not actually in London - it's in Luton, a not insignificant 30 miles from the capital. The agents, who have since apologised for a "typographical error", say they market properties off-plan to Chinese and Malaysian investors. Any buyers who have completed might want to check the address on Google Maps.
Hoist by his own petard
George Ferguson, former president of the Royal Institution of British Architects and now independent Bristol mayor, was the architect of his own embarrassment last week, after it emerged he was caught by a mobile speed camera doing 35mph in a 30mph zone in the city recently. Critics took much glee in pointing out that Ferguson has spent £2.3m of taxpayers' money imposing a 20mph speed limit across his city - only to be prosecuted for speeding himself. Ferguson, presumably as red-faced as his famous red trousers, said he would pay the £100 fine immediately. At the time of Bristol's speed limit rollout, Ferguson said: "We realise that the change in speed limit will take a little getting used to …" Indeed.
Get 'em young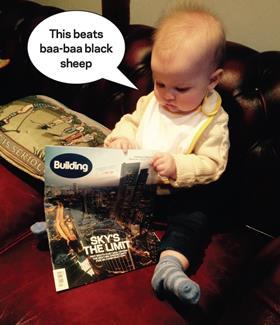 With the construction recovery now in full swing, barely a week goes by without an analyst, economist or chief executive bemoaning the lack of young folk being attracted into the industry. So it is heartening to receive correspondence indicating the next generation is indeed taking an interest in all things construction. David Faint, director and co-founder of Essex-based contractor Quadrillion Construction, has sent us this picture of his grandson Freddie Faint thumbing through a copy of Building. Talk about catching apprentices early!

Send any juicy industry gossip to hansom@ubm.com