The slow take-up of the Green Deal is down to a lack of understanding, not a lack of companies able to provide the right services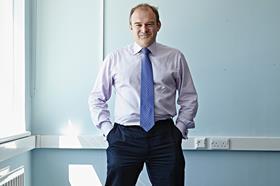 I was left utterly shocked and frankly disappointed after reading your interview with Ed Davey (Am I bullish? You bet I am, page 34, 2 August).
Instead of addressing the major issue of the slow take-up of the government's energy efficiency schemes, Mr Davey had the audacity to pass the blame onto external wall insulation (EWI) system providers for not being able to cater for demand: "The demand for Green Deal, which people thought would be a problem, isn't proving a problem, but the supply for some things that people are wanting is not there… We're not seeing enough people out there offering solid wall insulation."
As a company, Wetherby is the leading EWI system manufacturer in the UK and last year invested heavily in gearing up for the rush of projects expected once Green Deal and ECO launched (not least by developing a purpose-designed training facility to ensure there are enough skilled installers to cater for the demand) - but that rush simply never came.
Solid wall insulation manufacturers along with the dozens of installers on their books have been ready and waiting for the work to kick in for months, but the projects are simply not being awarded.
If our so-called "greenest ever government" wants to increase uptake of solid wall installation, and indeed other energy efficient measures that can be installed under Green Deal and ECO schemes, then perhaps it needs to address the fundamental problem surrounding these schemes - a massive lack of understanding. These initiatives have been launched without effective communication to either those in the industry or consumers and uptake will simply not increase until clarification is provided.
Anne-Marie Armstrong, marketing director, Wetherby Building Systems