It was perhaps more boot camp than Raging Bull, but Building's Boxing Day charity event to raise funds for the Boxing Academy was nonetheless a gruelling test of strength, stamina and physical fitness for six of the industry's heavyweights (and a Building super flyweight).
It's a dark December afternoon in London's East End and the grey cloud cover seems to bleed into the urban skyline. Beneath the gloom in a basement down a Hackney side street, seven construction professionals are leaning against the ropes on the inside of a boxing ring, all doing their best not to appear intimidated by the task that awaits them. They're failing. Badly.
As the paltry light begins to fade outside, amateur boxing champion and trainer Jermaine "Flash" Williams points to two figures in the assembled crowd of teenagers outside the ring, indicating that they should join him. Taking it in turns, the kids begin to throw punches at Flash's pads. A jab here, an upper cut there, the speed and agility is at once intimidating and magnetic. Flash bobs and weaves with athletic grace, barking staccato instructions at his young charges.
It's all over in minutes, but the effect on the construction industry's finest is tangible. They slouch a little heavier on the ropes, their eyes open ever so slightly wider. "This is the day of your awakening," says Flash with a grin.
The scene is the deranged product of Building's collective imagination. In an attempt to raise a bit of money for charity in the festive season - and have a bit of fun at the same time - we decided that for one week only, rather than report the news, we would make it. And lo, Building's Boxing Day was born, the pun being only a fringe benefit.
Senior construction industry types would be asked to take part in a series of boxing-themed trials, all competing to be named champ and avoid being chump. The story of how they got on is one of adversity, single-minded determination and, ultimately, triumph .
Keeping them in the ring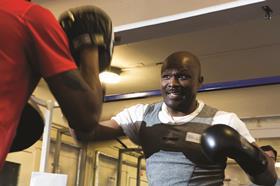 Over the past year, Building has built up a relationship with the Boxing Academy, an East End charity that provides an education to 13-16 years old, often with serious anger management problems, who would otherwise be excluded from school. In other words, the children the academy works with have exhausted their chances of a regular schooling and are in serious danger of falling out of education altogether, with all the implications for their future lives that entails. For those who turn their lives around with the academy's support, a job in construction is an attractive option.
With around 35 pupils, the Boxing Academy aims to provide not just an education, but structure and discipline.The day begins with breakfast and proceeds to a vigorous, strictly overseen training session. Only once the kids have taken out their frustrations in the gym does their formal education begin.
Impressed by the results of the academy's work, Building thought it would be a good idea to organise a fundraiser on its behalf. We put our heads together. How about a straightforward boxing competition? This had the appeal of simplicity, but also the threat of serious injury and goodness knows what insurance liabilities - the possibility of one reader knocking nine bells out of another didn't bear thinking about. So how about a non-contact but still boxing-themed competition? Better. Less potential for split eyebrows and blood on the canvas.
The Boxing Academy was up for the challenge of designing a sufficiently testing set of trials ("we've got a LOT of ideas," said chief executive Anna Cain), so we set about enlisting victims. Or rather willing participants. It's fair to say that not everybody jumped at the chance, but eventually we secured the enthusiastic support of six industry heavyweights. So, in the red corner, we have Trustmark's Liz Male, Rise's Gareth Stapleton, Blue Sky Building's Julian Daniel, Cestsure's Emma Clancy, HLM's James O'Sullivan and Urbanis' Bola Abisogun.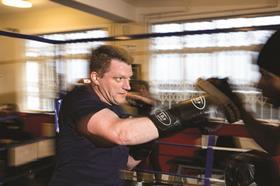 Hit squad assembled, the competitors' minds turned naturally enough to what they would be doing. On this point we had been deliberately vague, but soon relented when the emails started coming in. "Would you be kind enough to articulate exactly what we are required to do?" wrote Bola in a round robin. "I'm not sure I want to carry the responsibility for knocking out fellow industry heavyweights/female colleagues. [I'm] very keen to break a sweat for a good cause, but no blood please - I'm squeamish!"
Julian responded: "I was more concerned about getting knocked out by a female colleague. I bruise easily and once got a black eye shadow boxing." For those who don't know, shadow boxing is effectively fighting a mirror. For Julian to have got that black eye, he would have had to have punched himself in the face. Amusing, but worrying.
Worn down by polite but insistent enquiries, we relented. Participants could be asked to take part in a circuit training session, supervised by Boxing Academy staff and students. They would be judged on effort - the competitor that the academy felt "committed" themselves to the circuit most. So, no blood - hopefully.
And so we fast forward to that afternoon in Hackney. As the team recovered from Flash's demonstration, a late entrant clambered into the ring in the shape of Building's own news editor Allister "Thunder from Down Under" Hayman. ("Blunder from down under more like," quipped one of his colleagues) But hang on a second, what's the hack wearing? Are those … leggings? "What? Is that not appropriate? It's my gym outfit." Never mind.
"Okay, here we go," shouted assistant head teacher and coach Jordan. "Everyone to their stations." Someone turned up the volume on a pounding hip-hop soundtrack and the torture began.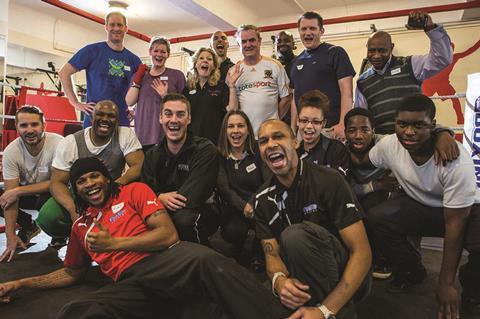 The contenders
Liz Male
Liz Male is the chair of TrustMark and the founder and managing director of her PR and sustainability consultancy
James O'Sullivan, HLM
James is an architect working in HLM's London office
Gareth Stapleton, Rise
An architect by training, Gareth is one of three founding partners of consultancy Rise
Julian Daniel, Blue Sky Building
A former head of Lend Lease's construction business in England and Wales, Julian is the founder and managing director of consultancy Blue Sky Building
Emma Clancy, chief executive, Certsure
The driving force behind the creation of Certsure, Emma joined voluntary electrical contracting regulatory body the NICEIC Group in 2005
Bola Abisogun, Urbanis
Bola is a chartered QS and founder and chief executive of Urbanis, a support services contractor based in Hackney
Allister Hayman, Building
Allister is Building's news editor. A New Zealander by birth, Allister arrived in the UK in 2007
Showtime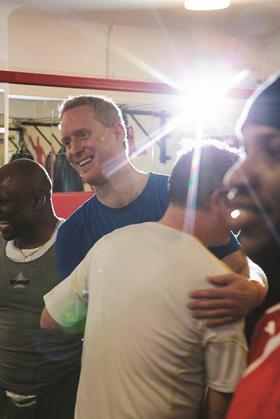 The ensuing 40 minutes was manic, as every 45 seconds the competitors moved from one station on the circuit to another. There were eight stations in all, from sparring sessions in the ring with Flash to heavy bag work and a particularly brutal looking sit-up exercise involving medicine balls. As the noble athletes completed the circuit looking sweaty but otherwise pretty pleased with themselves there came a shock announcement.
"That's the first circuit done, just two more to go," shouted Jordan. "You've got a minute's rest." And so it continued, with the team looking ever more exhausted as they staggered from station to station. "They like to inflict pain," observed Anna coolly. "I mean that in the nicest possible way, obviously. You wouldn't catch me doing this - it's a killer."
They were a mixed bunch, all physically fit (we checked) but differing in age and size massively. At the smaller end Emma must have weighed considerably less than the punch bags she attacked with such ferocity, while Gareth used the bulk accumulated from his preferred sport, rowing, to throw some ferocious punches at Flash. If he had actually made contact we could have been in trouble, but given Flash's proficiency in the ring that was never going to happen. He is, after all, the reigning Amateur Boxing Association's middle weight London champion, having won the nationals in 2011.

The Boxing Academy
The Boxing Academy offers an alternative education pathway for students between the ages of 13 and 16 who are at risk of educational exclusion. It follows a full-time school schedule from 9.30am to 2.45pm, and school term times throughout the year, offering intense mentoring and support for young people.
Pupils are placed in a class of six with a dedicated boxer who acts as mentor, teacher support and coach. It uses the beneficial effects of sport to empower students, teach them to manage their anger, give them confidence in their learning and direct them towards further education, training or employment.
The Boxing Academy received an award from think tank the Centre for Social Justice in 2011 and was evaluated in a report by New Philanthropy Capital, which calculated its social return on investment to be 3:1, meaning that for every £1 spent on the academy, it returns £3 of value to the community.
All of the combatants in Building's Boxing Day had the opportunity to meet both staff and students from the Boxing Academy and came away hugely impressed with its effectiveness and determined to do all they could to support the charity. As Julian "Champ" Daniel put it: "They're unbelievable. To be shoulder to shoulder with people like that was very humbling."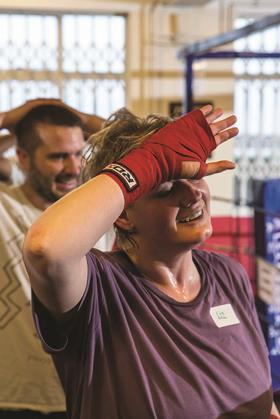 As the only practising boxer in the group, Liz looked proficient, but it was clear that the heat of battle was getting to her when she charged at yours truly in the break between circuits two and three and started jabbing my chest. Rather roughly I thought. "You. Mate. Are. In. There." Liz indicated the ring. Couldn't possibly. Objective reporting. Plus, sweat can play havoc with soluble ink. Hands are tied. Sorry about that. Must get back to the job at hand …
With a background in Taekwondo, Bola thundered home punches both into the bag and Flash's pads with impressive ease. In fact he looked quite at home in the ring - though not wearing leggings helped too obviously. For his part, James went about the trials with great stoicism. The tallest member of the group was dedicated and earned the respect of the academy's staff and pupils. This was particularly impressive given that his boss Chris Liddle - originally down to take part - had retired and gallantly volunteered his replacement services a mere 48 hours earlier.
And then there was Julian. By some distance the oldest competitor, he attacked the circuit with the energy of a man 20 years younger. As the rounds went on, his already dour expression knitted ever tighter in concentration, the dark sweat stain on his beloved Hull United football shirt growing in dimensions and depth. When the final bell rang, Julian looked like a man beaten but unbowed. It was a bravura performance.

The Thunder from Down Under: A personal perspective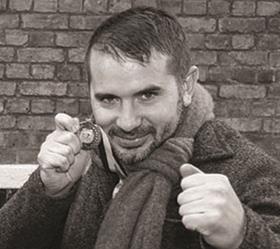 When it was first proposed that I might want to take part in Building's Boxing Day I thought sure, sounds like fun, how hard can it be? It wasn't until the day before that I actually checked what it entailed and realised actually, this was going to be hard work.
And so it was. Three circuits of an interval course that comprised eight stations, with exercises ranging from squats, star jumps, and sit ups with a medicine ball, as well as sessions on a punch bag, shadowboxing and sparring with a trainer wearing mitts. As a runner, who completed this year's marathon in a respectable time, I'm not a complete lay-about, but even so, there's a big difference between fitness for a long run and the short sharp intensity demanded by this circuit.
By the second circuit the sweat was truly on and my quads and abs were crying out after the sit-ups and squats. The shadow boxing was some respite - though did make me feel like the most hopelessly leaden-footed contender you could imagine - while the punch bag was great for working off office stress! In the ring with the trainer my jabs were slow and my combinations creaky, evoking neither butterflies nor bees.
In the end I made it without having to stop - although my last set of sit-ups was ponderous, at best. As for how everyone else fared, I couldn't say, as I was too busy trying to catch breath. But for all the exertions it was great fun - plus, I managed to escape without being hit, which was very much a bonus. Though with the pain in my abs the next day it did very much feel like I'd taken a few punches to the stomach.
Fortunately though it was just my ego that was bruised.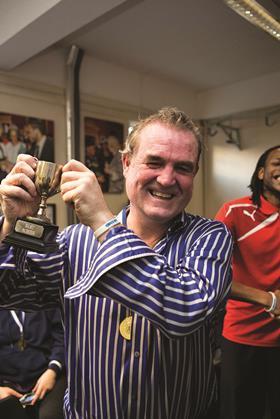 Flash beamed happily at the athletes as they sank down to the floor or doubled over, hands on thighs, before leading a cool down session. When the group did a final lap of victory around the ring, they were given warm and heartfelt bear hugs by trainer John as they reached the finishing line. After 45 minutes of hell they looked done in but happy - and ready to head to the pub.
But first there was the serious matter of announcing a winner. The team gathered in the Boxing Academy's common room and was offered a heady mixture of branded bracelets, individual medallions and Quality Street chocolates while the trainers deliberated. It didn't take long and when announced the verdict was unanimous. For his relentless determination and staying power - not to say sweaty patches - Julian was declared Building's Boxing Day Champion.
It was an emotional scene, not least because all the remaining teenagers applauded with such sincerity. And as Julian was handed his trophy - forever more to occupy pride of place on his mantelpiece, or so Building would like to imagine - the emotion of the moment seemed to inspire him to hitherto unimagined heights of rhetoric. "I can't hold the cup up - my shoulder's gone," he said. "Feel how heavy that is! It's hurting my arm." It goes without saying that the cup was about 10 inches high and emphatically not fashioned from precious metals.
Still, what a guy.

Please donate to our Christmas appeal
Please visit the Boxing Academy's website site at www.theboxingacademy.co.uk/ to find out more about its amazing work. And please throw your hat into the ring and make a contribution. Do it for the sweat poured by our seven pugilists. Or just do it because it's Christmas - and you didn't have to endure three rounds with Flash.
So far we've raised £1,600 - please help us reach our target of £5,000.