Forget about that re-run of The Vicar of Dibley Christmas Special, Building's end-of-year TV guide picks out the people, stories and events that were unmissable over the past 12 months. Part 3 of Building's end-of-year TV guide features Christmas blockbusters – the biggest tales of 2015
Nightmare before Christmas: The big losers of 2015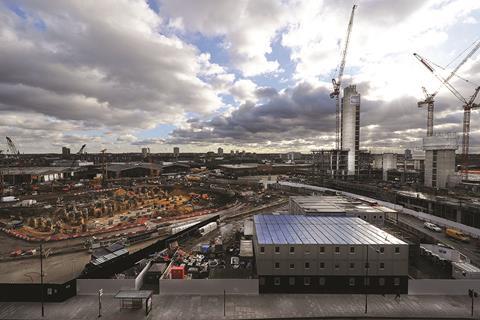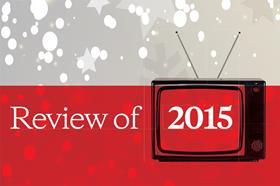 For some firms, this year has been one long nightmare filled with profit warnings, problem jobs, lawsuits and – in the worst cases – collapse.
Concrete firm PC Harrington Contractors (PCHC) plunged into administration in May, leaving contracts unfinished and owing over £10m to suppliers, before being hit in August with claims worth a combined £29.5m, from contractor Mace and demolition expert Keltbray, which were working with PCHC on Land Securities' £380m Nova scheme in Victoria. Other firms to hit the buffers in 2015 included £200m-turnover GB Group, which collapsed with the loss of 350 jobs in February, and retail sector contractor Longcross Construction, which fell owing £30m to suppliers.
Meanwhile, contractor Sir Robert McAlpine revealed an £89.7m loss for 2014 after encountering problems on contracts including developer Exemplar's Fitzroy Place scheme. The firm also experienced problems with the £650m US Embassy project (pictured) where bolts have had to be replaced.
Elsewhere, housing associations had a torrid time in 2015, beaten by a raft of government policy changes following the May election. Their first beating came from confirmation of the desire to extend tenants' Right to Buy to the sector, which they fear will eat away at their stock. In September, they gave up the fight against it after being given an ultimatum to either voluntarily back the scheme or be forced into it through new legislation. Stephen Howlett of Peabody said at a fringe meeting at the Labour Party Conference that his association felt it was "faced with a firing squad, hoping the guns weren't loaded".
Much more serious for associations was the chancellor's wholly unexpected decision to rip up the 10-year rent settlement he'd announced in 2013, forcing a wholesale revision of development plans to factor in five years of rent cuts. Estimates of the impact it would have on their ability to develop varied from 14,000 to 27,000 homes, though the sector escaped rumoured even deeper rent cuts in the November Spending Review. More bad news came the day before Halloween, when the Office for National Statstics reclassified housing associations as part of the public sector, forcing the government to promise to work hard to get them reclassified as private again.
Another organisation is also fighting for survival this Christmas. The CITB is facing a bleak 2016 following the government's summer Budget where plans for a new apprenticeship levy were unveiled. The government gave no details on how this would work in combination with the CITB's levy, leaving questions over its future.
Consultants didn't come through the year scot-free either, with Sweett Group facing a grisly Christmas after admitting to a bribery offence in its Middle East division and the looming threat of prosecution from the Serious Fraud Office.

It's a Wonderful Life: Christmas came early for some in 2015
George Osborne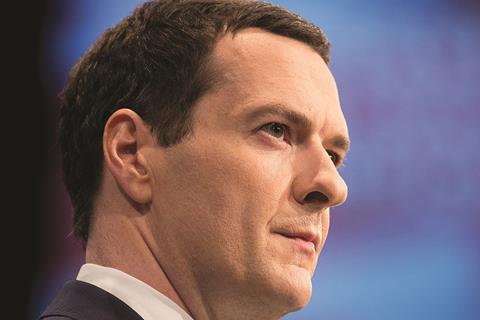 Pasty-gate seems a long time ago. Fresh from masterminding a surprise Tory majority victory at May's general election, Osborne has cemented his status as a darling of the construction industry with new cash for housing and infrastructure in his snap "emergency" Budget of June, and his Autumn Statement last month, including a welcome £6.9bn of extra housing cash in the latter. Politically speaking our hi-vis chancellor has scarcely put a foot wrong, and even managed to make a virtue out of his U-turn on tax credits. Osborne's mantra for the Tories is "We are the builders". It remains to be seen whether the party can live up to his rhetoric and deliver – in particular on a highly ambitious target of building 1 million new homes.
Sir John Armitt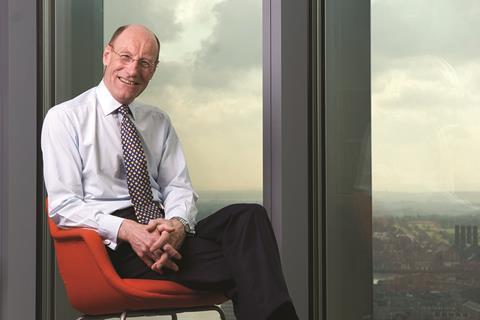 One move that certainly endeared George Osborne to construction industry leaders was his shameless pinching of Labour's manifesto pledge to set up an independent body to determine the UK's long-term infrastructure goals. The policy had been the brainchild of Sir John Armitt, whose work creating and promoting the policy was awarded with a spot on the newly launched National Infrastructure Commission. Armitt, president of the ICE and a former Olympic Delivery Authority and Network Rail chairman, can scarcely contain his delight at all this. Indeed, he predicts the commission will enable an "infrastructure revolution" not seen since the 19th century. However, he warned Building last month it was still unclear how the commission will interact with government.
22 Bishopsgate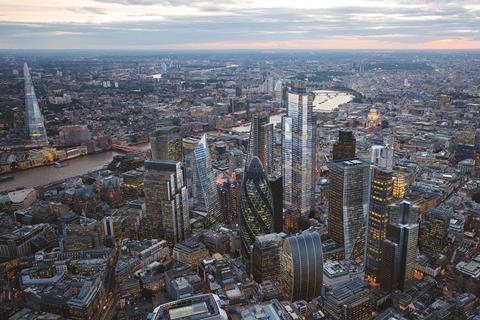 What a difference a year makes. Last year the delayed £1bn Pinnacle tower scheme in the City of London languished as a nine-storey concrete "stump" on one of the Square Mile's most prized patches of land - a stubborn reminder of the property crash. Fourteen years in the making, the helter skelter-shaped Pinnacle design was finally consigned to history last February when new investors, led by developer veterans Stuart Lipton and Peter Rogers, acquired the site. They have wasted no time in propelling the redesigned and re-named 22 Bishopsgate scheme forward. Planning was awarded last month and Brookfield Multiplex and specialists William Hare and Carey are lined up to construct it from February. Most importantly, the core is already being pulled down. 2016 will go a long way to telling us whether this is a new, or a false, dawn for the London property market.
Lakehouse
The City loves a good stock market flotation and this year two firms from our sector obliged in the shape of maintenance firm Lakehouse and retirement homes builder McCarthy & Stone. Lakehouse got in first in March and has exceeded investors' expectations by trading above its initial offer price – which valued the company at £140m - throughout the year, and was at £147m as Building went to press. The firm has also used the cash raised to make a trio of smart bolt-on acquisitions, buying Aaron Heating Services, Sure Maintenance and Orchard.
Bad Santa: The people and things you loved to hate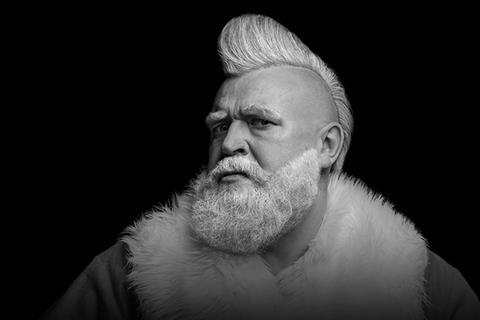 Amber Rudd
When prime minister David Cameron named Amber Rudd as his first Conservative environment secretary, many breathed a sigh of relief: as a strong believer in climate change science, Rudd was expected to support eco-friendly policies. However, the subsequent six months saw a brutal and unexpected culling of sustainability policies, with subsidies for solar and wind farms canned and former flagship green-Tory policies such as the Green Deal axed entirely. Rudd maintains the UK as a whole will still meet its emissions obligations, but the about-turns were notable enough to prompt an undiplomatic rebuke from former US vice-president Al Gore. It has left people wondering how much worse it all could have been if a climate change denier had been given the post.
QSs
Also not on everyone's Christmas card list this year were the industry's QSs, upon whom many blamed the failure to foresee huge tender price increases experienced by many construction clients. With prices rising commonly 15-20% in London and the South-east, compared with predictions of 4-5% rises, the misjudgement led to projects being put on hold as they were reworked or put up for sale. In truth, many suspect as much of the blame lay with parsimonious clients refusing to pay a proper fee for QSs to do detailed assessments when reheating pre-recession projects.
Chinese Steel
One of the most significant rows of the year concerned the alleged "dumping" of defective Chinese steel in the UK market. As the economic slowdown in China saw its manufacturers attempt to flood the European market with product no longer required in the People's Republic, concerns grew about the quality of Chinese rebar and whether it met EU safety standards. However, as the impact on domestic manufacturers became clearer with the closure of the SSI Redcar steel plant, steel traders' association ISTA hit back with allegations the safety concerns were just protectionism dressed up in a more legitimate form. Nevertheless, the government brought in measures to force the public sector to buy UK-made steel, following the public outcry over job losses.

Planes, Trains and Automobiles: A year in infrastructure
Rail
Against all expectations the rail sector proved to be the big story in infrastructure this year - and not because of HS2. Compared with all the political furore over the £42bn high-speed link over the last five years, 2015 was a year of relatively serene progress for the scheme, with initial tenders out for engineering design and contracting work, and confirmation the first site work will kick off in 2017. The story has instead been Network Rail, where the body's £38.5bn upgrade plan for the next five years came spectacularly, err, off the rails. There were red faces all round as major upgrade works worth billions - including to the politically sensitive TransPennine route at the heart of the chancellor's northern powerhouse - were paused and then unpaused after schemes suffered huge cost escalations. The problems cost the chairman, Richard Parry-Jones, his job, and the end of the year saw confirmation that the programme will now cost £2.5bn more than expected and still fail to deliver all the projects on time.
Airports
The next biggest infrastructure story of the year was the continuing farrago of indecision over expanding airport capacity in the South-east. Despite prime minister Cameron setting up a process in 2012 - the Davies Commission – designed to avoid making the politically sensitive decision before election, when the commission reported in favour of Heathrow in July he again decided it was all too difficult, and put off making a formal response until the end of the year. This month, Cameron commissioned a further review on the environmental impact of an £18.6bn Heathrow expansion, to report before he will approve it. Conveniently, this is likely to kick the decision past the next politically sensitive deadline - that of the London mayoral election in May.
Energy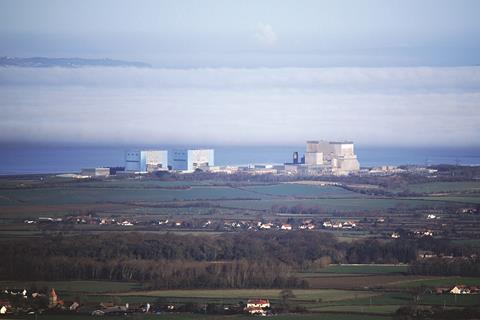 It's been another year of waiting for the Hinkley project, despite more public money in the form of guarantees being piled behind the scheme, while developers behind other low-carbon forms of power have seen subsidies slashed or ended. Chinese backing for the project has now been secured, at the cost of a few raised eyebrows in the UK press. But French power firm EDF is still to finally sign off the investment, and in April actually laid off staff working on the project. Meanwhile, the government pulled funding for carbon capture and storage projects, as well as onshore wind farms and solar power.
National Infrastructure Commission
The development with possibly the biggest long-term significance for infrastructure in the UK was the announcement of the setting up of the National Infrastructure Commission under former Labour peer Lord Adonis in October - a deft piece of political burglary of an opposition idea by George Osborne. However, so far the body, the creation of which was campaigned for by Building's Agenda 15 campaign, and which will review and prioritise infrastructure investment in the UK, has no clear remit or powers, so further detail is eagerly awaited next year.
Trading Places: A year in city deals
Kier/Mouchel
Contractor Kier took a big step into consulting this year with the £265m acquisition of engineer Mouchel. Kier chief executive Haydn Mursell made no bones about the main reason for the acquisition, telling Building in March he was buying it to win a place on Highways England's valuable trunk road maintenance frameworks. The combined firm boasted a £9.3bn order book and a leading market share in the UK highways sector.
Wates/Shepherd
The largest all-contractor M&A deal of the year was the combination of Wates and Yorkshire-based Shepherd Group's construction business for an undisclosed sum. Turnover at Wates could hit as much as £1.6bn in 2016 after the self-styled "family-to-family" deal.
Costain/Rhead Group
Costain splashed out £36m on a cash acquisition of 550-strong consultant Rhead Group, fulfilling a long-held desire by the contractor to add a large professional services arm to its business.
Lafarge/Holcim
The sector which underwent the biggest shake-up in 2015 was the hitherto unglamorous world of aggregates. Holcim and Lafarge completed a €41bn (£27bn) mega-merger to create a global leader in the sector and enhance its UK offering via subsidiary Aggregate Industries. To appease regulators some UK Lafarge assets were sold to Irish aggregates firm CRH and these were relaunched under the historic Tarmac brand. In a further, unrelated deal, Breedon Aggregates bought rival Derbyshire-based Hope Construction Materials for £336m.

The Incredibles: The year's highest-profile appointments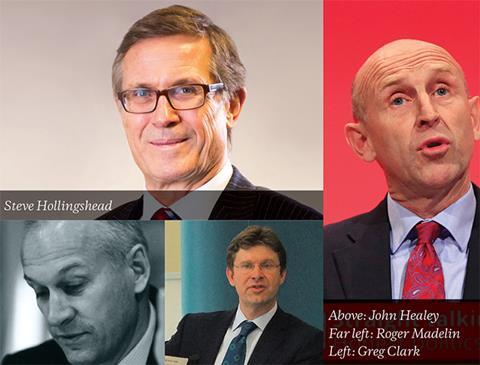 The biggest appointment was the decision to make Tony Aikenhead the first ever chief executive of legendary contractor Sir Robert McAlpine - the beneficiary of a couple of years of turmoil at the business.
There was also a degree of déjà vu in some of the new faces picking up the main construction roles in the Conservative and Labour parties following the general election. Greg Clark returned to the communities department to become its secretary of state, while John Healey, a former housing and planning minister under Gordon Brown, was given the shadow housing and planning brief. For a sector used to much chopping and changing in these roles, the sight of two old-hands in place was warmly welcomed.
In the client world, newly-launched Highways England has a new chief executive in former Heathrow MD Jim O'Sullivan. King's Cross regeneration stalwart and long-standing Argent executive Roger Madelin surprised many by jumping ship to British Land to lead its mammoth redevelopment of the Canada Water area of south London.
Elsewhere, there are new chief executives at housebuilder Barratt and contractors Galliford Try and Murphy. David Thomas stepped up from financial director to take the helm at Barratt, while Peter Truscott traded an executive role at Taylor Wimpey for the top job at Galliford Try. Steve Hollingshead, who built his reputation over 13 years at Laing O'Rourke, took charge of infrastructure specialist Murphy in June.
The Great Escape: Departures in 2015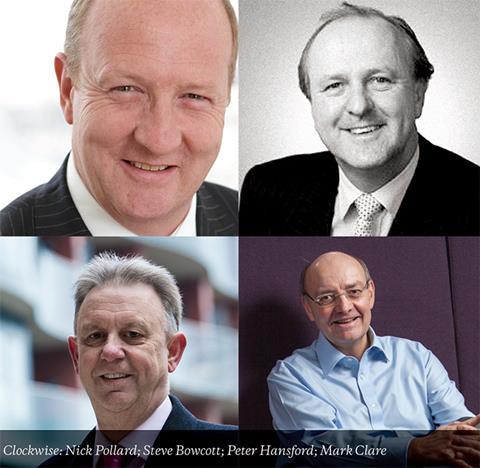 The biggest shock was reserved for the end of the year, when Laing O'Rourke CEO Anna Stewart stepped down citing ill health. The move followed a difficult year for the contractor, which reported big losses on difficulties with its off-site manufacturing systems.
Nick Pollard, the newly anointed chief executive of Cory Environmental, has at least found himself some new friends, after being one of the first to depart Balfour following the downgrade of his role as head of the UK construction services arm in January. He was subsequently replaced by Dean Banks who joined Balfour Beatty from De La Rue – a firm of which Quinn was chief executive between 2004 and 2008. Of course he wasn't the only one to leave Balfour Beatty. Among others were strategic projects delivery director Vince Lydon and business development director for major projects Mike Peskin, the latter who was followed to Osborne by Balfour Beatty's director of design Ron Moir and bid director Colin Eke. All joined Osborne following the February retirement of David Fison, Osborne's former chief executive. Other notable departures from Balfour Beatty included general counsel and company secretary Chris Vaughan, former regional managing director for the Midlands Steve Davies and former interim chief executive of Balfour Beatty's Support Services business Matthew Duncan.
This year also saw Peter Hansford's tenure as the government's chief construction adviser come to an end in November and the role axed with its responsibilities assumed by the "renewed" Construction Leadership Council.
Housebuilder Barratt saw its chief executive of nine years Mark Clare step down in October, while Sir Albert Bore decided to stand down from his role as leader of Birmingham council.
Elsewhere Steve Bowcott left his position at Kier amid a major board reshuffle, moving to John Sisk & Son to become its managing director.

Read Part 1 of our review here.
Part 2 of tour review here.