Five construction figures and two Building journalists were asked to sculpt landmark buildings for this year's Christmas challenge. But which teams kept their cool and who felt a nasty chill?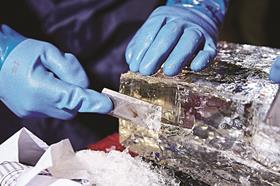 It had all seemed like a such a good idea. What better way to raise a bit of money for a good cause, have a bit of fun and spread a bit of festive cheer, than organise an, erm, ice sculpting competition between top industry professionals? The obvious thing, right?
But as I wandered lost, late and cold around an industrial estate in deepest Wimbledon, it's fair to say that some doubts did start to creep in. Would I ever find the renowned Hamiltons Ice Sculpting? Would anyone else? And how dangerous are ice sculpting tools anyway? Organising an event that was responsible for causing serious injury to senior construction folk wasn't something I particularly wanted on either my conscience or my CV.
And when I finally stumble upon Unit 54, Wimbledon Stadium Business Centre, I'm not immediately reassured. The low-rise tin roofed warehouse building seems a pretty unprepossessing place for a competition between some of construction's great and good. There is no mistaking it though, with an open door revealing impressive, tall refrigerators, and great chunks of melting ice strewn about the floor.
Fortunately, however, on entering I quickly find I'm not the only one to make it - three teams are already there, and a quick phone call assures me that the other (or at least part of the other) is on its way.
The founder of Hamiltons, Duncan Hamilton, is midway through taking the competitors through a potted history of his firm's most daring and inspiring commissions, from making 10,000 ice glasses for the Hyde Park Winter Wonderland ice bar, to an arresting full scale-model of a polar bear carved around a bronze cast of a real bear's skeleton. The work is elegant, dazzling and inspiring, and - according to Duncan - simply great fun to produce. Maybe, just maybe, this is going to work.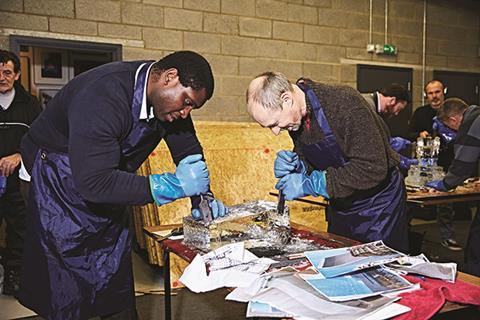 1.The hacks
Building technical
Team members: Thomas "The Chisel" Lane (technical editor - pictured below, right), Ike "Ice" Ijeh (architectural correspondent)
Building: 20 Fenchurch Street (aka The Walkie Talkie)
Rationale: "We wanted something with a distinctive profile," says Thomas, "a new building, iconic - but not too complicated or fiddly." Ike has other motivations. "I despise the building," he explains. "We thought it was a nice irony, given that it normally burns things, to re-make it out of ice. We wanted to neutralise its pyrotechnic proclivities."
Plan: The team arrives with plans of each of the building's elevations, scaled up precisely to match the size of the ice block they're going to be given. "It's all in the planning," explains Thomas.
The idea for this ice sculpting challenge had been borne out of a desire by Building to do our bit to raise money for the construction industry's homelessness charity, Crash, while also marking the festive period with an event that was fun - and did its bit to reawaken the age-old rivalry between contractors, consultants and architects over who really knows how to build a building. The task - simply for teams of novices to carve the best building they could from a block of ice, as judged by industry experts. We knew - and as the story of the day ultimately demonstrated - the natural competitiveness of the industry, and their desire to prove themselves the best, would do the rest.
Frozen
Before we could get started, though, we needed some competitors - and some people qualified to judge their output. A quick call round the industry identified three willing firms happy to put up a team to compete for the honour of winning out. Architect Pringle Brandon Perkins + Will, consultant Gleeds, and contractor Willmott Dixon. But we also thought that, instead of carping from the sidelines in typical journalist fashion, Building should stand up and be counted in the arena of ice mastery. Step forward the building technical team - technical editor Thomas Lane, and architectural writer Ike Ijeh - as the fourth group willing to have their mettle tested.
To judge all the efforts, we felt an engineer with a strong design ethos would be perfect. We called Gerry O'Brien, partner at boutique practice AKTII, a practice that actually advised Zaha Hadid on whether an ice palace she created would be strong enough to stand up. Amazingly, he agreed to help. In addition, Trevor Cotterell, MD of design firm Areen Design - a huge supporter of Crash already - was the perfect complement to O'Brien's engineering nous.
We had one big remaining problem. Ice sculpting - particularly with such a renowned practitioner of the art as Duncan Hamilton - isn't free. There to save the day was consultant Gleeds, which put its hand in its pocket to sponsor the whole thing, thereby making it all possible. We were ready to go. Game on.
Thomas Lane on sculpting
What is it like to sculpt ice? Is it impossibly hard, liable to shatter into tiny pieces if tapped in the wrong place and will we have to work in a giant deep freeze? Do we get chainsaws to cut the basic shape? These were some of the questions running through my mind when asked to represent Building in the great ice sculpting challenge.
Disappointed to discover chainsaws were a no-no, we chose our building on the basis of these preconceptions: A distinctive basic shape without fussy detailing and no features like spires or clock towers that could be inadvertently snapped off was the way to go.
The Walkie Talkie ticked all these boxes - one of 2015's highest profile completions and a distinctive form with minimal detailing. We found elevations of the building, scaled these to fit the ice block dimensions we were given and set off to the studio feeling rather smug about our careful preparations. A shoo-in for the trophy, surely?
The reality was very different. The ice was soft and easily and quickly shaped with a sharp chisel. There is no grain to fight and the surface can be finessed with a surprisingly degree of precision. Hot metal plates polish out any small imperfections. However, the Walkie Talkie has surprisingly complex geometry which took ages to get right and disappointingly the end result looked too much like a simple block of ice rather than one of London's most reviled buildings. If only we had chosen something more distinctive like King's Cross station… oh well, there's always next year.
The first time in forever
It's fair to say that any trepidation being felt by the teams starts growing exponentially as Duncan Hamilton takes us round his practice, explaining how the ice is made, and the tools by which it is manipulated. It is all getting a bit real. Now Hamilton starts demonstrating his art, taking a single block of ice and sawing, carving and chiselling it into a perfectly formed sea shell in mere minutes in front of our eyes. Hamilton uses wood tools with confident deft strokes, powerful and controlled, taking chunks of ice out with precision at pace. "Of course I've been doing this for 40 years," he explains, as audible gasps come from the teams, each member internally wondering just how they will match up to this demonstration of finely honed skill. Willmott Dixon's James Whitehouse tries to bluff it out: "Simple. Sweet. No problem," he says with a grin, but the shake of the head tells the real story. "I know," Hamilton apologises, "it's not fair really."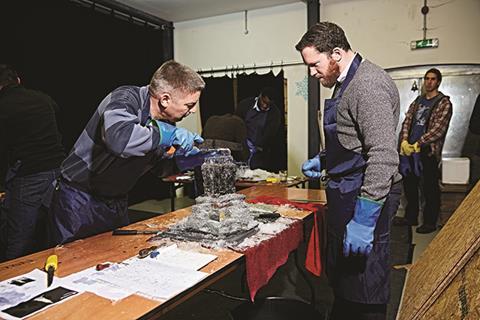 2. The consultant
Gleeds
Team members: Keith Curtis (associate director, Gleeds advisory - pictured, left), Greg Lyons (executive QS)
Building: Empire State Building
Rationale: "We thought it would actually be technically fairly easy to do," says Greg, "but it would give the impression of being technically complex."
Plan: When initially asked, the team joke they "have no plan" at all. However, under examination, there is method there: "We thought you could just start with the widest point at the bottom and shave off for the block higher up."
Once the demonstration is over it's time to get started. The teams pick up a standard set of tools, along with an apron and gloves to handle the ice. A brief pause to get acquainted with it all and away they go: a 400mm x 200mm x 200mm block of ice, two hours and access on demand to Hamiltons' team of experts is all they get.
Immediately it becomes apparent the range of buildings the teams have chosen - as well as the varying levels of preparation undertaken. From a world-famous 12th century Italian bell tower, to the winner of this year's Carbuncle Cup award and a building so new it has yet to be constructed, the history of construction is represented (see team boxes). Each team is given the option to affix another block of ice to their original block if they want to make something with taller proportions - something that the team from Gleeds, inexplicably, turn down, given that they have opted to build a replica of the Empire State Building. It's a decision, it's fair to say, that will come back to haunt them.
Pringle Brandon's Jamie Brandon has the most daunting task, as by now it has been confirmed that his erstwhile partner for the event has left him in the lurch and won't be making it. However, he launches quickly into things with great efficiency, quickly organising for another block to be attached by the team of helpers and getting started on his chosen building - Pringle Brandon's planned Shoreditch skyscraper "the Stage" - and its eye-catching geometric form.
While both Gleeds and the Building team spend time fiddling about with plans, Willmott Dixon's team rapidly add another block, measure out a circle on the top with compasses, and go about carving the tall cylinder that will make the basis of their attempt to recreate the Leaning Tower of Pisa. Using the tools they look the part, giving off a sense of practical competence not so evident in the other teams. "I'm really enjoying working with the ice," says John, immediately conveying the impression that he has actually worked with other materials to compare it to. "The ice is lovely to work with."
Do you wanna build a snowman?
An hour in and the buildings are starting to take shape. The Gleeds team is realising the complexity of the interlocking blocks that make out the bottom third of the Empire State. "We're feeling a bit under pressure," says Keith. Meanwhile Jamie for Pringle Brandon is starting on carving the deep groove running top to bottom down the plan section after crafting a very good approximation of the Stage's distinctive shape. "It's terrifying cutting in. Cut one piece in the wrong place and it's game over."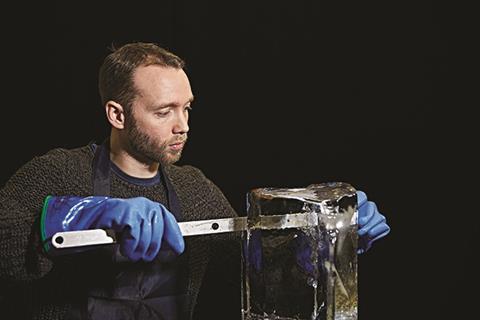 3. The architect
Pringle Brandon Perkins + Will
Team members: Jamie Brandon (facilities manager)
Building: The Stage, Shoreditch
Rationale: The building, Jamie explains, is one of his practice's first full new builds, with Pringle Brandon best known for office interior and fit-out design. "It's a really interesting building. The foundations of Shakespeare's Curtain Theatre were found at the bottom, and we're incorporating a museum into it and putting the building on top. We've been working on it a couple of years and we're a little bit proud."
Plan: Jamie is slightly winging it, having been let down by his planned team-mate at the minute, meaning he is working on his own. But he has a detailed plan of the building and quickly requests an additional block of ice be placed on top of his initial one. "How hard can it be?" he asks, slightly nervously.
Meanwhile the Building team, who have chosen Rafael Vinoly's controversial Walkie Talkie as their muse, are still struggling with getting a representation of its basic shape right. For Willmott Dixon it's time to cut in the distinctive bell chamber at the top of the campanile. "This is the bit that sorts the men from the boys," says James. It's impossible not to notice, at this point, that while the other buildings, being more modern, have limited detailing once the shape is in place, Willmott Dixon have given themselves a huge task to mimic the hundreds of arches in the leaning tower's Romanesque design. They're working at pace but time is definitely against them.
Gleeds, however, have bigger - or in some senses, smaller - problems on their hands. There is no doubting that the decision not to add an additional block of ice has left the team with a somewhat stumpy Empire State building - not quite the soaring dimension of a structure that was the world's tallest for nearly 40 years after its construction. "In hindsight," Greg admits "we should really have used two blocks of ice, but we were worried it'd have a big line across the middle of it."
The buildings aren't complete but it's already clear this is going to count against them in the judging. Judge Gerry O'Brien jokes that this is the problem with getting a QS to carve a building. "This is why projects are going wrong everywhere. They've obviously only priced for the bottom third of the building."
As the teams get to the end of their time, the pressure starts to mount. Willmott Dixon pull in Duncan and a hot plate to the base of their tower to melt a lean into it in the last couple of minutes. Jamie from Pringle Brandon is battling the tendency of the ice to melt faster than he can carve the building's many little balconies. "I'm just hoping the small details don't melt. It's not going to be up to the scratch of the actual building," he admits.
The Building team has a bigger problem - time. Like the actual project, their building comes in late as they struggle with adding the fluting on the outside, drawing the ire of the judges. "This whole thing brings new meaning to the term liquidated damages," deadpans Ike.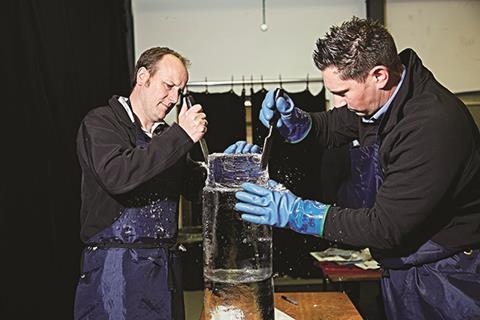 4.The contractors
Willmott Dixon
Team members: John Allworth (senior building manager - pictured, left), James Whitehouse (senior building manager)
Building: The Leaning Tower of Pisa
Rationale: John reveals a youthful inspiration for the choice: "I really enjoyed drawing when I was young and I used to draw it a lot. It used to be a dream of mine to go and see it," he says. James agrees: "There's just this fascination with how on earth does it stand up?"
Plan: Despite the complexity and ornamentation of the building, the team says they were attracted partly because it was just a simple cylinder in form, and should therefore be relatively simple. "If we get that wrong we can just pretend it's the Gherkin," says John. And achieving the lean? "Maybe we'll just pick the table up at one end."
Let it go
Then, as quick as it started, time is called, and it's over to the judges to quiz the contestants before reaching their decision. The judges are each marking the teams out of 10 on five categories - effort, technical complexity, resemblance to the real thing, structural integrity, and artistic merit. "Where's the rest of the building?" asks Areen's Cotterell of the Gleeds team. They protest that while it may be smaller than desired, at least it was delivered on time and on budget. "It looks significantly under budget to me," quips O'Brien.
O'Brien then asks Willmott Dixon whether they've managed to get a bell in the bell tower too - they haven't - but they've certainly made an approximation, utilising some bold scoops, of the structure's many arches. The scrutiny is over and its time for the judges to confer.
So what is the judges' verdict? As well as wearing the warming pride of victory back to their respective firms, the teams stand to win a bottle of champagne and an ice frog carved by Duncan - a wry nod to the "frog" indentation found in a standard house brick - for victory. A prize worth competing for.
"The effort overall has been incredibly impressive. They're all amazing in the situation. But there is a clear winner," says Cotterell. Pringle Brandon's effort while good, he says, was undermined by its lack of any detail. The Building team likewise were scored down for lack of detail as well as the fact the project "came in late". Gleeds? "I think fear crept in at the early stages," is Cotterell's diplomatic conclusion.
The winner then? The Willmott Dixon team, for its stunning Leaning Tower of Pisa. From the start it was pretty clear these guys looked sharp. Now they look knackered - but very, very pleased with themselves. They'd had a great day. Despite my initial fears, it had all worked out in the end.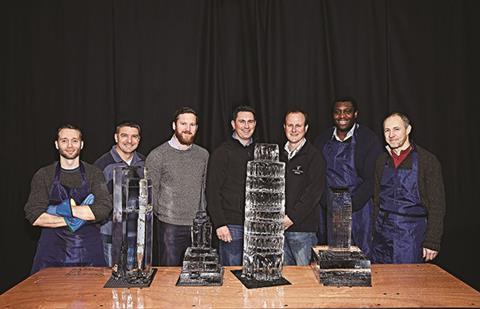 Scores
1. Wilmott Dixon 98/100
2. Building technical 92/100
3. Gleeds 79/100
4. Pringle Brandon Perkins + Will 77/100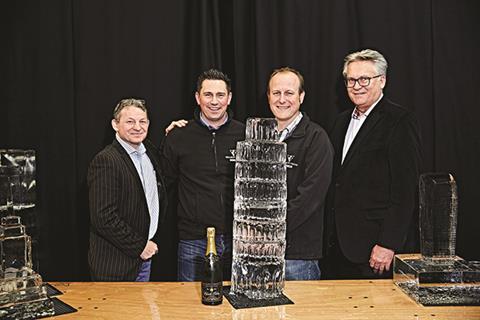 Willmott Dixon - How we won it
James "We really were so pleased to have won this. The competition was really strong, and I certainly never thought that we'd do it. They set the bar quite high, and everyone here are winners really."
John "We did a good deal of thinking about this really. We were sitting up last night in the car running over how it'd work. It's great that it's paid off. Our directors spoke to us and they said they wanted something to set us apart."
James "Frankly it's been just a real privilege to be part of it."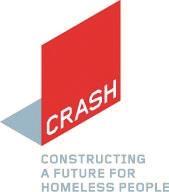 Donate here
If you've enjoyed Building's chilly challenge, then please take a moment to open your wallet to support people less fortunate. Industry charity Crash raises awareness of the desperate need for long-term sustainable support for rough sleepers not just at Christmas but throughout the entire year, and is Building's favoured charity.
Crash puts the skills and initiative of the construction industry alongside homelessness charities to help improve emergency night shelters, hostels, day centres and move-on accommodation. It arranges provision of pro-bono professional expertise, sources building materials free of charge and awards cash grants to projects.
Providing easily accessible facilities for homeless, vulnerable people is now more critical than ever, therefore your industry charity is asking for help.

Please go to campaign page:
www.virginmoneygiving.com/buildingsicesculpturechallenge to make your donation