Architect forecasts improvement in 2013 and 2014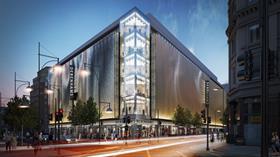 Architect Archial has reported a 28% fall in monthly revenue in 2012 as it shed over 100 staff.
In accounts filed at Companies House, Ingenium Archial Limited reported revenue of £10.4m in the year to 31 December 2012, down from £18m in the 15 months to 31 December 2011.
This equated to an average monthly revenue of £863,153 in 2012, down from £1.2m over the 2011 period.
The accounts showed that over the period the firm lost over 100 staff. In 2012 it employed an average of 153 staff down from an average of 266 staff in 2011.
In both 2011 and 2012 the firm underwent restructuring following its purchase by Canadian consultant Ingenium Group.
Chris Littlemore, chief executive of Archial, that the firm currently had around 145 staff and was now recruiting people for a number of its UK offices.
The accounts also revealed the firm cut its average monthly pre-tax loss by 7% over the period.
It reported an average monthly loss of £284,142 in 2012 down from £306,187 in the 15 months of the 2011 period.
Littlemore, said the firm's "cost base" in 2012 was swollen by restructuring costs and "exceptional, consolidation and integration expenses arising from the combination of Archial into the global enterprise of The Ingenium Group".
He added: "In effect, the business has been performing better through the 2012 period than previously and this continues on into 2013. The projections for the next 12 months show a much stronger performance in 2014."
He said the firm's strategy involved growing its international portfolio of work and Douglas Lang, president of Ingenium Group's international division, had been brought into the London office to assist with this.