B-Day may have been dodged first time round but the threat of a no-deal Brexit and a possible global slowdown could still leave construction wondering what hit it. How can the industry best cope with the uncertainty?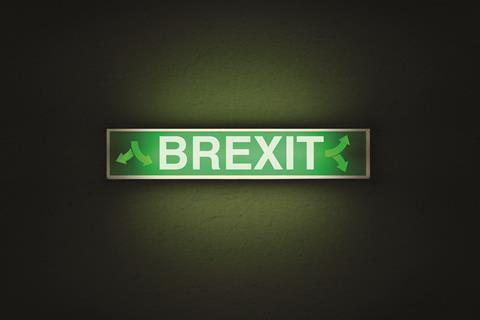 When Britain voted to leave the European Union in 2016, nobody in the construction sector (or anywhere else for that matter) could have predicted that almost three years later we would be in the position we are now. For instead of leaving the EU, today marks a missed deadline of historic proportions with much of the country – and business in particular – aghast that Britain could still crash out without a deal.
We are just weeks away from a last chance deadline by which the UK will leave without a deal unless a way forward is found. In the increasingly unlikely event that the prime minister's deal, already rejected twice by parliament, is voted through by MPs, this deadline would be extended until 22 May and, whatever one may think of the deal, there will at least be some semblance of certainty.
At the time of going to press, the prime minister had said she did not yet have "sufficient support" for a third vote on Brexit, and MPs were set for a series of indicative votes. What happens next is anyone's guess. As things stand, there is no agreement on a way forward and that means the building industry remains in a damaging state of limbo, staring down at more uncertainty in the form of various scenarios including a possible "people's vote", longer delay to Article 50, another snap election or a no-deal Brexit. So what have been the effects of Brexit uncertainty on the industry so far, what are the costs of a no deal likely to be – and what, if anything, can businesses do to prepare for all eventualities?
Starting from uncertainty
As construction awaits the final outcome of parliament's epic tussle over Brexit, the immediate economic outlook looks bleak.
The Construction Products Association's (CPA) latest forecast predicts that growth in construction output will be negligible this year, at just 0.3%, and only 1.6% in 2020. Noble Francis, the association's economics director, says: "The uncertainty from Brexit has impacted in areas that are dependent on high up-front [international] investment for a long-term rate of return such as commercial [office towers], factories and high-end residential."
On the plus side, he says that infrastructure is "still expected to grow significantly with five-year spending plans providing activity and major projects such as Thames Tideway and HS2 providing additional growth".
But the CPA's forecast was based on the assumption that Britain would leave the EU with a deal. The CPA has also outlined a no-deal scenario, based on a 15-20% fall in the value of the pound, in which construction output would fall by more than 4% this year. Commercial work and private housing would be the hardest hit, with drops of 15% and 10% respectively.
But the reality could be even worse, for this scenario does not take into account the indirect impacts on consumer and business confidence and its effect on spending and investment.
The biggest hope is that parliament can reduce the uncertainty by either clinching a deal or voting for a substantial delay to Article 50, as firms can then get on with business planning and investment rather than focusing on risk reduction and stockpiling, according to Francis.
Industry analyst Glenigan, in its construction outlook forecast for 2019 and 2020, has predicted that project starts would fall by 2% this year and rise 3% next year. However, this analysis too is "critically dependent upon the realisation of a Brexit agreement and the planned transition period" and "a no-deal Brexit would accelerate and amplify the disruption to UK trade, tipping the economy into recession".
Signs of the times
In the meantime, there have already been worrying signs of things to come for the building industry.
In December 2018 construction suffered its largest month-on-month drop in output in more than six years, according to the Office for National Statistics.
Turner & Townsend's latest survey of contractors showed that order books for 2019-20 were just 48% full at the end of last year, barely 3% up on what they had been six months earlier.
And construction activity has declined for the first time in almost a year, according to the latest IHS Markit/CIPS construction purchasing managers' index (PMI), falling from 50.6 to 49.5 – below the index's 50 no change threshold. This was due to fewer new projects, a lack of activity put down to weakening client confidence, with a reluctance to place larger orders for big builds, according to Duncan Brock, group director at CIPS. He says that "with ongoing Brexit chaos there is fear that the PMI index will slip further".
Further evidence of stress is not hard to find: one in seven [17%] construction firms have found it difficult to secure contracts that run after this month, and 12% have lost contracts as a direct result of Brexit, according to a survey by CIPS last month. It also found that almost half [48%] of construction firms have seen their supply chains become more expensive since the 2016 referendum, which has squeezed profits and margins.
Hardly surprising then that in recent weeks we have seen the likes of Galliford Try, Skanska and Wates warning of the negative impacts of Brexit.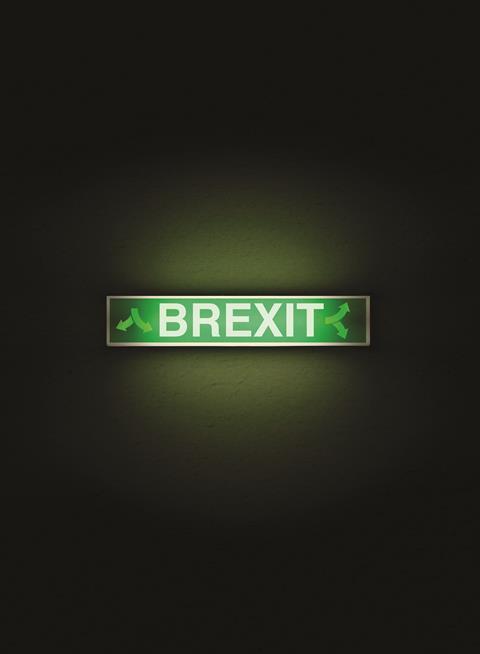 Be prepared
Mounting fears of a chaotic exit from the EU have prompted a marked escalation in Brexit planning in the building sector, with companies rushing to make last-minute preparations. Some have been stockpiling, others adding Brexit clauses into contracts, in a bid to mitigate against a no-deal scenario.
Sir Mark Sedwill, cabinet secretary, and John Manzoni, chief executive of the civil service, held meetings with industry representatives last December, telling them to start preparing for the possibility of a no-deal Brexit.
And in January the Construction Leadership Council held an emergency summit in a bid to prepare for such an eventuality. But many firms remain unprepared. Earlier this year, Building revealed how just one in seven firms claimed to be properly prepared for a no-deal Brexit.
Companies should be helping to get their EU workers settled status, and also need to understand where their goods and materials come from, according to Mace chief executive Mark Reynolds. The contractor has been in discussions with its top 150 suppliers and discovered that only a quarter of them have any contingency plans in place.
Mace is asking its supply chain to make sure it knows the materials and products it's importing, the countries concerned and the entry points to the UK. "People are not looking into the detail, to understand the risks and what it means to their business and what they can do to mitigate them. I think there's a lack of planning in too many companies," says Reynolds.
He recalls how "one of the most respected plc leaders in the construction sector" claimed Brexit wouldn't affect them and when asked why told him: "Oh, I just had to make that statement to the City otherwise they'd have knocked my share price."
People are not looking into the detail, to understand the risks and what it means to their business

Mark Reynolds, Mace
Although Mace has not seen jobs cancelled yet, decisions have "slowed down" with people "hedging their bets about what's going to happen". Reynolds told Building: "Our biggest risk by far is movement of goods. Believe it or not, there is plenty of capacity through the ports, there are quite a lot of ports in the UK, you just need to find different routes."
He added: "All this stuff around stockpiling is great news but it's rubbish. I can stockpile aggregate, I can stockpile timber even to some extent but I can't stockpile a specific light fitting from a certain country … I think people are kidding themselves."
Although the magnitude of delays to getting goods into the country after Brexit remains unknown, he says "for every week that we are late on our UK-based projects we estimate it will cost us and our supply chain about £2m".
This could rise to £3.5m a week if damages and prolongation costs are added.
The concern over access to materials is echoed by Chris Carr, joint managing director of Lincolnshire firm Carr & Carr (Builders). "We still import large amounts of building materials, especially timber. Timber prices have more than doubled in the last three years. We have had two or three new brick factories built in the UK recently but there's still a 20-30 week delivery lead time on most bricks. Restricting the flow of European bricks will only make things worse."
And Stephen Beechey, group strategy director at Wates, fears the "consequential disruption" that would arise from a no-deal Brexit, with "increased costs and lower confidence from investors driving an economic downturn".
Construction businesses need stability and the government seems to be working towards providing the exact opposite

Richard Beresford, NFB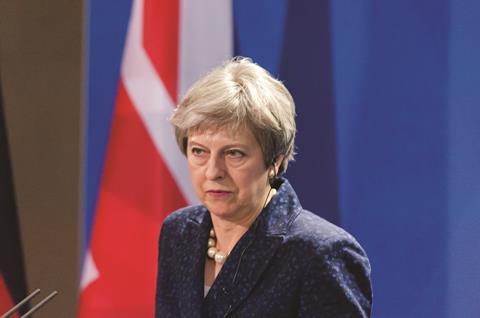 Brexit risks
For Brian Berry, chief executive at the Federation of Master Builders, "the biggest risk of Brexit to the construction industry will be around access to skilled labour. There are more than 165,000 EU nationals working across the UK construction industry and the CITB [Construction Industry Training Board] estimates that 168,000 new vacancies in the industry will be created over the next five years."
Talks will take place between construction industry bosses and the Home Office next month to discuss extending the government's proposed temporary working visas from 12 months to 24 months, and reduce the £30,000 minimum salary for skilled workers from overseas.
Richard Beresford, chief executive of the National Federation of Builders, says: "Construction businesses need stability and the government seems to be working towards providing the exact opposite."
He says: "Telling businesses to prepare for no-deal while launching immigration policies, such as the £30,000 salary threshold, that would undermine construction, among other sectors, is setting the industry up to fail."
In the meantime, the mood music from the government over Brexit, for all its talk of future investment spending, has become noticeably less optimistic in the past few weeks.
In his Spring Statement, Philip Hammond, chancellor of the exchequer, stated that leaving without a deal would result in "significant disruption" and "a smaller, less prosperous economy in the long term". Others predict much darker scenarios.
The Office for Budget Responsibility cut its growth forecast from 1.6% to 1.2% this month, saying: "In recent weeks survey indicators of current activity have weakened materially, in part reflecting heightened uncertainty related to Brexit."
It added: "Business investment has fallen for four consecutive quarters – its longest continuous decline since the financial crisis."
Richard Steer, chairman of Gleeds, claims there's been a slowdown in the construction market and that it is 5% down as a result of Brexit. "Construction activity is being delayed and will be delayed further," he says.
Construction activity is being delayed and will be delayed further

Richard Steer, Gleeds
And a spokesperson for the RIBA told Building: "A no deal will be a complete disaster for the country and the sector. The RIBA is deeply worried that this is looking increasingly likely – we urge all practices to prepare for this eventuality."
Projects are "drifting at the moment due to indecision or lack of decisive action" according to Suzannah Nichol, chief executive at Build UK. Her "greatest fear for the industry is that this drags on and on and on".
Nichol dubs the government's performance in terms of governing the country and working alongside business over Brexit as "unacceptable".
Asked what it is doing to address the concerns of businesses in the building industry, a spokesperson for the Department of Business, Energy and Industrial Strategy, said: "We have provided extensive guidance on issues such as migration, customs procedures and regulations. We are also investing millions of pounds through the Construction Sector Deal to create a more sustainable industry and encourage greater investment in innovation and skills."
The Department for Exiting the European Union did not respond to a request for comment.
Chris Hallam, a partner specialising in infrastructure, construction and energy contracts at international law firm CMS, says: "The problem with Brexit is that it has almost paralysed government function outside of anything Brexit related, so a no-deal Brexit could derail public sector projects as well as those in the private sector. For an industry that has never really crawled out of the 2008 recession, and which is currently suffering difficult times, that is not good news."
He warns that the pressure could tip businesses over the edge. "I do fear that Brexit, and indeed the nature of the Brexit we end up with, could be the difference between many businesses in the sector continuing or failing. Last year saw more construction insolvencies than in any other sector and the trend is very much rising."
Hallam predicts: "There could be very hard times ahead – particularly given the existing post-Carillion difficulties and the further high-profile insolvencies we've seen recently."
Brexit could present an opportunity to reform the sector and reduce its reliance on imports of materials and labour, claims John Hughes D'Aeth, partner in engineering, construction and procurement at Bryan Cave Leighton Paisner. But "many companies in the sector are too financially fragile – and perhaps too set in their ways – to survive the short-term impact of a no deal."
Wider economic threats
And the construction industry is facing a far bigger threat than Brexit, leading economists are warning. The global economy is slowing, and businesses should prepare for the worst, warns Douglas McWilliams, deputy chairman at the Centre for Economics and Business Research. He describes Britain's economic prospects as "somewhere between bad and awful" and warns: "The international economy growth has slowed virtually to a standstill."
On whether the UK could go into recession, he says: "I'd be amazed if we can avoid it," and adds: "We may be talking about growth being negative this year by a percent or two if things go really badly."
The construction sector should be aware that Brexit isn't the only risk, according to McWilliams. "Probably the single biggest risk is the international economy and probably because we have been focusing on Brexit in the UK, a lot of us have rather missed this particular elephant in the room."
His concerns are echoed by John Glen, CIPS economist and professor of economics at Cranfield School of Management. "We are definitely looking at a downturn in the economy, we've got the potential shock of Brexit, at a time when Europe is slowing down and the global economy is slowing down. Will that be enough to put us into recession? It might be. What it definitely will lead to is the UK economy over the next two or three years growing at best at an insipid growth rate, less than 1% and at worst, tipping over into recession."
And the spectre of a global downturn means that whatever happens next in the Brexit saga, there are more powerful shocks ahead for the construction sector.