Building's survey shows clients are having trouble finding contractors with the skills they need. Joey Gardiner asks why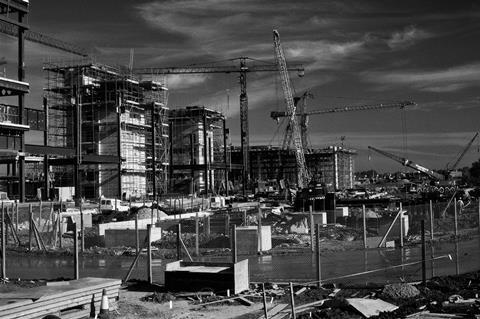 There are over 300,000 individual businesses in the UK construction industry. The amount of work for those businesses is falling sharply - annual construction output fell 6.5% between the height of the pre-credit crunch boom in 2007 and 2011 - and all the current data suggests that this year it is likely to fall far further.
But despite this, research conducted for Building's Client Intelligence White Paper suggests that most clients are still struggling to find companies with the skills they need. A survey completed by nearly 350 construction clients, conducted by Building, asked whether they found it easy to find the contractors and suppliers with the skills and qualities they value. Fifty-eight per cent of them said they found it not easy, not at all easy or impossible to find good builders. An answer you might expect in a boom, when contractors can pick and choose jobs and labour shortages are rife, but not in a downturn. It effectively means that in a world where cut-throat competition seems evident for every tendered job, somehow the people competing for that work aren't offering their clients what they want. So what on earth is going on, and what are the elusive qualities that our industry is lacking?
At first sight the finding seems hugely paradoxical. A fall in new orders last year to the lowest level since 1980 means many contractors are scrabbling for new jobs, and every contractor bears the scars of vicious bidding against rivals to pick up what work is around. Building's survey finds that price is the second most important quality to clients when selecting contractors, and there is no evidence that clients are failing to get a good price.
Peter Jacobs is London MD of Morgan Sindall. He says: "We and our competitors are very busy tendering, if anything the market is over-full. Everything I've seen is showing very keen bidding." Stories of suicide bidding - below the costs of the contract - are rife, while a number of the jobs on Crossrail have come in far lower than originally priced. And the winning £790m bid for the Forth Road replacement bridge project, for example, came in way below the £900m-£1.2bn guide.
Price, however, is just one quality that clients are after. The most important to them, when asked to rate priority among seven options, is proven build quality, with 53% of them rating it as the most important. Financial stability is also important, coming slightly behind price on an average rating value. Supply chain relationships, ability to innovate and more technical skills such as sustainability and BIM came further down the pecking order.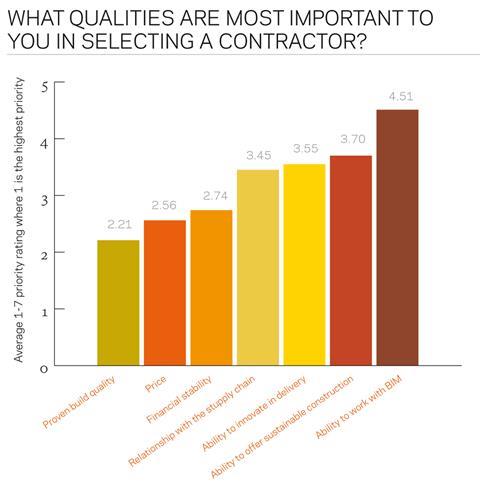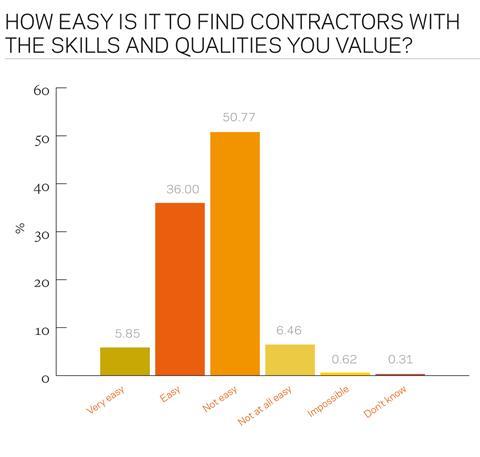 Are these skills really too much to ask? Apparently so, says Hanif Kara, co-founder of engineer AKT2, which has been advising clients on the procurement of a number of big London commercial jobs in recent months. "Clients on very high-end tenders are looking for both width and depth from their contractors as that minimises client risk whilst assuring quality and value for money," he says. "In other words it's not only that contractors need a range of skills, but they also need to know that the people further down who'll actually do the work have a reputation for delivery and most importantly staying power. There are only two or three contactors in each tier who seem to actually match all the criteria […] the same names come up."
Hence Sir Robert McAlpine has been hoovering up all of the major London commercial projects, such as the Middlesex Hospital, in recent weeks. So while it's not difficult to get a good price, or a reliable contractor with the required "depth" of skills to succeed, the difficulty seems to be in finding both at the same time.
In addition, while the industry isn't suffering the severe shortages of individuals with specific technical skills as it did during the boom period, clients say there is nevertheless a shortage of contractors with proven technical competencies, such as sustainability. Pete Halsall, the former MD of green developer Bioregional Quintain, says:
"I haven't got experience of one contractor with a really strong technical capability. This means that when a development's biomass boiler goes down, the contractor can't do anything. It's an issue of culture. In Germany contractors all have technical and design directors on their boards. But here they don't keep the in-house capabilities to anticipate technical problems."
So why is this happening? The most obvious answer is the recession itself. Because while workloads have dropped, the capacity of the industry has in many cases dropped far faster. It is not uncommon to find contractors that have cut their workforce by up to 30%, while many have gone to the wall, but the volume of work has slipped less dramatically. In total, the cut to the construction workforce since the pre-recession peak has been 15%, compared to the 6.5% output fall. This loss of staff affects both businesses and individuals. Roger Madelin, MD at developer Argent, says: "In the supply chain the choice is clearly reducing. When you have the likes of Trent Concrete and Doyle this week going under, high quality firms who we've done a lot of work with, it has an impact."
On the individual level the downturn has seen experienced staff being made redundant, and firms cutting back on training the next generation. Halsall says: "There's a phenomenon in recession called the incompetence gap as people cut down their workforces. You have a huge de-skilling in the economy, at the same time as you have ever greater demands from clients.
"Contractors have been slashing training budgets, and while it makes sense from an accountant's point of view, it doesn't from the point of view of competitive advantage. You don't cut the training budgets for airline pilots in a recession, so why does it make sense to cut construction training? There's a heck of a skills gap."
AKT's Kara echoes the view. "Because of the chop we've experienced in the last five years [in staff], everyone has lost a generation. It's been hard to train up the next generation as quickly as there are fewer projects. This is true across consultancy and contracting and happened in the last recession - we simply have to adapt fast to changing patterns in the market." Obviously this is a problem which will get worse if and when the industry finally recovers. Peter Jacobs is also senior vice-president at the Chartered Institute of Building (CIOB): "Our CIOB figures show that even with a moderate upturn we're looking at a definite shortage of construction managers by 2015. It's an issue for us all."
It's not just the recession which seems to have caused this problem though. Since the seventies the structure of the industry, atomised into hundreds of thousands of tiny firms with main contractors subcontracting a huge proportion of their work, has exacerbated the problem. According to the government, 99.7% of UK construction firms are defined as SMEs. This means contractors rely on third parties to provide specific capabilities, keeping a minimum of staff in-house, and giving the big firms no incentive to invest in site-level skills.
There's a phenomenon in recession called the incompetence gap as people cut down their workforces. You have a huge de-skilling in the economy

Pete Halsall, BioRegional Quintain
Halsall says: "The industry should be investing in skilling up, but the atomised model is inherently inefficient and expensive. The idea that a hassled white-van man should be going round visiting two to three sites a day doing the majority of the industry's work is insane. The model is broken."
But contractors are terrified of employing more staff directly without the certainty of a long pipeline of work. The government's Construction Strategy is designed in part to give this certainty, and thereby encourage more integration of the industry with its supply chain. And the evidence is that where a more long-term approach is used, it can show benefits. Argent's Madelin says his long-term relationships with three contractors - Carillion, Bam and Kier - have enabled Argent to avoid this skills crunch. Projects are allocated to one of the three depending on what kind of skills are needed, and a price negotiated against cost benchmarks with rewards for beating this price shared between client and builder - the very model of partnership working. Consequently the client has experienced no legal dispute with a contractor in 19 years of working. "With our long-term relationships we're in a very privileged position, with the kind of work we commission and the quantity. Clients can't just click their fingers and expect the A-team of contractors to arrive."
He says some contractors are starting to recruit staff directly and upskill, but that the responsibility to change is as much on clients as it is on contractors. "Clients are going to have to work harder to persuade contractors to play by the book, not wait until the last minute and tender to 10 people. It's hard for contractors to invest in training and recruiting staff directly if they don't know where their next job is coming from."
Unfortunately the evidence from Building's survey is that the Construction Strategy, which encourages this type of working, is still far from being standard practice in the public sector. A third of public sector clients predominantly tender through OJEU. Of those that use frameworks, a further third say they are doing it only to sidestep the OJEU process, not to get better buildings through a long-term relationship with their contractor. Both contractors and clients need to look to themselves if this apparent failure of the construction industry is to be rectified.
Building's Client Intelligence White Paper is the indispensable guide to the intentions and outlook of the most important public and private construction clients across the UK.
This detailed analysis of the issues that most matter to clients is based on in-depth interviews with the industry's biggest customers and a survey of almost 350 private and public clients conducted by the magazine.
CLIENT INTELLIGENCE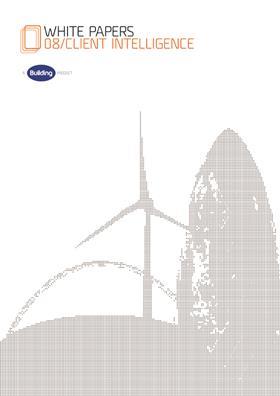 This research is backed up by data provided by leading construction data company Barbour ABI on the major clients giving you a insight into their plans and which of your competitors they're working with.
The white paper includes:
Customers' views on issues that most matter to you - including what will impress them
Clients thoughts on the future of procurement, payment, innovation, BIM, and partnering
A list of the 100 biggest public and private clients by value of their schemes
Information on the top 15 public and top 15 private clients, including work pipelines, lists of key supply chain partners, how they procure
A market overview showing exactly where construction spend is set to go ahead
A survey of construction industry CEOs.