The Education and Skills Funding Agency currently has 1,000 projects under way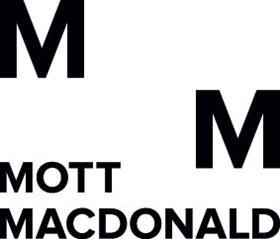 Sponsored by Mott MacDonald
Winner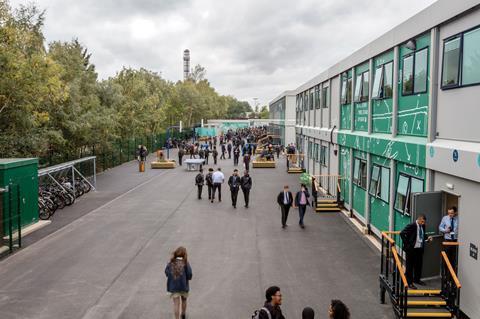 Education and Skills Funding Agency
The Education and Skills Funding Agency (ESFA) is responsible for an annual capital budget of £5bn, including the £4.4bn Priority School Building Programme, and currently has 1,000 projects under way. The agency has been at the forefront of the modular agenda among public sector clients and, as a result, has succeeded in cutting the cost of school building per m2 by 35%. In the last year, the agency launched a property company, LocatED, to help secure free school sites.
The ESFA's staff have also been heavily involved in the response to the Grenfell Tower tragedy, having delivered a temporary school for 960 pupils in just 11 weeks (pictured), after a school located near the base of the tower had to be closed.
RUNNERS UP
Blackstone
With $111bn (£84bn) of assets under management, Blackstone is the largest real estate private equity firm in the world. The company operates at a global scale and has investments and teams in North America, Europe, Asia and Latin America. In the last year, it set out a five-year investment plan for its London office portfolio and completed its renovation of 20 Old Bailey during 2017, providing 240,000ft2 of office space.
Crossrail
Progress on Europe's largest construction project continues, with the permanent track for the £14.8bn rail link completed in September. The project, which includes 13 miles of tunnels through central London, has provided thousands of jobs since it received sign off from the government in 2007. It has also opened up development opportunities across the capital and can lay claim to impressive environmental credentials, with 97% of waste diverted from landfill.
Derwent London
In the last year, Derwent London completed the White Collar Factory in London's Old Street. The building takes its inspiration from industrial design and was aimed at attracting the sort of new tech firms that have made the area their home in recent years. As of August this year, the scheme was 87% pre-let. More is to come, with the Copyright Building in the West End due for completion and the developer in talks about its next project,the £260m Soho Place building.
Lipton Rogers Developments
Lipton Rogers was set up in 2013 by two veterans of the development industry: Sir Stuart Lipton and Peter Rogers. The firm is working on 22 Bishopsgate, delivering 1.4 million ft2 of office space on a site that had previously been inactive for years and proved a challenge for other developers. Getting to this point was complicated, with the developer working closely with its architects and the City of London Corporation to ensure that work that had already gone into the stalled Pinnacle tower on the site did not go to waste.
Network Rail
Network Rail is responsible for maintaining and renewing 20,000 miles of track, as well as looking after 18 of the country's biggest stations. Those include London Bridge, which is currently undergoing a highly complicated development that will see capacity increased by 65%. The organisation has pledged to publish its pipeline of opportunities for construction companies and is introducing a rewards scheme to promote innovation, where money saved on projects is split between Network Rail and its suppliers.
Transport for London
Transport for London has experience of managing major rail and road upgrades across the capital. It has overseen complicated station upgrades, including the £320m overhaul of Bond Street, and has managed the creation of several cycle superhighways. It has also appointed developers to a 400-home site in Kidbrooke and a mixed-use scheme on Southwark Street as part of plan to bring forward sites for housing development in the capital.
University of Bristol
Between January 2016 and March 2017, the University of Bristol had between 75 and 85 live projects at any one time. These included the £15m Queen's Building expansion and the £33m Fry Building refurbishment. The university also has an ambitious capital investment plan for the next few years, including a new campus, a new library and redevelopment of its Clifton campus.