WSP's pre-tax profit increased by 227% and it is a leader on the environmental agenda

Sponsored by Hadley Group
Winner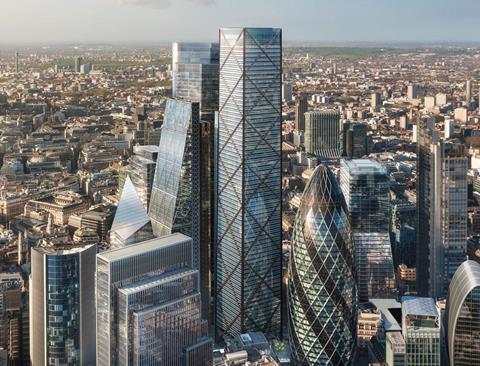 WSP
WSP had a stellar year in 2016/17, with UK fee income increasing by 54% and pre-tax profit up by 227%. As well as it's involvement with high-profile central London projects like 22 Bishopsgate and 1 Undershaft (pictured), the company highlights that in the last year it has been recognised as a leader on the environmental agenda. It points to the 49 energy audits the company conducted on behalf of IKEA in its stores across the EU, the implementation of which led to annual savings of more than £8m and 35,000 tons of CO2.
"The company shows great momentum and they are only improving as they go on," commented the judges. "They always work on some great buildings but also show a great balance in some of the projects that they take on. All their metrics are rapidly improving and also show a real dedicationto their staff and diversity."
HIGHLY COMMENDED
Webb Yates
Webb Yates has grown in the last year, with UK pre-tax profit up 22% on the previous year and headcount up 46%. The company also launched offices in Bristol and Dubai, as well as new architecture and building services engineering departments. Key projects included the Kilo Apron Development at Heathrow and the renovation of the Hoover Building in west London. The judges said. "They are passionate about what they do and are constantly evolving and making their way up the ranks in the industry."
RUNNERS UP
AECOM
Aecom highlights its work on helping to deliver WELL-certified buildings – buildings that enhance occupants' wellbeing. The consultant has also delivered some of the highest sustainability standards achieved in this country, for example, the GlaxoSmithKline Carbon Neutral Laboratory for Sustainable Chemistry, the UK's first carbon neutral lab.
BWB Consulting
BWB's turnover grew by 23%, while headcount also rose by 16%. Profits were up too, with pre-tax profit rising by 16%. The company takes great pride in the fact that this year it entered the Sunday Times' Top 100 Companies to Work For listing, coming in at 59 after several years of being rated as a "one to watch".
Davies Maguire
With 65 new jobs added to its roster, Davies Maguire had a successful year in 2016/17. The projects vary from residential extensions and basement additions to large, mixed-use developments, such as Southall Waterside, which includes more than 600 residential units over nine buildings. The firm also continued to work on heritage projects, such as London's Lincoln's Inn Fields and Queen Anne's Gate.
Foster + Partners
The engineering business at Foster + Partners had an excellent year in 2016/17, with income up nearly 28%. Pre-tax profit was up too at 29%. The number of engineers working for the company rose by 11%. In terms of projects taken on by the engineering business, Foster + Partners highlights its work on the Maggie's Centre for cancer care in Manchester and Tocumen International Airport in Panama, among other commissions.
Heyne Tillett Steel
With operating profit up 56%, Heyne Tillett Steel had a profitable 2016/17. Indeed, the last five years have been good to the firm – over the period, turnover rose by 113%, while operating profit was up 221%. The consultant's projects have included a pavilion for Herne Hill Velodrome, in south-east London, constructed using cross-laminated timber, and the reconstruction of Battersea Arts Centre, in south-west London.
Hilson Moran
This year marked Hilson Moran's 40th anniversary and, judging by its project list, it had more than that to celebrate. The firm is helping to deliver a number of stadiums in Qatar for the 2022 World Cup, as well as working on Hammerson's £1.4bn extension of Brent Cross shopping centre in north London.
Mott MacDonald
Mott MacDonald highlights both its adoption of the latest technology and its focus on sustainability. On the latter, the firm was the lead author of the infrastructure industry's first standard for carbon management, PAS 2080, which was published in May last year. The companyalso launched a low carbon management consultancy service.
TÜV SÜD Real Estate
TÜV SÜD Real Estate's UK real estate division is substantial, with a headcount of 242 people. In the last year it picked up a number of high profile instructions, including Edinburgh's St James retail redevelopment, the regeneration of Battersea Power Station in London, and the construction of the Scottish Power HQ building in Glasgow.