Carrowbreck Meadow proves Passivhaus can still be achieved with a rustic architecture within a rural setting
Winner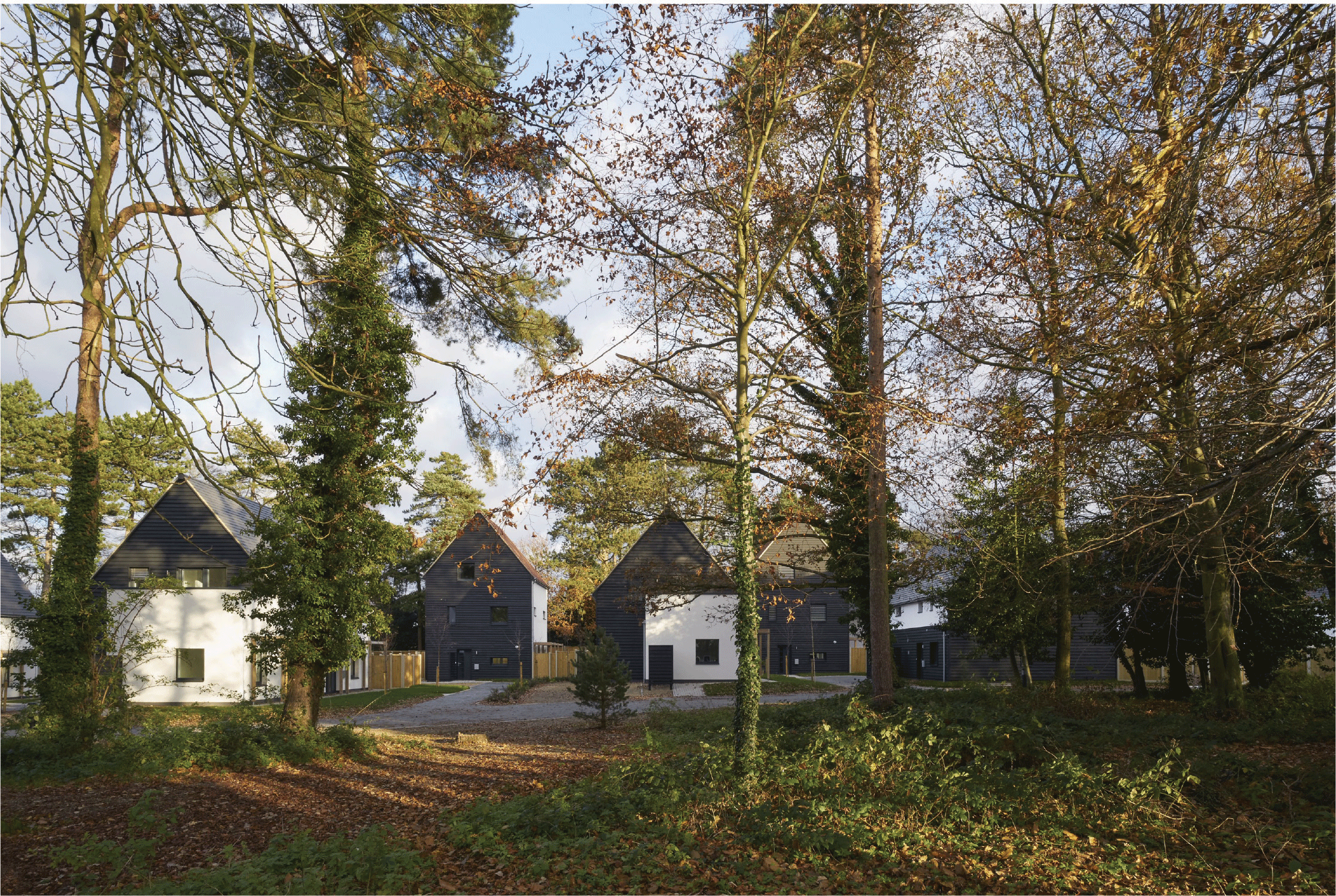 Carrowbreck Meadow
Entered by Hamson Barron Smith
Carrowbreck Meadow is the largest Passivhaus scheme in Greater Norwich and one of the biggest in eastern England. Sheltering in a wooded clearing in a thick forest, its pitched roofs and clapboard cladding are significant because they prove that Passivhaus can still be achieved with a rustic architecture, within a rural setting.
The scheme is also significant for its contractual methodology, which included training for workers and apprentices to deliver the cultural shift in approach required to embrace Passivhaus principles. The judges said that this was a "truly lovely site" and described it as "very contemporary and swish and thoroughly deserving of recognition".
HIGHLY COMMENDED
Oval Quarter
Entered by PRP / Higgins
Oval Quarter remodels the Myatts Field North 1970s housing estate in south London, into a new urban village and vibrant inner-city quarter. The scheme delivers 808 mixed (50/50 balance) tenure homes (social, shared ownership and for sale) and 172 refurbished properties. The project is an exemplar for how to deliver genuine regeneration and retain a socially mixed community.
RUNNERS UP
Barns Road
Entered by Allford Hall Monaghan Morris
Barns Road in Oxford is one of three projects collectively known as the Hab Oakus Oxford Project, which provide 70% affordable housing and community, retail and workshop space on three sites across the city. The Barns Road site has 40 residential units, with shops, workshops and art installations on its ground floor.
Fitzroy Place
Entered by Aecom
This mixed-use scheme, by architects Lifschutz Davidson Sandilands and Sheppard Robson, involves the redevelopment of Middlesex hospital, (of which only the restored grade II*-listed chapel remains). The project transforms one of the largest remaining development blocks in London's West End.
Holy Trinity School
Entered by Rock Townsend Architects / Stockwool
This project provides a response to the design challenge of fitting schools and housing onto restricted sites: 14 storeys of housing are hoisted above a two-storey primary school with a playground deck between.
Pinnacle N10
Entered by ph+ Architects
London's other Pinnacle offers a contemporary reinterpretation of the Edwardian housing stock so synonymous with the local area and the capital as a whole. A terrace of brickwork blocks slope down a hill, separated horizontally by deep recessed chamfered balconies and vertically by thick spans of concrete.
Spring at Stonebridge Park
Entered by Cullinan Studio
This scheme in London arranges a series of blocks, clustered around a new urban layout of streets and courtyards. The ziggurat-like structure embodies the design flair that characterises the entire scheme.
Tapestry
Entered by Niall McLaughlin Architects
As London's King's Cross Central redevelopment enters its final stages, attention will turn towards the mainly residential developments being built to the north of the site. One of the most prominent is the Tapestry Building, occupying an enviable position on the Regent's Canal.
Trumpington Meadows
Entered by Barratt Homes Eastern Counties
Trumpington Meadows provides a vast new community of 1,200 homes set within a rolling 148-acre waterside country park. The scheme attempts to offer a blueprint for 21st-century living by providing essential housing in a manner that is sustainable.
Woodside Square
Entered by Hill
Woodside Square in Muswell Hill, designed by Pollard Thomas Edwards, is a collection of 159 contemporary one-, two-, three- and four-bedroom homes, 70% of which will be available exclusively to the over-55s. This scheme provides a strong emphasis on wellbeing with all homes designed to Lifetime Homes standards and set among community facilities and a generous six acres of landscaped space.