Read about the winner and shortlisted entries for this year's Delivering Social Value Award
Winner: Hackney Britannia
Entered by Morgan Sindall
Morgan Sindall wanted social value to be the standout feature when it handed over to Hackney residents this four-storey leisure centre and 1,100-pupil school on the perimeter of Shoreditch Park. To track what each social value measure would generate, the contractor created its own unique social value bank to calculate the value of its economic, social and environmental commitments and the impact in monetary terms.
Morgan Sindall also set internal targets for social value delivery and had a target of 30% of labourers being sourced locally, as well as 25 three-week work placements throughout the project; these aims were achieved. The firm also carried out a trial of cargo bike deliveries to reduce carbon emissions – the first contractor in London to do so – making use of the cycle super-highway adjacent to the project.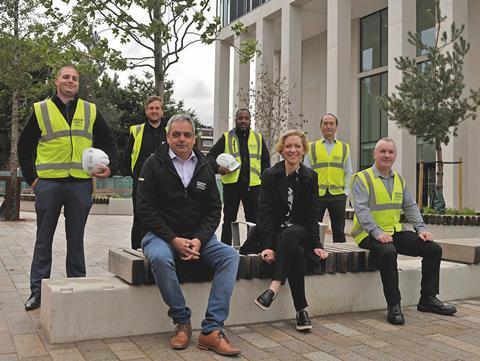 Runners-up
Aberfeldy Village
Entered by EcoWorld London / Poplar HARCA
Aberfeldy Village is a 20-year regeneration scheme in east London by a joint venture between EcoWorld London and housing association Poplar HARCA. The partnership has always prioritised employing local people, and by 2019 the workforce across the site comprised 11% local labour.
The partnership established a community chest panel made up of residents and local teachers to assess applications for projects that benefit the community, with a commitment to spending £150,000. Halfway through the programme, more than £91,287 has been allocated to a range of projects such as equipment and trips for Culloden primary school, a circus workshop, and contributions to Aberfeldy Festival and West Ham United FC coaching sessions.
Lisgar Terrace
Entered by Durkan
Durkan formed a close partnership with Southern Housing Group's community investment team to achieve a range of long-term community benefits in regenerating Lisgar Terrace. The social value objectives were to redesign the existing homes in order to improve living conditions, health and wellbeing for the residents, as well as to create employment and training opportunities.
Activities included engaging with a local primary school to deliver construction-themed workshops for Science Week and training five apprentices. Communication with residents was central to the process, both to understand their requirements and to keep them up to date on progress. A residents' steering group was put in place, while one tenant has been trained as a resident liaison officer to provide a primary point of contact between the tenants, Southern Housing Group and Durkan.
New Addington Leisure Centre
Entered by Mott MacDonald
New Addington Leisure Centre forms the hub of an ambitious redevelopment within Croydon, and key to the design was a desire to maximise the inclusivity and accessibility of the site for the local community. Design changes were finalised following a broad consultation with Croydon residents and the council to understand local needs and, as a result, how the leisure centre could best be redeveloped to suit the community.
A headline success was the launch of the Building Lives Academy scheme offering construction-related training. The aim, which was exceeded, was to upskill 10-15 local people every six weeks through the academy, then encourage them to apply for placements with construction partner Willmott Dixon.
The Alder Centre
Entered by Allford Hall Monaghan Morris
The Alder Centre, in a building designed by Allford Hall Monaghan Morris, is dedicated to counselling and therapy for bereaved parents and others affected by the death of a child. It is attached to the Alder Hey Children's Hospital in Liverpool and consists of a series of counselling rooms, communal spaces and gardens.
Engaging with users was a key part of the design process, and the design team worked with staff from the Alder Hey hospital and the Alder Centre as well as with volunteers and families. This involved initial mind-map exercises to tease out the briefs, design consultations, and visits from the counselling team to AHMM in London to select furniture and fittings for the rooms. Sustainability has been prioritised, with the layout analysed by environmental modelling software as well as the use of sustainable technologies.