Read about the winner and shortlisted entries for this year's CEO of the Year award
Winner: Andrew Davies, Kier
There were few tougher asks than taking on the top job at Kier when Andrew Davies stepped into the role two years ago – and that's even before covid-19 hit. But Davies, who previously spent three years as the chief executive of Wates, has well and truly seen the business turn a corner.
Since taking the top role, he has rebuilt the leadership, with recruits including new chair Matthew Lester, chief financial officer Simon Kesterton, group commercial director Stuart Togwell and construction managing director Liam Cummins. Davies also oversaw the £110m sale of Kier Living in April and the subsequent £240m equity raising, which was a resounding success, completing in nine hours – unlike the firm's previous rights issue in late 2018, which was only taken up by a third of shareholders.
All of this saw Kier return to the black last year, despite tough market conditions as a result of the pandemic. In its latest set of results, the firm posted a £5.6m pre-tax profit in the year to June, compared with a £225m loss the previous year. Operating profit recovered from a £196m loss to a £44m profit. The firm even paid back £61m of VAT and payroll taxes deferred from 2020 because of the pandemic.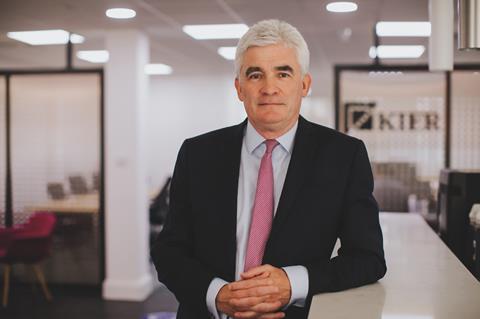 Runners-up
Vince Clancy, Turner & Townsend
The Turner & Townsend chief executive, who is only the fourth in the firm's 75-year history, this year oversaw one of the biggest changes the company has ever seen – with CBRE taking a majority stake. Vince Clancy was a pioneering force behind the deal, which saw the Dallas-based firm pay £960m for a 60% share in the UK consultancy giant, with the remaining 40% retained by T&T.
In the new structure Clancy, with chief operating officer James Dand and finance director Jeremy Lathom-Sharp, will be joined on the board by CBRE president and chief executive Bob Sulentic and two other executives from CBRE's global workspace team.
After the deal was announced, Clancy told Building that the firm, which has rebuffed several offers from rivals over the years and also pulled a flotation more than a decade ago because of the financial crash in 2007-08 – could not ignore this offer, which he said was different and the right direction for the firm: "We never saw anything that would propel us forward like this deal does."
For its part, CBRE said it was interested in T&T for its project management skills, thanks to the breadth of expertise the firm has developed under Clancy's guidance.
John Morgan, Morgan Sindall
Long considered a key figure in the UK construction industry, back in 1994 John Morgan helped to engineer the reverse takeover of regional construction business William Sindall by London-based refurbishment outfit Morgan Lovell, which he had co-founded with Jack Lovell nearly two decades before. And while Morgan has seen his company go from strength to strength, its performance in the past 18 months has been among its most impressive.
In the record interim results the firm turned in this year, it reported a doubling of its average daily net cash position to almost £300m. Morgan said having access to this liquidity ensured the firm was not tempted into taking on risky jobs for turnover. Pre-tax profit was up 285% to £52.4m from last year's pandemic-affected numbers, with revenue jumping 14% to £1.6bn.
Morgan has been an advocate for construction firms in a strong financial position paying back furlough money, saying it was "the right thing to do". He said: "It's good business to pay it back, particularly when the government is one of [construction's] biggest customers. People want to work for a company that does the right thing." The firm repaid the £9.5m it received in furlough money at the end of last October.