For Charles McBeath, head of Ramboll UK, the secret to growth is acquisition and last year he doubled the size of his company by acquiring engineering firm Gifford, boosting turnover from £35m to £58m. But that, he tells Building, was just for starters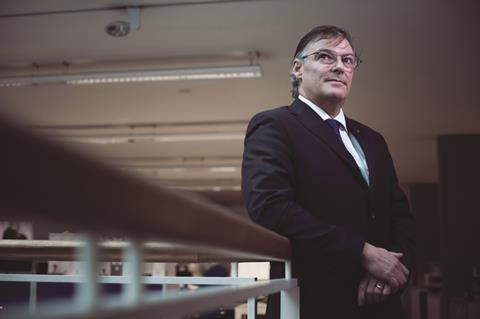 Our headline strategy is to grow." So says Charles McBeath, managing director of engineer Ramboll UK and clearly not one to beat about the bush. His opening gambit is certainly to the point but is it realistic? It sounds like an unusually confident forward plan in the midst of a market full of bruised and cautious firms.
But then Ramboll UK is a bit of an unusual case and has had more than a little experience in the art of growing over the last 12 months following the acquisition of fellow engineering firm Gifford last March. At a time when so many firms were downsizing and struggling to keep their heads above water, the acquisition created one of the largest engineering consultants in the UK almost overnight, instantly doubled the firm's size to almost 1,000 employees and pushed turnover from £35m in 2010 to £58m in 2011. And McBeath isn't stopping there. Next on the agenda are plans to use the group's new capabilities and resources to reach a revenue figure of £75m by 2015.
McBeath is clearly ready to take the 12th biggest engineering consultant in the UK to the next level. To make this happen he intends to target new sectors, new geographies and, potentially, new acquisitions. McBeath, who joined the firm in 1993 and had been director of Ramboll UK since 2009 before the deal with Gifford was finalised, says that infrastructure and environmental work - Gifford's area of expertise - will be top of the firm's agenda for the foreseeable future. It will also be looking further east for potential work opportunities in Russia and China to complement the strong performance in the Nordic regions of Ramboll Group, the €810m-turnover Danish parent company.
McBeath explains that 2012 will be a big year for the new company. Although the acquisition of Gifford for an undisclosed sum was signed almost a year ago, much of 2011 was taken up by a complex integration process and a restructure resulting in an increased focus on project management. This is the year, he says, for the rest of the industry to prepare for Ramboll UK to come out, all guns blazing: "We did a lot of work in 2011 with the aim to start off 2012 as one firm rather than two separate companies," he says. "There have been changes and strategising and now here we are in a new year with a new company."
So how does he plan to go about making the most of a company now double the size it was a year ago and what will he do to keep the ball rolling?
Two become one
Ramboll's acquisition of Gifford last year introduced a new, big time player to the engineering field and one, McBeath says, with the advantage of being able to restructure and reassess its services to match client needs.
The firm is now a similar size to Buro Happold and this has enabled it to pick up work on huge schemes including being appointed as project manager on the £600m Mersey Gateway project. It's also picked up a number of roles, including lead designer, on the £1bn Forth Replacement Crossing scheme in Scotland.
"At the moment we're in a very good position in terms of the workload we have," says McBeath. "Especially given that 2011 was dominated by an integration project, bringing two companies together - which is a complicated process. Now we have gone from two mid-sized companies to one significant sized firm. That has opened up opportunities of a much larger scale like Forth Road."
In 2010, 76% of Ramboll's revenue came from building and design work - something McBeath is keen to reduce and balance against other sectors more likely to thrive in 2012. By 2011 the figure had already declined to 65% with work in infrastructure growing from 11% in 2010 to 23% (see diagram below). And the process of diversification will continue to bed down as Gifford's public sector expertise, past experience working on major infrastructure projects including roads and highways and specialist energy and environment markets team, integrate further into the Ramboll machine.
We want to grow and anyone who thinks they are going to grow dramatically in 2012 without acquisition is kidding themselves
"We really need to increase the size of our revenue in infrastructure as that's where so much of the investment is going to be in 2012, both in the UK and overseas," he says. "And that's on track to be a success when you add in our capabilities in infrastructure. We also want to focus on increasing our environmental work now that we have access to a much broader range of competences."
Eastern promise
Then there is international growth. McBeath hopes that overseas revenue will grow from 25% to 40% of the group's overall turnover by 2014. "Our international growth is part of the strategic targets of the parent company," he explains. "Ramboll Group is very strong in the Nordics and is now the most influential consultant in Denmark. If you start reaching that position in one region, you have to look outside and expand influence. Part of our remit is to ensure we spearhead that strategy."
McBeath says flexibility will be key in such a fast changing global market. He sees opportunities in north Africa - an area the firm, along with others, had to evacuate last year to flee the political unrest. But he expects that new governments will lead to a return to construction work before too long.
The group will continue to operate in Russia where it has already worked on major projects, including as lead consultant on Pulkovo airport in St Petersburg. He says the firm will approach China with caution: "We're looking, of course. But the market is sewn up to an extent. The Chinese do seem to be very interested in the environmental sector which is obviously where we're looking to grow. So there are opportunities there. But I don't think we'll be penetrating the market entirely as it seems quite self-contained."
Bigger and better?
McBeath appears to hint at further acquisitions saying: "We want to grow and anyone who thinks they are going to grow dramatically in 2012 without acquisition is kidding themselves really."
Does this mean another big deal could be on the cards? Perhaps not: "We've got a lot do to in 2012," he laughs. "Given what we have just done it's unlikely we'll repeat it over the next 12 months. We need time to settle. But I am sure in the future there will be time for more acquisitions. And maybe over the next year there will be some smaller, targeted ones in the areas we need to grow - infrastructure and environment."
Smaller deals they may be, but McBeath has clearly caught the growth bug. And he is unlikely to let an annoyance such as a volatile economic market put him off.
Ramboll UK: Company fact file
Employees: 1,000
Sectors: Commercial, culture, education, energy, health, natural resources, oil 7 gas, public planning, residential, tourism, sport
Offices: 14 in the UK, 215 worldwide

Latest Financial information: Turnover £58m (2011) £35m (2010)

Markets: UK, Nordic regions, Russia, north Africa, Middle East
People
UK Managing Director: Charles McBeath
Executive directors: Dan Harvey, Steve Canadine, Terry Dobbins
Finance director: Debbie Montgomery