Glenigan's forecast for construction is brighter than you might expect. Keep your brolly close by, though, just in case. Jamie Harris reports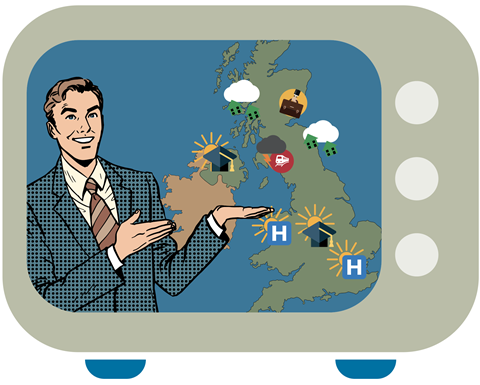 It feels as if the past three years have been shrouded in a fog of uncertainty, what with Brexit and the destabilising results of the 2017 general election. And now, with another election around the corner, who would predict where construction is headed in the next 24 months? Well, this is exactly what the researcher Glenigan has done in its latest report. So, what does it say?
Construction Industry Forecast for 2020 and 2021, which is published this month, highlights a levelling-off of the market following a decline in underlying project starts. Overall, the market rose by 1% in 2019 after an 8% decline in the previous two years.
Uncertainty has stymied growth in several sectors in 2018 and 2019: Brexit has dampened commercial activity, particularly in London, while in manufacturing, the questions around the EU trade agreement have weakened domestic demand.
The forecast is more rosy, however: Glenigan predicts 2% growth in project starts next year and a further 5% increase in 2021.
+2%

Project starts 2020 forecast
This is based on the assumption that the Conservatives are re-elected with a majority, that the government enacts the Brexit agreement negotiated by Boris Johnson and that a trade agreement with the EU is in place before the end of the transition period.
Both major parties are promising significant investment in public sector projects, such as healthcare, education and infrastructure. Glenigan notes that if Labour wins a majority on 12 December, big infrastructure schemes are likely to go ahead – and longer term there is set to be a greater shift in construction activity towards government-funded projects.
Under Labour, it notes private sector investment would be muted in the short term as Brexit uncertainty continues and Jeremy Corbyn's government seeks a new EU withdrawal deal followed by another in/out referendum. In the medium term, economic growth is more likely to rise if Britain stays in the EU – or remains a member of the customs union.
+5%

Project starts 2021 forecast
Growth under a Conservative administration, however, in the next two years is expected to be led by the private housing sector, which after a period of stagnation is set to experience an uplift from purchaser confidence and Help to Buy, which will run until 2023. In affordable housing, detailed planning approvals slipped slightly this year. This is expected to temper growth in new starts in 2020.
Glenigan's report excludes starts valued at more than £100m (see "The author's view"). Even so, the positive murmurs around HS2 are expected to mean civil engineering output will continue to increase. This is bolstered by work on Thames Tideway, Hinkley Point and Network Rail's five-year programme, which has already led to £4.1bn in investment with more to come.
The author's view: A more positive picture
Allan Wilén, report author and economics director at Glenigan
Our report looks at the value of projects starting on site. We have excluded projects valued at more than £100m so they do not mask the underlying market conditions. For example, the timing of HS2 projects starting on site would skew the trend in civil engineering activity.
In each of the past two years, we have seen an 8% decline in project starts. But overall we're looking at a more positive picture for the next few years. This is on the basis that we will have a little more political certainty after the election. That will give the market more confidence – in particular, the housing market should help to lift activity.
It's encouraging that all political parties are emphasising the need to increase public sector spending. They have different areas of emphasis, but their spending commitments are a clear recognition that greater investment in the built environment is the way to drive up living standards and economic growth over the longer term.
In addition, some of the big public sector areas are looking brighter. Additional money has already been promised to the NHS, although it may take a while to come through and be delivered to projects on site. The path there is positive and clear, however. In other areas, such as education, there is a pressing need for greater investment in buildings to a secondary school level to accommodate rising pupil numbers. In social housing, we expect to see the next government make more funding available.
The warehouse and logistics sector remains a positive area. That has been driven by structural change in retail as we do more of our shopping online. About 20% of retail sales are now online purchases, which is driving the demand for more logistics space. This includes large national distribution hubs that tend to be focused around the North-west, the Midlands and parts of the South-east, as well as opportunities across the country for smaller, local distribution facilities that provide "final mile" delivery to homes and businesses.
The Construction Industry Forecast for 2020 and 2021 is available at glenigan.com/forecast
All figures Glenigan
Offices
Office starts

| | 2018 | 2019f | 2020f | 2021f |
| --- | --- | --- | --- | --- |
| Value of project starts (£m) | 4,569 | 4,857 | 4,204 | 4,244 |
| Growth | 3% | 6% | -13% | 1% |
Recent development activity has been driven by a shortage of high-quality office space, especially outside London. The increase in available office accommodation as projects are completed, coupled with a weak outlook for employment growth, is forecast to temper the flow of project starts during 2020 and 2021.
Regional centres, rather than the capital, have been the recent focus for activity. Demand for high-quality office space has been growing in cities. This, plus a previous lack of development, tightened the supply of available office space in Manchester, Birmingham, Leeds and other major regional centres and has spurred activity.
Education and health
£5.7bn

Forecast value of underlying education project starts in 2020
The number of secondary-school-age children in England is projected to rise by 13.6% over the five years to 2022. Councils have sought to accommodate the rise in numbers by expanding existing schools. However, new schools will also be required, especially in areas of high growth such as London and other cities. But this expansion has been tempered by universities moderating their investment plans after strong growth in recent years.
£2.3bn

Forecast value of underlying health project starts in 2020
NHS funding is high on the political agenda – last year the government committed an extra £20bn a year to the health service and the major parties' election manifestos all include hefty spending pledges. Initially, the extra cash will be funnelled to frontline services rather than new facilities. While capital investment in NHS buildings can deliver efficiency improvements and better health outcomes, it will take time to bring forward projects.
Housing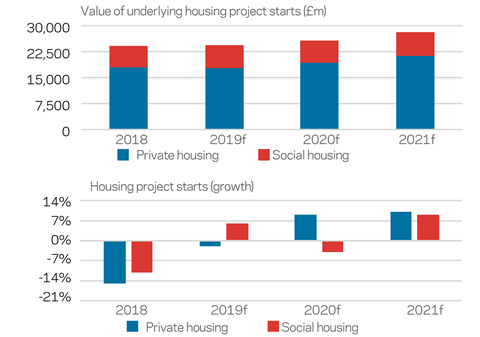 A cooling UK housing market has held back activity this year. The value of private housing projects starting on site declined for a second consecutive year, falling by an estimated 2% as housebuilders prioritised building out existing developments and opened fewer new sites. Demand, not supply, is the principal constraint on new private housing activity.
Greater political clarity is expected to lift homebuyers' confidence from next year, supporting a modest rise in property transactions and new housing activity.
At £713m, the value of build-for-rent schemes started this year is forecast to be 29% down on 2018. A more certain political and regulatory outlook is expected to support growth in build-for-rent development in 2020 and 2021.
The value of affordable housing projects started on site is estimated to have grown 25% this year. Detailed planning approvals fell slightly, however, which is forecast to dent new starts growth in 2020.
Student accommodation work has faltered in 2019, having been an important growth area in recent years. A further weakening is expected to drag down overall starts next year, before this sub-sector returns to growth in 2021.
Infrastructure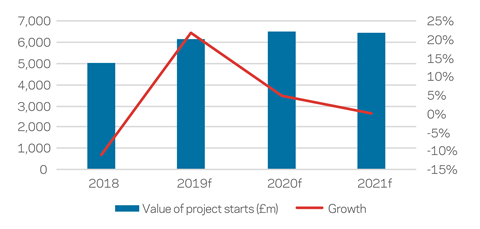 Major infrastructure schemes, including Thames Tideway, HS2 and Hinkley Point C, will be important drivers for sector activity over the forecast period. In addition, Glenigan anticipates a strengthening in the value of underlying project starts.
Initial work on HS2 is now contributing to activity in the sector. However, the project is awaiting the outcome of the Oakervee review. If the high-speed line does proceed, some contracts may be re-tendered and the contribution to sector output will be later than previously anticipated. However, the value of the overall development is likely to rise.
In addition, Network Rail's five-year investment programme (CP6) is now under way. So far, £4.1bn has been allocated for maintenance and renewals work in the current financial year.