Build UK's update the industry amid the covid-19 outbreak
Today's update is slightly longer than usual as it also contains the latest information on contracts and tender opportunities from Build UK partner, Builders' Conference.
The prime minister's speech on Friday provided an update on the easing of lockdown restrictions in England following a rise in the number of coronavirus cases:
While there are local restrictions on household contact in certain areas, there was no change to the advice for employers having the discretion to open offices and workplaces from 1 August
People who are clinically extremely vulnerable are no longer advised to shield and can return to work as long as their workplace is covid-secure and they can maintain social distancing, although they are advised to carry on working from home if they can
From 8 August, face coverings will become mandatory in more indoor places, including cinemas, museums and places of worship.
The site operating procedures state that government guidance (which includes any local authority requirements) must be followed, and in areas of localised lockdowns it is expected that sites will assess the local conditions and respond accordingly. This may include reverting to the social distancing practices in place prior to the easing of the national lockdown, such as not opening canteens and rigorously enforcing hygiene and cleaning regimes.
Businesses may be notified of potential or confirmed cases of covid-19 and the government has provided guidance on the NHS Test and Trace service for employers and published an action card for construction detailing the steps to follow when informed of more than one confirmed case.
The Scottish government has not set a date for the re-opening of non-essential offices, and working from home where feasible remains the default position. The earliest a date will be announced is the next review of the Route Map on 10 September.
Secretary of State for Housing Robert Jenrick announced major changes to the planning system in an article for The Telegraph last weekend. The reforms will introduce simpler and faster processes to deliver the homes and places needed in areas designated for growth or renewal, and further information is expected to be published later this week.
This is welcome news for the industry, as the latest information from Builders' Conference underlines the continuing impact of coronavirus on contracts and tender opportunities. Pre-coronavirus between July 2019 and March 2020, the number of contracts awarded each month averaged 587. In July 2020, there were 430 contracts awarded, which was a slight improvement on the 415 contracts awarded in June, but 27% below the average and 30% less than in July 2019.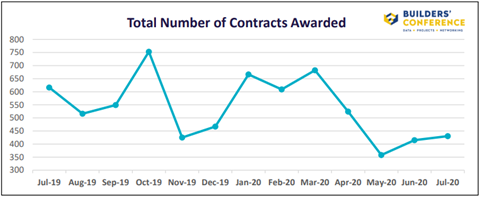 The value of contracts awarded in July increased by 50% to £5.4bn, compared to £3.6bn in June, which was primarily driven by two large mixed-use development contracts with a combined value of £1.7bn. Even with these two contracts, the value in July is still 13% lower than the monthly average of £6.2bn between July 2019 and March 2020. Excluding these two contracts, almost half of all the contracts awarded were housing projects (180 projects with a combined value of £1.7bn). There were then 38 office projects worth £554 million and 23 health and welfare projects with a total value of £333m.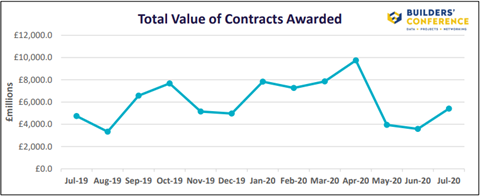 There was a modest increase of 15% in the number of tender opportunities, up from 303 in June to in 349 in July. However, this is still 49% below the monthly average of 682 projects available for tender between July 2019 and March 2020 and 60% lower than July 2019.
At present, there are just 162 tender opportunities available until the end of October 2020, according to Builders' Conference.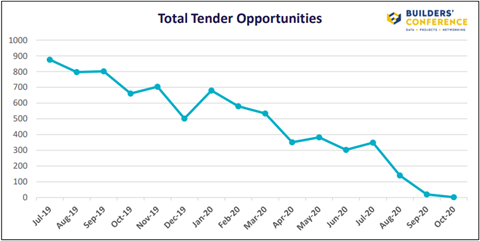 Businesses should continue to follow the most up-to-date government guidance and for the latest updates please follow Build UK on Twitter and LinkedIn. If you have any construction-specific queries or feedback on what is happening within the industry, please contact Build UK.