Meet two charities CRASH supports: one for people in inner London recovering from addiction, the other supporting a community living in a former convent in Brighton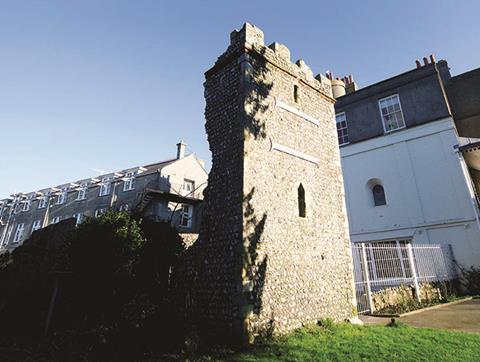 I remember exactly when it was completed - 17 March 2007." For Mossie Lyons, director of the Kairos Community Trust, the date is hugely significant - it was when the hall at Linden Grove in Nunhead, south London, was transformed with help from CRASH.
Kairos helps people who become homeless through addiction. It has a network of 28 supported houses, mostly in south London.
The relationship between Kairos and CRASH goes back 13 years, starting with work on its Linden Grove building. Mossie explains: "The phone number for CRASH was included in the development notes, so I decided to get in touch," said Mossie. "Then the process kicked in."
CRASH was impressed by the quality of Kairos' work and concerned about the lack of provision in this part of London. It decided that to work with Kairos effectively it would need to invest long term. CRASH's help has since led to cash grants of over £54,000 spread over six projects since 2008. The work has involved everything from boiler installations to painting projects, kitchen fitouts and building extensions. Much of this was only possible with the materials donated by the likes of Baxi, Sir Robert McAlpine, Bauder and Argent.
But it's not just the materials and funding supplied by CRASH that Mossie values: "[CRASH} also gives professional advice. For example, Guildersfield Road is a listed building. We were able to get guidance on what would be appropriate development."
Consultant Aecom provided invaluable advice on this particular project.
The architect practice Areen Design helped out on another recent Kairos project in Eugenia Road, in London's Surrey Quays. Here they created a community dining room and are working on plans for two further bedrooms.
Help for residents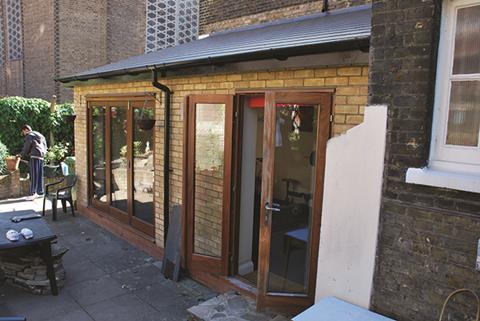 Residents in Kairos accommodation find themselves homeless for a wide range of reasons, and there is no typical homeless person. "My mental health issues started way back, but the alcohol masked it all. That's how I ended up on the streets, after a nervous breakdown," says Dominic O'Gorman, support worker at Kairos.
"I was a seven-stone tramp full of beard, drinking on the streets of Euston. She [the street outreach worker] came and sat next to me. She explained who she was and just talked to me a little bit. After a few visits she asked me 'do you want to get clean?'"
Dominic received support from Kairos as he found his feet. When he needed a work placement scheme to fulfil the requirements of a social care course, Kairos was more than happy to let Dominic volunteer at the home.
Turning around the fortunes of people like Dominic is the challenge facing charities such as Kairos, and for Mossie the work to improve its accommodation is vital to that aim. And he is keen to stress the important role the work of other people played to make it all happen: "We would not have done it without CRASH."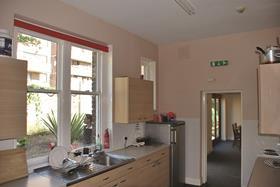 Community living
Emmaus in Brighton is a similar charity to Kairos in that it provides homeless people with a stable home and meaningful work, but the nature of its building projects are quite different.
The charity is based on the site of the site of a grade II-listed former convent which was acquired by the Emmaus Community in 1997.
Work on the community's buildings has benefited from the expertise of housebuilder Taylor Wimpey, which offered the services of one of its engineers, and the NHBC, which supplied Building Control advice.
And last year, consultant EC Harris helped CRASH explore the possibility of expanding the Emmaus community. One key activity for Emmaus is to encourage residents repair second-hand furniture. But the charity was keen to find a suitable location for a shop where they could sell the furniture to the public, which helps to provide a focus for residents as well as raising funds for the charity. Eventually a former pub was found
near an A-road, which could be refurbished as a permanent shop.
The role for EC Harris started with looking at whether the project was feasible. It considered all the issues that need to be resolved before the property was bought, and then worked out what the next steps of work would be for other patrons of CRASH to make it functional.
EC Harris also got involved in some fundraising for the community. According to spokesperson Phil Brown: "CRASH is a consistent benefactor of our fundraising and volunteering efforts, like our Community Challenge Day where a team of EC Harris staff helped redecorate certain areas of the homelessness project."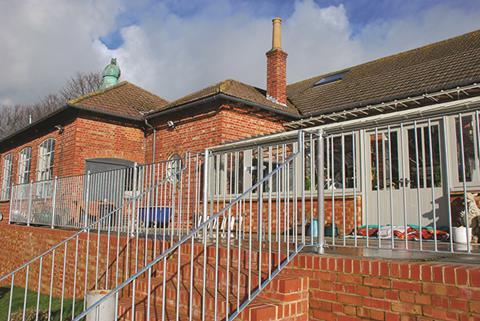 Over the years, the partnership between CRASH and Emmaus has grown: it has facilitated the use of materials from companies such as A-Plant, Baxi, ACO Technologies, Travis Perkins, Hanson, Marshalls and Heckmondwicke. As well as expertise on community projects, CRASH has supplied Emmaus Brighton & Hove with cash grants of £30,000 over two projects since 2009.
A process of due diligence
Emmaus and Kairos, like all charities CRASH works with, went through a lengthy assessment process. "We don't just assess the buildings, we have a good look at the services that are provided by that charity to homeless people," says CRASH communications manager Emma Brophy. "There's a great deal of due diligence that goes on before we even agree to help."
And this careful approach is key to CRASH's success: as a charity it aims to work on long-term projects so that the outcomes really make a lasting difference. This way of working is not just more efficient, it is also immensely rewarding for all those involved.