Fast-track pitched roofing, slip-free laboratory floors and fire control systems suitable for historic buildings are among the products raising standards on UK school estates
Fire control panels
Kentec fire control panels have been specified as part of a new wireless fire alarm system at Radnor House School in Twickenham. Fire alarm specialist Fire Systems needed to install a system that would protect staff and students without damaging the historic building. The Kentec Syncro two-loop AS analogue fire alarm control panel was chosen as, according to the company, it combines a high level of fire protection with low impact on the building fabric.
Kentec
www.kentec.co.uk
Adaptable light pipes
Xtralite Rooflights has introduced a light pipe range called DDS Light Pipe, which the company says diverts daylight into rooms lacking natural light. The pipes act as a conduit between internal ceilings and external roofs, and can be fitted on slate, tile, flat or pitched roofs. Two formats are available: Rigid Tube and Flexi-tube. The lengths and angles can be adjusted to meet individual project requirements. The DDS Light Pipe range has a total reflection rate of 98%, which the firm claims is a higher level than similar products.
Xtralite Rooflights
www.xtralite.co.uk

Brick support angles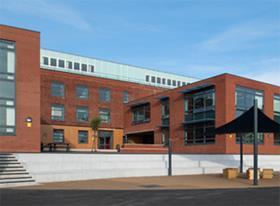 Ancon supplied over 400m of stainless-steel brick support angles for the new St Mary's Catholic College in Blackpool. The development is part of the Building Schools for the Future scheme. The external brick cladding is supported by AnconOptima angles and bespoke support fabrications. Ancon Steelgrip bolts were used to fix both systems to the structural steel frame, which comprised rolled hollow sections. The
new school aims to achieve a BREEAM "very good" rating.
Ancon
www.ancon.co.uk
Ventilating window
Britplas has introduced a new ventilating window, called Rapidvent, which the company says improves natural ventilation and air quality in classrooms. The design includes a touch stainless-steel perforated mesh, allowing fresh air in while assuring safety for occupants. Engineering consultant WSP was commissioned to undertake a technical performance study to demonstrate Rapidvent's performance in a school. The firm says the results showed Rapidvent could improve natural ventilation, achieve a 50% lower carbon dioxide concentration and reduce internal temperatures by a further 10°C compared with standard top-hung windows.
Britplas
www.britplas.com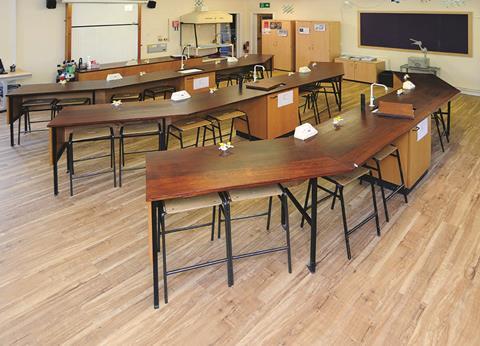 Laboratory floor
Polyflor's Expona Control flooring has been specified for the laboratory areas at Rye St Antony School in Oxford. More than 300m2 of Nut Tree was installed by Reading-based Paul's Floors. The company says the slip-resistant Expona Control was chosen as it met the school's requirements in terms of the look and performance of the floor, where there is a risk of spillage in a busy laboratory. The firm adds that Expona Control achieves 36+ in the pendulum wet test and has a surface roughness of 20 microns.
Polyflor
www.polyflor.com
External wall insulation
External Wall Insulation (EWI) by Saint-Gobain Weber has been chosen for the new Llanwern High School in Newport, south Wales. Some 2,500m² of weber.therm XM EWI has been installed, with 110mm-thick mineral fibre slab. The company says that a U-value of 0.28W/m²K was achieved in the construction of the school. It adds that the product was chosen as it is straightforward to work with and its textured finish gives the building a modern appearance.
Saint-Gobain Weber
www.netweber.co.uk
Co-extrusion soil pipe
Marley Plumbing & Drainage has launched a 110mm co-extruded soil pipe, which it says incorporates at least 30% post-production recycled content without compromising performance and appearance. The product is certified to BS EN 1329, and combines environmental benefits with improved weathering performance and higher gloss levels. The co-extruded pipe is colour-matched to all standard 110mm Marley soil fittings and is available with double spigot and push-fit socket options.
Marley Plumbing & Drainage
www.marleyplumbinganddrainage.com
Radiant panel and LST radiators
Merriott Design Radiators has introduced two new radiators for the healthcare and education sectors: Smart Radiant Panel, a radiant panel radiator, and Smart LST radiator, a low surface temperature radiator. The Smart Radiant Panel uses a network of piping to transmit heat across the panel, radiating directly onto surfaces. The company says radiant panels are a hygienic heat source and offer more discreet pipework, meaning they are a good solution for healthcare as well as schools, sports halls and commercial buildings. An acoustic version is available, which is particularly suited to schools as it helps absorb sound. The company says the Smart LST radiator is easy to clean as it has been pressed from only one sheet of metal, thereby minimising edges. The cover can drop to 45° or floor level for easier maintenance.
Merriott Design Radiators
www.merriott-radiators.com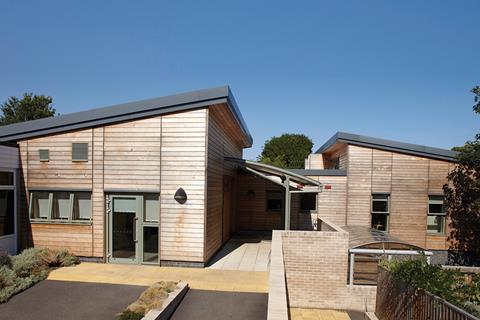 Pitched roof system
Some 600m2 of the Kingspan TEK Building System was specified for an extension to All Faiths' Children's Community School in Rochester, Kent. The extension included three new classrooms, a children's centre and sports hall. The company says the Kingspan TEK Building System pitched roof was chosen due to the time restraints of the project as the extension had to be completed while the school was operational. The firm also says the Kingspan TEK Building System panels helped the school to achieve a final roof U-value of 0.10W/m2K.
Kingspan Insulation
www.kingspantek.co.uk
Movers and Makers
Hanson UK has launched an online brick selector tool that contains information on more than 300 different shaped bricks. The catalogue offers illustrations and dimensions of all the products in the range, including restoration specials, air bricks and date bricks. The company says the resource makes it easy to research and share information with clients. The brick selector tool can be found at www.ask-hanson.com/special-shaped-bricks
Foremans Relocatable Building Systems, supplier of Portakabin buildings for a variety of uses including teaching blocks and offices, has been accredited to the government standard for customer service excellence (CSE). The accreditation was given following an assessment of the company's range of modular building services and its processes for measuring customer satisfaction. All staff are required to attend CSE training, and Foremans aims to respond to customers within 24 hours and to visit a site within seven working days to deal with renovation requests.
On 1 September, the profiles and building systems brands Sapa and Hydro joined together to form a new company, Sapa AS. The new venture is present in over 40 countries with more than 100 plants and around 23,000 employees. The firm says Sapa Group will become a market leader in the building systems sector, serving customers worldwide.
Dow Building Solutions' Styrofoam-A and XENERGY thermal insulation products are available as building information modelling (BIM) objects through NBS' National BIM Library as well as the company's website at www.styrofoam.co.uk.The products are available in IFC format and formats compatible with Autodesk Revit, ArchiCAD, Vectorworks, Tekla and Bentley.