Healthcare is a sector with very specific needs, but there are innovative building products to suit all projects, from hygienic flooring to security management systems
Sheet vinyl floor coverings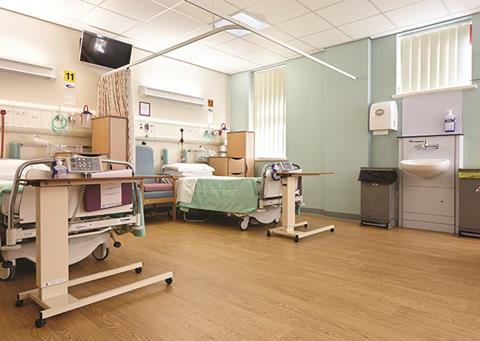 Polyflor's Forest fx PUR collection of wood effect sheet vinyl floor coverings has been installed at the new Mynydd Mawr Rehabilitation Unit at Prince Philip hospital, Llanelli.
Over 500m² of Polyflor products were used in the project including Forest fx PUR to bedroom and circulation areas, Polysafe Hydro to en-suite bathrooms and Polysafe Modena PUR and Vogue Ultra PUR to utility rooms.
Polyflor's Forest fx PUR was selected for the core living areas of the development using the King's Fund Environmental Assessment Tool. The assessment tool was developed in collaboration with NHS Trusts and is funded by the Department of Health to support the implementation of the National Dementia Strategy.
Polyflor
High gloss washtroughs
Franke Washroom Systems added new grab rail and Doc M product packs to its commercial washroom product range. The new Doc M products are available in blue or white epoxy-coated aluminium and stainless steel, for durability, strength and hygiene. The range includes backrests, drop-down hand rails, a range of grab bars, and lift-up shower seats with and without a supporting leg. All products are available together in a range of different packs.
Franke Washroom Systems
Automatic doors
Gilgen Door Systems has completed the installation of a number of new automatic pedestrian and industrial doors at Rotherham hospital. The company says that the doors are designed to improve ease of access, security and energy efficiency at the hospital. The installation includes Gilgen FFM automatic pedestrian doors, Rolegard insulated roller shutters and Kwikroll high-speed doors. A Kwikroll door provides access from the hospital corridor to the loading area. Radio fob operated from each side, the Kwikroll features a blue fabric curtain with vision panel, full safety features and is linked in with the hospital's fire alarm system to failsafe open.
Gilgen Door Systems
Interim health building
Portakabin Hire has delivered an interim health building for emergency care to reduce the pressure on the Accident and Emergency Department at Worcestershire Royal hospital. The new Surgical Clinical Decisions Unit (SCDU) built by Portakabin for Worcestershire Acute Hospitals NHS Trust provides 24 beds in two wards and ancillary facilities including dirty and clean utilities, nurses' base, consulting rooms and two en-suite isolation rooms. The interim building will remain in use for around five years. Other features installed by Portakabin in the new unit include a nurse call system, fire alarms, medical gases, bed-head trunking and access control. It is linked to the hospital's existing building and there is full climate control and an air change ventilation system.
Portakabin Hire
Hygienic flooring
Polydeck Resins have installed 4,000m2 of Flowcrete UK's Peran STB flooring in a new hospital facility in Bristol. Part of a major redevelopment at Southmead hospital in the north of the city, the Brunel building is due to open for the first time in May. The company claims that the Peran STB was chosen as the system allows for rapid installation, which was a vital part of the project. The hygienic flooring system provides a durable, decorative topping, which is easy to clean and provides a seamless finish.
Flowcrete UK
Security management system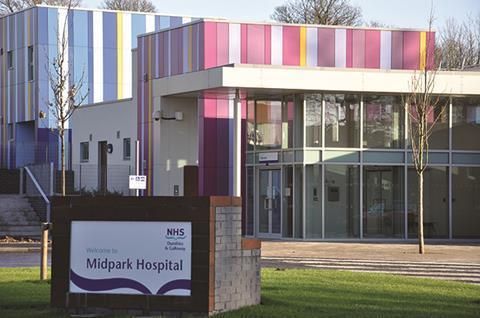 CEM AC2000 Lite access control and security management system from CEM Systems, part of the Security Products business unit of Tyco (NYSE: TYC), has been installed at Midpark hospital in Scotland.
AC2000 Lite is a security management solution available for the small to mid-range market, supporting up to 128 doors. The company claims that AC2000 Lite was chosen as it is suited to installations that require a sophisticated level of security within budget.
AC2000 Lite is fully integrated with selected video and intruder detection systems, offering one central command and control centre for all access control, video and intruder alarms.
CEM Systems
AIr-cooled chiller and heat pump range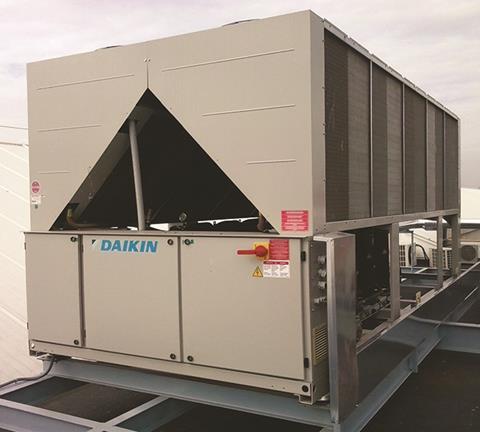 Daikin Europe has launched its first large DC Inverter Scroll air cooled chiller and heat pump range which, the company says is suitable for either cooling only or heat pump applications. The range includes the EWYQ-GZ high efficiency heat pump (nominal capacity range 193 to 380kW cooling, 182 to 362kW heating) and the EWAQ-GZ cooling-only high efficiency unit (nominal cooling capacity range 201 to 395kW), both available with standard or reduced sound levels. Daikin offers a range of energy efficient solutions for healthcare environments, including air conditioning for hospitals, as well as economical hospital heating and ventilation systems.
Daikin Europe
Movers and Makers
Hanson has updated its brick guide to include the latest changes to its range, including extruded bricks as well as sustainable stock bricks. The company says that the brick guide contains all the information architects, specifiers and designers need to select the right brick for any project. The guide also includes Hanson's new brick and block app, blended brick service and examples of brick-built projects. The guide can be downloaded at www.ask-hanson.com.
Yorkon, supplier of off-site building solutions for a range of sectors including retail, health and education, has launched its new customer charter. The Charter states that if Yorkon fails to meet the agreed deadline, 1% of the contract value will be refunded for every week a project is delayed (up to a value of £5,000 per week and a maximum of five weeks. Other contract terms apply). The firm says it is committed to ensuring that every project is delivered on time and on budget, and believes the new charter sets a clear benchmark for the industry.
Contour Casings has launched a new LST radiator guard brochure, which features information on a ground-breaking infection prevention study, Contour's BIM programme and full technical specifications. The company says the brochure shows how the anti-microbial technology present in all Contour LST radiator guard solutions reduces levels of potentially harmful bacteria by 91%. The brochure is a complete solutions guide for those operating in healthcare, education and other demanding environments. To request a copy of the brochure, visit www.contourcasings.co.uk.
Armstrong Ceilings, leading interior solutions provider for a range of sectors including healthcare and education, has launched an online RIBA CPD. The "Suspended ceilings and the environment" 44-minute CPD has been designed to provide architects with an improved understanding of how suspended ceilings can help reduce impact on the environment. Armstrong's new online CPD can be viewed at www.armstrong.com/commclgeu/eu1/uk/gb/RIBA_seminars.html.