QSs are supposed to price a job accurately and de-risk procurement. But with many clients sore at what they see as the failure to predict soaring construction costs, some are wondering what they're paying them for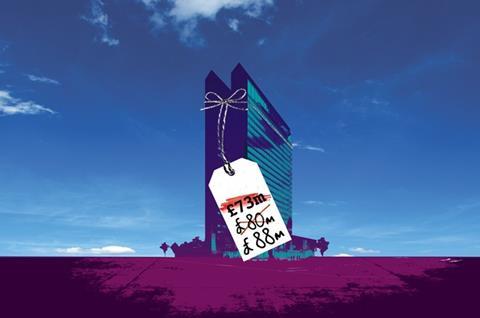 Almacantar chief executive Mike Hussey – who is behind the redevelopment of London's Centrepoint tower – caused a bit of a stir last month by predicting a 15-year property boom. While that provocative prediction is clearly pretty controversial, other parts of his presentation, made to the Association of Property and Fixed Charge Receivers' annual meeting in the oak-lined rooms of Smithfield's Haberdashers' Hall, were greeted with more recognition by the assembled great and good of the development industry. Namely, his gripe about soaring construction costs – which he said had simply not been forecast in advance. "Electricians are hard to find and the utility companies are completely overrun," he said, citing real construction inflation of 15-20% in London, three times the 6-7% that had been predicted.
Hussey is not alone in feeling sore about this, it seems. Talk to any big client, particularly those working in the overheated London market, and odds on you will get a pained story about how the cost plans being provided by QSs are proving inadequate to keep pace with the changing market. Developers are finding that buildings they thought they could build for one price will cost them more – often millions of pounds more. While everyone accepts tender prices will rise, it is the "collective failure" – the term used by one particular blue chip London client – of QSs to see the sheer scale of the rebound that is causing consternation. As one consultant – not a QS – who advises on a large number of London projects says: "Big clients definitely do feel let down. Pre-tender estimates are just not matched at all by what's coming back."
QSs have a special place in UK construction, having been used for years to price, de-risk and control procurement on projects in a way that rarely happens overseas. But, in a world where many countries do without the separate profession of QS, is there a danger that these kind of problems leave clients increasingly asking cost consultants just what, exactly, are we paying you for?
A collective failure
While all parts of the project team are understandably reluctant to talk about specific problem projects, it isn't hard to find people to talk in general terms about the difficulty the recent pricing spike is causing. Jon White, UK MD of consultant Turner & Townsend, says: "It's very difficult to predict how changes in a marketplace will occur, and it's an emerging situation. [But] it's fair to say tender returns have in some cases been higher than we expected."
Others paint the problem a bit more starkly. The blue-chip client says his experience is that cost plans have been anything up to 10% out against tender returns – a huge difference when clients have tight budgets. "They [QSs] have collectively failed to predict the spike that we've seen in the last six months. I wouldn't say one firm was any worse or better – they're all struggling with it.
"When you get a shock coming back with the price, it generates a huge amount of tension with the contractor," he says. Or, in the words of the anonymous consultant: "QSs have been caught with their pants down."
A varied picture
The scale of disparity is corroborated by Andy Matthews, head of cost management for the UK at EC Harris, who admits some tenders having been coming back 5-10% higher than predicted. Where the market was expecting price rises of 4-7% in the last 12 months, he says, the reality has been more like 10-15%.
Rises have not been this extreme across the board, with Mark Lacey, partner at Alinea, pointing out that while prices are leaping up in the South-east and the North-west, they are not in other regions.
"The eurozone and position of Sterling to the Euro provides an opportunity [to lower costs]," he says, "and parts of the UK remain at a normal level."
However, price rises have been acute around the construction of high-rise residential builds, where there is a huge pipeline. It is also a market where contractors have seen what has happened to the likes of Sir Robert McAlpine on complex residential jobs bid during the recession, with a number racking up big losses on problem jobs. The price pinch is also being felt with particular specialists and trades, such as cladding, M&E and late trades, like specialist joinery, which are often cited as particularly difficult.
The anonymous consultant says the unexpected rises are particularly hard for residential developers to deal with when the homes have been pre-sold. This means there is no way to bring in more revenue to compensate. "If construction costs rise by £10m-15m, then that money comes directly off their profit, and there's no way to recover it," he says. The upshot is very often that projects are delayed as painful attempts are made to bring reluctant contractors' prices down, all of which means the QS doing a lot more work – work which is unlikely to have been factored into his fee.
But the impact can be even more severe. "There are instances where projects are put on hold or cancelled, or substantial changes are made to the procurement structure, or where the procurement just takes a lot longer than originally intended," says Simon Rawlinson, head of strategic research, also at EC Harris.
Looking for answers
So how on earth have QSs got it so wrong? The answer seems to be down to the rapidity of the recent recovery, combined with the hollowing out of contractor and specialist capacity during the recession. In other words, contractors and subcontractors who have lost staff and struggled with profitability during the recession, are starting to reach the limit of work they can take on as a veritable tidal wave of tender opportunities have come through.
This lack of capacity, exacerbated by the collapse of firms in the recession, particularly in areas such as M&E, formwork and cladding, has seen contractors unwilling to bid without far higher prelims, profit margin, inflation and risk premiums than had been anticipated. With many lacking cash after the recession, they have switched to prioritising margin growth above expansion.
This market is as or more volatile than at any time in the last 20 years. Clients have become price takers, not price makers

Simon Rawlinson
"M&E has been an issue, as have late trades like doors and joinery," says the consultant, citing a complete lack of capacity to bid for work.
The QSs argue that, because these price rises are not being primarily driven by predictable fundamentals such as labour or materials inflation and are instead down to a shift in individual businesses' attitude to taking on more work, they have been far harder to predict.
Rawlinson says: "This market is as, or more, volatile than at any time in the last 20 years. Clients have become price takers, not price makers. There is a sense in which the only people who actually know the price of a building at this time are the subcontractors in the moment they make their price decision."
Given the pressure is most acute on certain specialisms, very commonly the price increases are emerging at the second stage of a two-stage tender process, when prices come back from trade bidders. For QSs and clients, this often means committing to a protracted period of negotiation and market engagement in order to attempt to bring prices down.
Coping strategies
With higher prices straining relations all round, many QSs have been working to make the best of a difficult situation. They are advising clients to engage with contractors and the supply chain early and work hard to make projects as attractive as possible to contractors. This means not only a two-stage procurement process, but negotiated contracts, improved quality of information to bidders, and a re-assessment of how much risk it will be possible to transfer.
Alinea's Lacey says: "Contractors are seeking clear communication, reasonable contractual terms, prompt payment and a clear plan of what they want built. Value is being found where the tender is set up correctly so it is right to focus significant efforts on this. Without a long period of market engagement prior to bid, this could leave a client with a shock."
With the most extreme price spikes being driven by short-term lacks of capacity, choosing exactly when and what to procure at different times is vital. Hence some projects are seeing a reverse two-stage approach, where key trades are inked in at the first stage, and a main contractor only brought in later. However, there is also a danger in trying to tie down any price too early, with contractors increasingly pricing in huge inflationary risk premiums given the experience of the last year. "The timing of procurement is absolutely key," says EC Harris' Matthews.
But for those projects already half way through procurement, it is too late for these approaches. "It's causing us quite a lot of grief, pain and extra resource to solve the situation," says Matthews. Communication is key. "If there is bad news on a project, it needs to be delivered early so an action plan to mitigate can be formulated and the whole team focused on the solutions," says Lacey. Matthews says EC Harris has responded to some situations by going to the market directly to procure subcontract packages, in order to check the prices given by the main contractor – something that on one project allowed him to halve the £2m cost of a demolition package.
Squeezed QSs
All this comes as QSs are being squeezed from multiple directions. While workloads are of course up, most practices testify to difficulty in persuading clients to return fee levels to anything like the pre-recession level, at the same time as skills shortages are pushing staff costs up sharply. And with increasing project tension comes the need for greater time to be put into getting things right, thereby further straining already tight consultancy margins.
Meanwhile the continuing growth in usage in BIM threatens QSs from a different direction, risking making their original basic purpose redundant – pulling together the bills of quantities from the materials, labour and services needed for a construction project.
The major client says: "It is a flawed model. Prices haven't been right for a while – it's not only the recent upsurge; QSs got the prices wrong in the recession when they were falling, it's just people didn't jump up and down because everything was coming in cheaper than expected. With BIM I can see it [the model] becoming outdated."
So given this experience, how do QSs justify their ongoing role – and fees? Rawlinson says the key point remains that, even if tenders are higher than predicted, QSs can still claim their advice allows the client to get a building for far less than they would do on their own.
"These are the times people are asking 'what is the service we're securing?', but I think we need to show that through robust challenge, you can secure a better result [with a QS] than they would have secured themselves. It's about being able to get the clients to the best situation," he says.
Matthews says clients, on the whole, have been understanding of the fact this is not a problem caused by the mistakes of individual consultants – it has been a problem faced by the whole market. Instead of blaming their advisers, he says, clients have often reserved their ire for contractors. "We have some situations where main contractors have approached negotiations quite diligently, and while the price has been more than expected, clients understand where they're coming from. But we have other situations where contractors have gone a long way down a process and then tried to hold a gun to clients' heads by increasing margin expectations. In these cases clients are pretty bitter about it."
In order to manage all this it is clear QSs need to engage, to communicate, and use all their market knowledge to predict prices – rather than rely on applying formulaic calculations to last year's numbers. This may also mean some more senior people – whose memories stretch back to the recovery of the 1990s – come back to the frontline to advise less experienced colleagues.
There is no doubt tender price growth in the market has exceeded everyone's expectations, with some of this down to contractors and specialists seeing an opportunity to exploit a temporary advantage. But while they can't be held responsible for the increases themselves, if QSs want to remain relevant, they need to get on top of this shift quickly.
The price paradox
QSs, many of whom put out overall tender price forecasts each year, are undoubtedly put in a difficult position by the sudden shift in prices. Last year most were predicting modest rises of around 4%, with Aecom being typical in estimating overall tender price inflation of 4.4%, with 4.5% in London. EC Harris' Rawlinson was something of an outlier – predicting more than 6% in London – but most now estimate the rise has been nearer 15%.
One difficulty they face is that by making public predictions, cost consultants can actually influence the market they are trying to predict – with contractors automatically factoring in the predicted increases, and then adding further prices rises on top of that to respond to particular pressures. Our blue chip developer says: "Contractors just price in what QSs say. If they'd have predicted 15%, the reality would have been even higher."
Therefore while some clients complain about how wide of the mark most of the published data has been, most would not have thanked QSs for publishing higher forecasts. As one QS says: "We don't want to be public about what we really think sometimes, as we get accused of talking up the market. So we've been conservative in what we've published."
This explanation, however, does not explain why private advice to clients would also be wrong.