If we are going to work collectively again, the places in which we do so will have to adapt. Here are some of the workplace solutions planners and consultants are offering up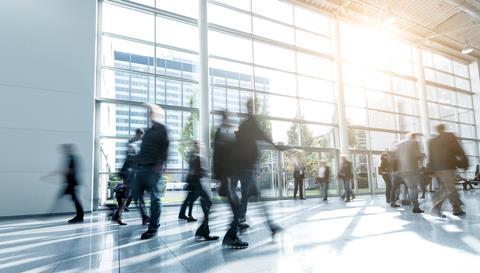 Stewart Ward noticed something unusual the other week. "I came into work in Moorgate and there was a traffic jam." The managing director of Mace's interiors arm smiles as he remembers what such things used to look like.
Since last month, London has looked busier. For months, the only people wandering around the Square Mile were the builders working on the office blocks that overnight seemed like relics from a bygone age. "Who's going to fill them?" was a not uncommon question.
But things are slowly changing and pessimism is giving way to hope. "This last lockdown has made people want to go back into office," adds Morgan Sindall chief executive John Morgan.
His firm put out an unscheduled trading update recently, saying that – partly because of the success of its fit-out division, which Morgan reckons will hit a record order book this year – it expects to make a £100m-plus profit for the first time in its history.
One firm, structural engineer Heyne Tillett Steel, is bucking the trend of most and moving to a larger office, swapping the limited space of Clerkenwell for a new base in Shoreditch. Director James Morgan cannot wait. He says working from home has been fine "but it feels like you're just kind of treading water.
"We want to get people back in, collaborating, talking. We're an office-based company and that's where we're best. Having everyone together and just having that kind of enjoyment – and working with really smart people as well – I think really pushes you."
With non-essential shops open for a month now, cafes, restaurants and pubs all allowed to serve outside meals, the ongoing vaccine rollout and the spring sunshine have helped to bring back the optimism badly missing at the start of the year, when the bleak winter months coincided with another lockdown to combat a second wave of the virus even worse than the first. The daily updates on hospitalisations and deaths made for traumatic viewing in January.
But later this month things change again. Family and friends will finally be able to meet up indoors and even stay in each other's houses overnight. But that's not all because indoor hospitality will also be able to open its doors. By 21 June, almost all restrictions should have gone.
And, as more restrictions are eased, more workers are expected to go back into the office. Perhaps not every day, but the days of getting up, showering and padding over to the work laptop on a kitchen table, study, sofa or end of the bed seem finally to be on the wane
Changing nature of work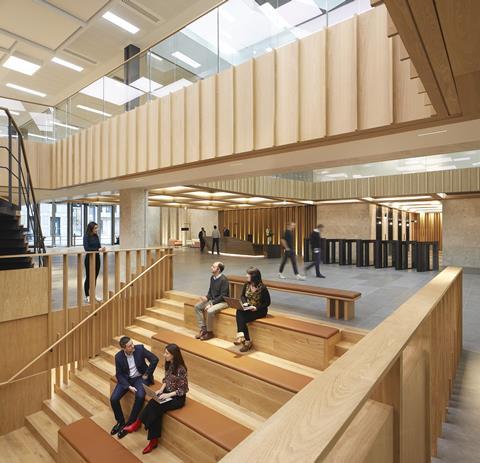 Viewers of a certain vintage will have enjoyed the return of The Fall and Rise of Reginald Perrin to the nation's TV screens recently. However, post-pandemic changes to the office environment may mean that the series' picture of a stultifying, traditional place to work is as dated for future employees as some of the sexist tropes that even the best Seventies comedy was prey too.
Just 2% of employers, according to a recent survey carried out by property consultancy Savills, expect their staff to be back in the office five days a week even when the pandemic is over. "The old-school philosophy of being there 9 to 5 is yesteryears' philosophy, " says Arnis Kakulis, workplace sector lead for Europe at Aecom, which is currently reviewing its own office needs.
Despite writing a book in 2019 about the trend to remote office working, even he has been surprised by how quickly the transition to home working happened this time last year. "The trends were already there, but we never expected them to happen as fast and that people would adapt as fast as they did.
"Launching into a remote work environment happened overnight and most organisations were able to swallow it: there wasn't huge amount of disruption in operations."
More than a third (35.9%) of employees worked from home for at least some of the time in 2020, according to new figures published by the Office for National Statistics. And the emerging consensus among employers is that staff will work from home for "at least" a couple of days a week, says Kakulis.
This is reflected in the lengthening tally of employers who have announced plans to make home working standard practice. These include Nationwide, which recently announced that is shutting three offices in its headquarters town of Swindon because staff will be free to base themselves wherever they want in the future.
So what does this radical shift in working patterns mean for the construction companies, which have made the office their bread and butter?
Flexibility
The office is having to play catch-up with the evolution of the working environment, says Despina Katsikakis, global head of total workplace at Cushman Wakefield. "We have seen a complete transformation of the way people work, but the office space has not transformed accordingly."
With many workers likely to be spending at least a couple of days a week at home, maintaining existing patterns of workspace would merely result in rows of empty desks, says Neil McLocklin, strategic consulting partner at Knight Frank.
The building will be more like a stage set that adapts to functional requirements and responds to different uses

Despina Katsikakis, Cushman Wakefield
"People will still be spending two days a week at home. Therefore the need is to reconfigure desks to create places that people really want to come into and reduce footprints."
Kakulis says the main transition will be from what he calls "me-spaces" to "we-spaces". The regimented rows of desks, which occupied the lion's share of office floorplates in pre-pandemic days, will be sent to the skip, he says.
Floorplates will be reconfigured to create more socialising spaces, like cafes, that are designed to encourage the kind of collaborative working that is less easy to carry out on a laptop than in person.
Some companies will retain desks for those who cannot work remotely and need to come to the office in order to concentrate. But Kakulis knows of some companies in the high-tech space that have abandoned workstations altogether and instead have issued memberships to co-working spaces for those employees unable to operate at home.
"The corporate HQ becomes the main showcase and teaming point and may not have any work-stations at all," he says. "People are now getting comfortable with working anywhere as long as they have 4G or 5G connectivity."
Space requirements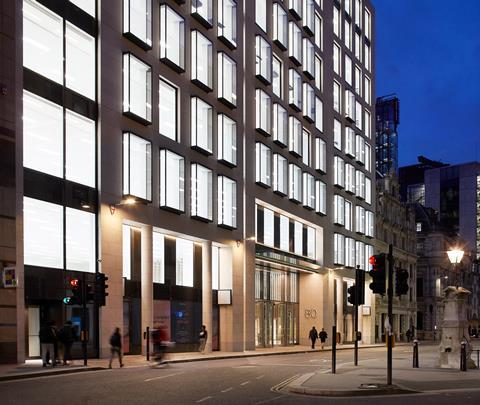 But Kakulis questions the received wisdom that this trend will mean firms shedding space. "There has been an assumption that people should reduce space, but not having everyone in every day does not necessarily mean a reduction in space."
McLocklin says this picture is confirmed by the profiling exercises, which Knight Frank has carried out of the clients' workspace needs of around 50,000 employees. The move by most companies to agile working meant that typical occupancy of desk space was 80% per person pre-pandemic, which equated to about 8m2 per person, says McLocklin.
In the post-pandemic environment of greater social distancing, the typical space per desk will increase to 12m2. With the typical employee expected to be in the office for about three days a week, average occupancy should work out at around 7m2, he says. "It's a reduction in space, although not as big as many commentators suggest," he says.
Ann Bentley, a global board director at Rider Levett Bucknall, does not think her company's office occupancy will return to pre-pandemic levels. While people will still come in for collaborative work and training, in the medium term, she expects the company's requirement for office space to be about 20% lower.
Rather than travelling into one of RLB's city centre offices, it may make sense to rent by the hour a local co-working space for staff who live close to one another and need to meet, Bentley adds.
Arcadis, too, has announced that it is swapping its main London base in King's Cross for a smaller office, one third the size, in the City. The firm moves in next month.
Matthew Bonning-Snook, property director at Helical Bar, agrees that there will be a considerable appetite for more flexible spaces but is anticipating a reduction in demand for more formal meeting rooms.
Flight to quality
He does not think, though, that overall demand for office floor space will fall and that the post-covid working environment will create demand for new kinds of workspaces. "People will quickly realise that what they have is not suited to their needs."
This is because staff, having often worked quite successfully at home for more than a year, will be more discerning about their environments, Bonning-Snook says. "The value of the office needs to be so much greater and deliver more.
"They will have to have a number of reasons to be in the office: only if it offers different types of beneficial environments will the journey be beneficial to the individual.
> Also read: Senior staff have a duty to lead the way back to their desks
"They will want to come in and feel like it has been a useful experience to be in the office," he says, adding that staff won't put up with being ordered to go into work and will move jobs if this happens.
This means that the workspaces of the future will end up being built to higher specifications than those of today, says Kakulis: "There will be less of it (space) so corporations will be able to invest more per square metre.
"They will be looking at not raw square metres of space but smarter, higher quality repurposed space."
McLocklin agrees. "They (staff) want to have an experience that is more enriching than what they have at home."
Katsikakis agrees: "Inevitably we are going to see a flight to quality because, as people choose where they go to, they will want to go to environments that are rewarding and well designed."
"World-class" new-build offices will remain in demand, says Richard Kauntze, chief executive of the British Council for Offices.
Lower quality stock will struggle to win tenants, says Bonning-Snook: "You can't just put in a new floor or ceiling, spend a bit of money on the reception and expect it to rent at a similar level to before.
"If you can't tick all the boxes, demand levels and rent will be affected. Fundamentally, you have to make sure the building delivers for the occupier."
Longer term, this could result in a total redesign of office buildings, McLocklin says: "If you have a pretty standard boring traditional office, you need to redesign it to make it more attractive with new types of space."
Bentley suspects that now is "possibly a bad time to be in sub-prime office space".
Well-connected regional cities and towns will thrive because they offer relatively short commutes and a high and more affordable quality of life than that on offer in London, says Kauntze.
Outside of London though, Bentley expects that regional city centres will probably shrink as demand for retail and office space contracts. The surviving shops and commercial buildings will be concentrated into tighter and more easily walkable areas, she says: "In Birmingham, we could have a prime office and retail space close to the station."
Workers take back control
As an example of how workspaces will change, Bonning-Snook says that those running and cycling in will expect much better facilities to be laid on in an environment where many will still be shunning crowded public transport.
Cyclists will expect better reception and parking facilities for their bikes and a more "spa-like" experience than having to queue up for the one or two feeble showers they are often currently furnished with.
Employees will want greater control over their environment, McLocklin says: "The more options employers give employees, the more satisfied they will be."
At the basic level of ventilation, this will include being able to open windows and control the temperature and humidity of their environment. "The workplaces that win out will be ones with operable windows," says Yetta Reardon Smith, a senior workplace strategist for Savills.
And wellness, which often felt like a marketing tool by landlords to differentiate their stock in pre-pandemic times, has shot up the agenda, says McLocklin: "Now there is a real genuine interest from occupiers."
Katsikakis agrees. "I have been speaking to clients for years about the quality of air and impact on cognitive performance, but within three months everybody became an air quality specialist.
"We won't go back on that and now recognise that any building impacts our health and well-being, so employees will demand that their buildings support their health and well-being."
As well as good air quality, employees will be seeking better materials and acoustics, she says.
Refitting for life post-covid
A long-term result of the pandemic, McLocklin believes, will be less "over-engineering" of office blocks. As an example, he points to a company that has occupied the same large office tower for the past 20 years. "In the basement, they have a back-up generator that they have poured diesel into every week to check that it works."
The company has of course coped quite successfully over the past year without this generator, which accounts for 15% of its carbon emissions. The acceleration of digital working also means that post rooms have become largely redundant and could be replaced with a shelf for sorting mail.
Even server rooms increasingly look out of date to companies that have successfully been working in the cloud, says McLocklin, noting one large law firm that is considering whether it needs to even have a wired environment in the future. "If you have a 10-storey building and take out 45cm of raised floors, you end up with another floor: it changes the whole nature of buildings," he says.
Buildings themselves will become simpler and "much more adaptable," says Katsikakis: "The building will be more like a stage set that adapts to the organisation's functional requirements and responds to different uses."
This means both the shell and services being adaptable, she says: "Adaptation and change will happen at the level of the fit out and furniture."
This flexibility can often be achieved by greater use of desks on wheels and space that can be converted overnight with partitions. Older industrial buildings may find a new lease of life in this new environment, Kakulis says: "They have very large bay sizes and were designed to be very flexible, which provides the perfect stage set for a much more hyper agile work force."
Kauntz predicts that there will be increased appetite for refitting existing properties. "Refits will almost certainly become ever more popular, not least for environmental reasons which have been strengthened in light of the government's revised carbon-zero deadline. There are plenty of buildings – including those currently used as shops – in our towns and cities which are ripe for a refit.
"Much of this stock could repurposed as offices. If the pandemic causes a shift, at least in part, to smaller or shared 'satellite' offices, this would create significant development potential.
"As well as the obvious advantages in terms of sustainability, refits have become hugely popular for their design – think exposed brick, vast warehouse spaces and retro details."
In Perrin, Leonard Rossiter's eponymous anti-hero re-emerges as a successful businessman after faking his own death. It looks like the office too must be reinvented to prove its relevance in a post-pandemic world.
What do contractors think?
As chief executive of one of the country's biggest fit-out contractors, Morgan Sindall's John Morgan has been "pleasantly surprised" that work in the sector is holding up in the wake of the pandemic.
A year ago, the office market was on its knees and the end of working in one seemed a reasonable assumption to make in the teeth of the first wave. But things have changed.
Morgan says the last lockdown has helped push people back to thinking about returning to work in an office. It won't be like it was before covid-19 struck, he says, but people and companies want to return in some form. "Companies are saying they would like their workers back."
He is expecting a record order book this year – the firm doesn't count preferred bidder status in its orders – and says it is busy working on big schemes, mainly in London, that have already been pre-let. There have not been too many inquiries specifically about rejigging workspaces but he expects these to materialise. "People are thinking about it but very few are doing anything about it right now. I think it will come in the next couple of years as people work things out."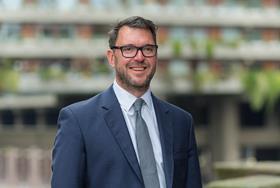 Stewart Ward (pictured), managing director of Mace's interiors arm, said the latest lockdown meant nervous clients were unwilling to press on with their plans in the first quarter. But the second and third quarters are looking robust. "We are starting to see an upturn."
Again, the firm is not expecting a glut of work directly because of covid-19 but is continuing with deals which range between £5m and £75m – typically though between £13m and £21m – for clients eager to consolidate their office space.
BW sales and marketing director Anthony Brown (pictured) says: "The fit-out market is returning to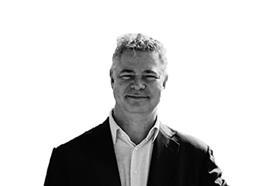 strength at a pace, [but we're] still not expecting it to return to pre-pandemic levels until next year.
The short-term pipeline is good with a mixture of new fit-outs, refurbishment in occupation and a lot of developers looking to refurbish old buildings."
Browne says employers reckon home working can only get their businesses so far. "There's still a spectrum of opinions but, for most companies, some form of hybrid working is likely to be the norm certainly for the next six to 12 months. Most employers are keen for employees to return.
"There are concerns about creativity and innovation being absent over the last 12 months. Companies can operate efficiently and tick along, but those more ambitious see an advantage in the community of an office environment." A growth plan to increase turnover from £180m to £300m over the next five years is back in place.
Matt Blowers is chief operating officer of ISG's fit-out arm, which also includes logistics and distribution work, and in charge of a £1.3bn part of the £2bn-plus turnover business. "Tech clients keep spending, legal firms as well," he says.
He believes that current volumes – the firm carries out between £500m and £700m worth of work in London fit-out alone – are sustainable in the long term.
What he has noticed in the face of the past year's lockdowns is the importance of the office to clients. "There are more who recognises the office is a destination. You're not going into the office to send an email."
The office, is about interaction, collaboration and meeting people. He expects more emphasis on staff communal areas and places to meet clients in the future. "People aren't going to spend huge sums of money until it [post-covid working] all plays out. But an office is part of a brand and good, quality workspace is key to keeping and attracting talent."