Dame Judith Hackitt's report into fire safety and building regulations is likely to have far-reaching impacts on the roles of those who commission, design and build residential schemes over 10 storeys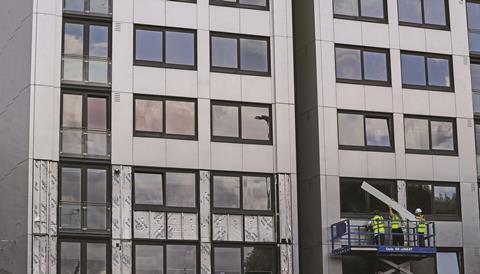 The construction industry is facing the biggest health and safety-prompted reforms since the Ronan Point disaster in 1968, when a gas explosion caused the partial collapse of a block of flats. This led to a change in building regulations in 1971, aimed at strengthening the structures of tall buildings to make them more resilient.
Fifty years on, another tragedy has focused a new generation on the safety of high-rise buildings. Last year's Grenfell Tower fire triggered Dame Judith Hackitt's review of building regulations and fire safety. Just as with Ronan Point, her report, released last month, calls for fundamental changes in the way in which we build "higher risk residential buildings" – those over 10 storeys high. In the foreword, Hackitt expresses her "conviction that there is a need for a radical rethink of the whole system and how it works".
The report focuses on high-rise residential properties "because the likelihood of fire is greater in purpose-built blocks of flats of 10 storeys or more than in those with fewer storeys".But it suggests the proposed new system could later be rolled out "to include a wider set of residential buildings".
"I think there will be a general rise in what you might describe as assurance roles"

Simon Rawlinson, Arcadis
Hackitt's report concentrates less on materials as the root cause of dangerous building than on the process itself and the industry that manages it. She states that there is a "cultural issue across the sector, which can be described as a 'race to the bottom' caused either through ignorance, indifference, or because the system does not facilitate good practice."
But what can be done about it? Her report recommends an "outcomes-based" approach, which would entail clients, designers, contractors and owners taking clear responsibility for their roles in ensuring building safety, rather than assurance that a building is safely built relying on "prescriptive rules and complex guidance."
While there have been criticisms of the lack of detail within the report and its failure to recommend "quick wins" such as banning combustible cladding, it has been broadly welcomed by the government, it is set to have a substantial effect on how the construction industry operates.
So, what is likely to change and how will it affect construction? Here Building examines how the Hackitt report will affect key project roles – clients, designers, contractors and occupiers.
In the detail
One of the Hackitt report's central recommendations is that specific responsibilities for complying with building regulations should be allocated to three dutyholders: the client, the principal designer and the principal contractor.
A new super-regulator, the Joint Competent Authority (JCA), would be created. This would be made up of Local Authority Building Standards (what is now called Local Authority Building Control), the fire and rescue authorities and the Health and Safety Executive. It would have powers to issue warning notices against dutyholders as well as levy fines and "criminal sanctions as the ultimate sanction." Hackitt has proposed that this should be based on health and safety at work legislation, under which serious breaches can attract unlimited fines and up to two years in jail.
The report says the "three regulators working within the JCA would work on a full cost recovery basis", which means that the JCA will charge fees to dutyholders, with those requiring the "highest level of intervention and oversight" set to "pay the highest cost". In this way, schemes that are complex or otherwise higher-risk would pay proportionately more, to cover the greater time they take the JCA time to check and monitor.
Under the new regime, projects would only progress from planning permission through to construction and then completion after approval had been obtained from the JCA at specific "gateway points".
The first gateway point would be at planning stage, to ensure the proposed building is accessible by the fire service. The second would be when full plans of the proposed scheme were submitted to the JCA, and the third would be at completion when the JCA would need to check the signed-off design had been followed and any changes noted and approved.
Responding to the report, housing secretary James Brokenshire has pledged to "bring forward legislation that delivers meaningful and lasting change." Brokenshire has asked everyone involved in the report to suggest how change could be achieved by the end of July, with the government announcing how it intends to implement a new regulatory regime in the autumn.
Yet creating a new regulatory system could take years and Dame Judith, in the foreword to her report, says: "There is no reason to wait for legal change to start the process of behaviour change" and adds: "A sense of urgency and commitment from everyone is needed."
Clients
One of the three core roles that would have responsibility for building safety under the new regulatory regime is that of the client, which would have to initiate the digital record and fire and emergency file on buildings over 10 storeys high, before handing the documents to the principal designer and contractor to take forward.
Clients and contractors would also need to have contracts that "specifically state that safety requirements must not be compromised for cost reduction", under the report's recommendations.
The report sets out how clients would be expected to manage building work to "deliver against the core objectives on building safety (and other Building Regulations priorities)" as well as having "procurement processes that allow sufficient time, resources and prioritisation" for this to happen. They would also be responsible for having competent people in place who will "prioritise building safety."
Clients would also need to sign off a scheme on completion to state that the work meets building safety requirements. The report states: "As a result of these duties it may be that more clients seek to utilise a clerk of works type role to act as their eyes and ears throughout the construction process."
Simon Rawlinson, partner and head of strategic research and insight at Arcadis, comments: "I think there will be a general rise in what you might describe as assurance roles, in terms of helping people understand where they stand vis-à-vis what are going to be quite clear obligations." Discussing how clients have engaged with health and safety, he says: "Clients have helped make the industry a lot safer, so in that sense clients are a positive driver for change."
Clive Johnson, head of health, safety and security at Landsec, the UK's biggest listed property developer, says: "Adhering to safety standards is a non-negotiable aspect of development." He adds: "Our most important priority is to ensure that our assets have the very highest safety standards, and we welcome the Independent Review of Building Regulations and Fire Safety."
Designers
The principal designer would be expected to identify how core building safety requirements on higher-risk residential buildings would be met, as well as providing full plans to the JCA showing that the key risks to building safety had been considered and managed. They would also be responsible for ensuring that information management systems for the project were properly updated and would be a co-signatory at completion of works stage to state that the work complied with building regulations and is safe.
"[Only architects] can balance all of the complicated aspects of design in a high-rise building"

Laurence Osborn, Grid Architects
Along with the principal contractor, they would have responsibility for updating and finalising the digital record and fire and emergency file that Hackitt has called for in her report. Laurence Osborn, a director at Grid Architects, argues that architects are best placed to take the role of the principal designer and claims: "I don't think there's any other profession that can balance all of the complicated aspects of design in a high-rise building."
However, extra responsibility brings greater demands according to Andrew Mellor, a partner in housing architect PRP. He warns that architects would have to put much more detail on their drawings: "Just writing '12.5mm plasterboard' will not be enough. The information will have to be more robust to prove it is compliant with regulations."
And as well as the Hackitt report having an impact on architects' working practices, their designs might also have to change. Although there is no mention of a second means of escape in the report, there is growing pressure for tall buildings to have more than one stairwell. This could threaten the future of some projects if they end up becoming mandatory, according to Arcadis' Rawlinson.
He says: "If you have to introduce a second stairwell – and the RIBA is very active around campaigning for second stairwells for buildings that are much lower than 10 storeys – then you do lose quite a lot of floorspace and that starts to have an impact on the end value of the development, so that could possibly render some schemes that are currently proposed no longer viable."
Rawlinson predicts that issues such as buildings having more than one staircase would be "debated in massive detail going forward."
Contractors
The new system would see contractors take on greater responsibility throughout the process. They would have to maintain a digital record of specifications and any changes during construction – something which could prove difficult for those who do not already use BIM on their projects.
In addition, contractors would no longer be able to choose private sector-approved inspectors to check their work, as inspections would be overseen by local authority building control services instead, due to Hackitt's concerns over "incentives for building control competitors to attract business by offering minimal interventions or supportive interpretations to contractors."
"[The new approach] will require more rigorous procedures and this will increase both the work involved and the cost of the building control process"

Hywel Davies, CIBSE
Principal contractors would be responsible for the planning, management and realisation of the core safety objectives in the construction phase. This would include preparing a construction control plan to outline how compliance with building regulations and building safety would be maintained and how any changes would be controlled and recorded.
Other responsibilities would include demonstrating at the completion of works stage, along with the principal designer, that the work was compliant with building regulations. This would include presenting the JCA with sufficient records to allow it to determine that the building was safe. Contractors would also be charged with ensuring that the digital record and the fire and emergency file were provided to the future building owner.
Hywel Davies, technical director at the Chartered Institution of Building Services Engineers, says the new approach "will require more rigorous procedures and this will increase both the work involved and the cost of the building control process." But he adds: "It is likely that the additional time invested in getting it right in the first place will save a lot of bother and add value further down the line."
The sector needs to take the initiative in putting robust systems in place, according to Suzannah Nichol, chief executive of Build UK: "It is now up to the industry to adopt a much more rigorous approach to ensuring that designs, materials, systems and buildings are fit for purpose and that everyone is clear who is accountable at each stage of the process."
Occupiers / landlords
The Hackitt report says the new regulatory regime would have "clearer rights and obligations for residents to maintain the fire safety of individual dwellings, working in partnership with the dutyholder."
There would be more transparency over safety information, involvement of residents in decision-making and an independent statutory body that will enable residents to report concerns over fire safety.
Buildings should have "safety ratings" to enable residents to "benchmark the safety of their building against others, and incentivise the dutyholder to quickly bring about improvements where required," according to the report. It says: "Resident involvement and engagement should be at the heart of the new system."
The recommendations are "only the first step to a much needed root and branch reform of building safety regulations," says Lucy Grove, Grenfell programme lead at the National Housing Federation. "Government must now create a new, clear and entirely unambiguous system of regulation for high-rise buildings."
Follow all the developments
Breaking news on evidence given at the Grenfell Tower Inquiry
Analysis of the public inquiry evidence
All Building's coverage of the issues raised by the Hackitt report
Comment by industry experts