Details of the NHS restructure are now beginning to emerge, but the industry is still anxiously wondering how the new procurement system will work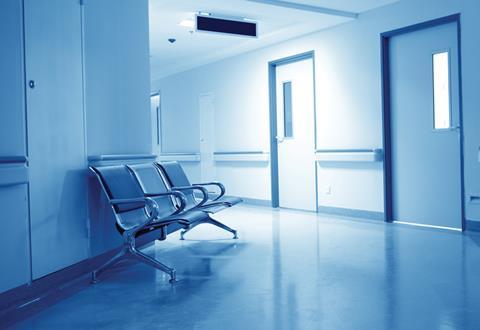 There was a time when the NHS was a major source of work for the construction sector. In the course of the noughties, more than 100 hospitals were built under the PFI at a cost of about £12bn, according to a report by AMA Research, as well as 750 primary care centres constructed using a similar, albeit smaller scale, mechanism. That period of rapid expansion, however, came to an end with the Comprehensive Spending Review in 2010, when it was announced that the Department of Health's capital budget would be reduced by 17% over three years.
If such contraction wasn't sufficient cause for concern, the coalition also initiated the most dramatic restructuring of the NHS since its establishment in 1948, leaving many to wonder, especially during the turbulent passage of the Health and Social Care Bill through parliament, exactly which bodies are going to be responsible for commissioning what construction in the future. However, since the bill received royal assent in March this year, a clearer picture has begun to emerge, even if some important questions remain unanswered.
A large dose of FHTs
Under the reforms, primary care trusts (PCTs) and strategic health authorities (SHAs) are to be abolished at the end of March next year and replaced by clinical commissioning groups (CCGs) - made up of GPs and other clinicians - which will take charge of the lion's share of the NHS' annual budget and commission services on behalf of patients. CCGs will be free to commission services from "any qualified provider", although the expectation among senior consultants interviewed for this article is that the vast majority of services will continue to be commissioned from NHS hospitals.
The hospitals themselves are also changing, with all NHS trusts required to become foundation hospital trusts (FHTs) by April 2014. Introduced by then Labour health secretary Alan Milburn in 2002, FHT status allows hospitals greater freedoms from Department of Health interference and, since the passage of the 2012 Act, removes the cap on the amount of money they can earn from treating private patients - although they still have to do most of their work for the NHS. By October this year, there were 144 FHTs in England, including 41 mental health trusts, out of a total of 228, according to regulator Monitor.
Trusts are looking much more at their core business and how they can use their assets to enhance their core services

David Lawrence, Capita Symonds
Under the new system, FHTs will have an incentive to take stock of the services their estates allow them to provide for the simple reason that the more services they can provide - and provide at a competitive rate - the more their services will be commissioned by CCGs and the less money will be diverted to other, possibly private sector, bodies.
According to David Lawrence, head of health at consultant Capita Symonds, this process of rationalisation should provide opportunities for the construction industry. "Where property rationalisation has been done in the acute sector in the past, it's often been about levering out the odd five or 10 acres and disposing of that land," he says. "However, trusts are looking much more at their core business and how they can use their assets to enhance their core services. We're seeing trusts with surplus land looking at how they can create a health and social care campus, how they can create an academic health science centre, rather than how many houses can they get onto the land."
As an example, Lawrence says that an ongoing issue for the health service is what to do with patients, generally older people, who no longer require acute services, but who aren't in a position to be sent home. Having somebody taking up a bed on a ward in a district hospital that they no longer need is an expensive business, costing between £800 and £2,000 a night, and from April that cost will be borne by the CCGs, which will be under pressure to cut costs as part of the wider deficit reduction programme. As a result, Lawrence says that FHTs are considering reconfiguring their estates to provide a wider range of options for patients at different stages of treatment and care. "The intelligent people around in medium-sized district hospitals are beginning to look at integrated care models," he says. "They're looking at how they can create a campus where there will be some hospital facilities, but there will also be facilities for people who don't need acute care but do need some nursing care, as well as other facilities for people who need social care or extra-care housing."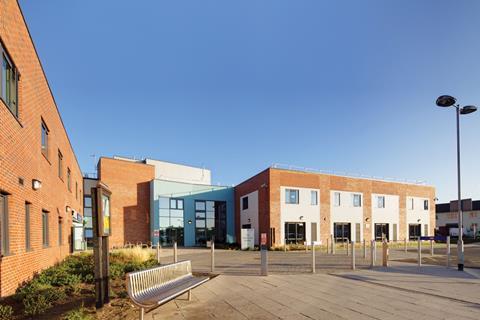 Diagnosis merger
As hospitals consider their futures as FHTs, they are also increasingly considering economies of scale. Mergers of trusts are increasing, with several huge alliances proposed covering large geographical areas and substantial populations. Perhaps most strikingly, it emerged in July that Guy's and St Thomas', King's College and South London and Maudsley trusts intend to merge.
"Once the mergers have taken place, there will be a need to understand the clinical strategy across those trusts before it can be put into an estates strategy plan," says Jonathan Puddle, director of healthcare at consultant Davis Langdon. "That will then determine what construction projects are necessary in order to support that strategy." However, Puddle warns that it may take some time for strategies to translate into procurement.
There may also be opportunities to be found in the primary and community care markets, with work commissioned either by CCGs alone or in partnership with other public sector partners. According to Conor Ellis, health sector head at consultant EC Harris, public sector bodies can individually make significant savings by jointly procuring mixed-use schemes. "We've already done primary care centres like the Halewood centre in St Helens, where you've got the post office, job agencies, health and wellbeing areas and you've got the local council involved in the same unit," he says. "I think that if you go further afield in Europe you'll find that they get economies of scale again by building in libraries, sports facilities and so on. That's work in progress for the UK,
I think. It's about multi-agency working between health and social care."
In Europe you'll find that they get economies of scale again by building in libraries, sports facilities and so on. That's work in progress

Conor Ellis, EC Harris
It may also be that consultants and contractors can maintain the contacts they have developed in PCTs. Andrew Cartwright, healthcare director at Miller Construction, says that he has detected little appetite among clinicians in CCGs for getting involved with procurement. "They're certainly going to be supported by people who are stepping out of the role they're currently doing at PCTs and moving in to provide the support in the GP practices," he says. "Most of the GPs I know just want to treat people; they don't want to be too involved in spending two days a week looking at financing and funding."
A final potential source of work for the industry as a result of the coalition's reforms comes in the form of NHS Property Services (NHSPS). Commonly referred to as PropCo, NHSPS will on 1 April next year take over ownership of all PCT and SHA property that isn't transferred to FHTs. According to the company, this adds up to a portfolio worth about £3bn. The purpose of the company is to provide an ongoing management service, rationalise and reconfigure assets where appropriate, and sell-off land and property that is no longer needed, all of which could potentially provide a source of work to consultants and contractors.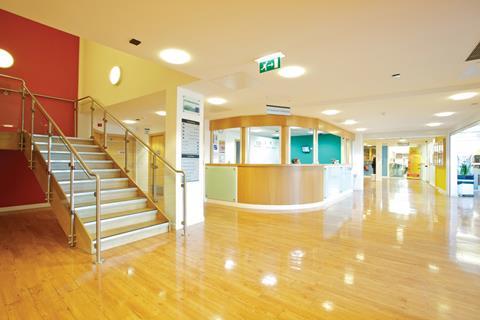 In the meantime …
However, key questions about how PropCo intends to procure services remain, including whether procurement will be done regionally and whether separate framework arrangements will be established for contractors and consultants. Several commentators say the scale of the challenge in setting up the company and transferring PCT and SHA assets is such that NHSPS is unlikely to get around to considering longer-term ambitions for some time, something the company's chief executive Simon Holden admits. "Up until 31 March next year we're in setup phase and then until 31 March 2014 we'll be in a kind of transition phase," he says. "There will be capital programmes, but it will take us a year to understand our complete [portfolio]."
According to Ellis: "Its key issues at the moment are to make sure that the estate that is being transferred is transferred safely. There will be opportunities for the construction sector in terms of feasibility studies and design-and-build projects, but this is all long term."
So, while big-build PFI projects may be a thing of the past - one consultant close to government said that he referred internally to PFI as a "sunset sector" - the restructuring of the NHS will lead to some opportunities, be it from FHTs, CCGs and other public sector partners, or NHSPS. Most of those opportunities remain some distance in the future. The question, then, is what the sector should be do in the meantime.
According to Matthew Custance, director of public sector healthcare at multi-disciplinary consultant KPMG, firms should bide their time while reassuring themselves that work will return. "If I were a construction firm involved in health projects I'd be making sure that I was very lean, that I retained my business development talent, particularly those who have relationships with key clients in the NHS," he says. "[But] I think that it would be a mistake to disinvest in healthcare at this point, just because things have been slow for a few years. It's 8.5% of the economy, it's going through huge change so there is a lot of pent-up demand."
Magrath, however, says that if firms want work out of the state health sector any time soon they will have to be proactive. "It's up to us to come up with the solutions," he says. "Whereas initially everybody sat back in awe and looked to the government to find out what we were supposed to be doing, I think it's turned now and there is an acceptance that we're going to have to come up with the solutions ourselves."
ARE CLIENTS ABANDONING PROCURE 21+?
One procurement option open to health bodies is Procure 21+, a national framework agreement with six supply chains selected via an OJEU tender process. Under the terms of the agreement, NHS clients can select a supply chain from Procure 21+ for capital investment construction schemes up to 2016 without the need to go through the OJEU process themselves. The framework currently has about £1.6bn of work on its books.
For those firms that made it onto the framework, it can provide a reasonable level of work. "We've been focusing on [securing work] through the Procure 21+ framework, making sure that our team can provide the right type of offer," says Andrew Cartwright, healthcare director at Miller Construction. "A lot of that work has moved away from new build to rationalisations, extensions, refurbishments and enhancements of existing facilities: sweating the assets and making the best of things."
The main purpose of setting up a framework - apart from the time saved from avoiding the OJEU process - is that because supply chains want to gain repeat business through the agreement, they have an incentive to do a good job and not to charge through the nose for every change as a project's design evolves. In terms of promoting repeat business, Procure 21+ has been successful, with the framework reporting that 83% of hospitals procuring for more than one project use the same Procure 21+ supply chain for all their schemes.
However, as the volume of projects that health bodies are undertaking reduces as a result of cuts, it appears there is a focus on basic cost as the key criterion when procuring and a renewed interest in more traditional procurement methods.
"I think that clients at the moment, particularly where money is tight, are starting to question whether [Procure 21+ provides] value for money and whether projects could be procured using more traditional methods at a lower cost," says Jonathan Puddle, director of healthcare at consultancy Davis Langdon.
"So I think that there is a lot of pressure on the contracting community to demonstrate that they are providing value for money and that Procure21+ projects aren't costing more than traditional projects, and if they are, that clients are getting greater benefits through that procurement route."
David Lawrence, head of health at Capita Symonds, adds: "What we're being told is that clients haven't got those efficiencies from using Procure 21+ and that it has become a bit soft. I don't necessarily agree, but that is what they're telling me. My own view is that we'll probably see less of those remodelling projects done through Procure 21+ than we would like and more done through straight competitive tendering. I suppose if you're a client and if it's a one-off project, then why not?"
Others, however, argue that even if some clients are reporting that they're moving away from Procure 21+, it is a trickle rather than a flood. Conor Ellis, health sector head at consultant EC Harris, says: "You will always find some trusts that prefer to use another route for either a local or a philosophical reason, but in the main the vast majority of people continue to use Procure 21+."