Horsted Park's use of the local rural vernacular and sensitivity to the comfort of residents of its 337 homes has ensured a category win for architect Proctor and Matthews
WINNER Horsted Park - Proctor and Matthews Architects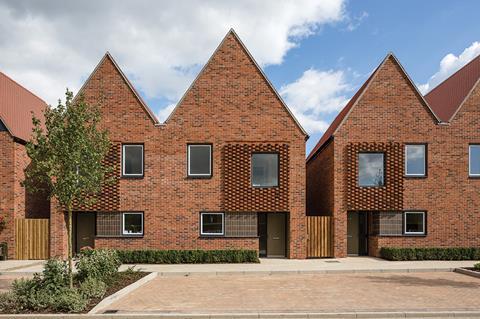 Horsted Park, designed on behalf of developer Countryside Properties by Proctor and Matthews Architects, is a 337-home, mixed-use, mixed-tenure development on a brownfield site near Chatham and Rochester in Kent. According to the architect, the project was conceived as a series of "farmsteads" inspired by the rural vernacular of traditional Kent villages. With homes spaced around squares and courtyards, the scheme aims to provide a domestic, comfortable environment for residents. The architecture practice says that high-quality landscaping and public realm have been essential. According to Countryside, the scheme will provide over 6.5 acres of open space, about 30% of the total site area. The project is being delivered in two phases, with residents now moving into the first phase.
Runners-up
Highly Commended: Derwentthorpe - Richards Partington Architects
Built on behalf of the Joseph Rowntree Housing Trust, this urban extension to the village of Osbaldwick, 2.5 miles from York city centre, so far comprises 64 homes of a planned 540. Most of these will be affordable properties that could be rented out. Others will be high-quality homes designed for first-time buyers, disabled people and elderly people. The layout is designed to be friendly to pedestrians with wide footpaths and specific "Home Zones", where cars have limited access. The project has already been cited by the RIBA as an exemplar housing development.
Aylesbury South West Corner - Levitt Bernstein Associates
Designed by Levitt Bernstein Associates, the Aylesbury South West Corner project is the first phase of an action plan by the London Borough of Southwark that aims to regenerate the infamous Aylesbury Estate and its surrounding area in south London. The project provides 260 mixed- tenure homes and replaces the existing Aylesbury Day Centre and retail premises. In order to accommodate not just existing residents but a new, more affluent demographic, the project involved doubling the density of housing on the site. However, according to Levitt Bernstein, through careful design the new development has created a far more liveable urban space than the one it replaced.
Matchmakers Wharf - Stock Woolstencroft and Telford Homes
After what architect Stock Woolstencroft describes as a difficult couple of years, during which several of its projects stalled after winning planning permission, the firm was pleased that its Matchmakers Wharf scheme in Hackney, east London was delivered on time and on budget. The project comprises two buildings, including four residential blocks totalling 209 homes, commercial space and artists' studios. It is located next to Hackney Marshes and the River Lea near the Olympic park on the site of the former Lesney Matchbox toy factory.
Newhall `Be' South Chase - Alison Brooks Architects, Linden Homes and Galliford Try
According to project architect Alison Brooks (ABA), the Newhall "Be" South Chase project exemplifies the socio-economic range of the practice's work. The Essex-based development combines influence from the local vernacular, specifically traditional Essex barns, with modernist touches to create what ABA describes as a radically new suburban housing typology. The introduction of home office spaces overlooking the street introduce economic life back into a suburban context, the practice says.
Packington Estate - Hyde Group, Rydon and Pollard Thomas Edwards Architects
Based in the London Borough of Islington, the Packington Estate project aims to reconnect a run-down housing estate with its surrounding community. This involves replacing 491 socially rented homes and adding 300 new units for home ownership. The project is broken up into six stages, with phases one and two already complete. According to Hyde, around 188 existing households have now moved into their new flats and houses and by the middle of 2016 all existing Packington Square residents will have been re-housed in new flats and houses.