Scotsman in charge of firm's office in the capital is back in Manchester with his wife having travelled for 80 hours to border with Slovakia
Building first spoke to Colin Ross a week or so before Russia invaded last month. In charge of Gleeds' Ukraine office for the past five or so months, he had chatted from the apartment in central Kyiv that he shared with Ira, his Ukrainian wife of 22 years.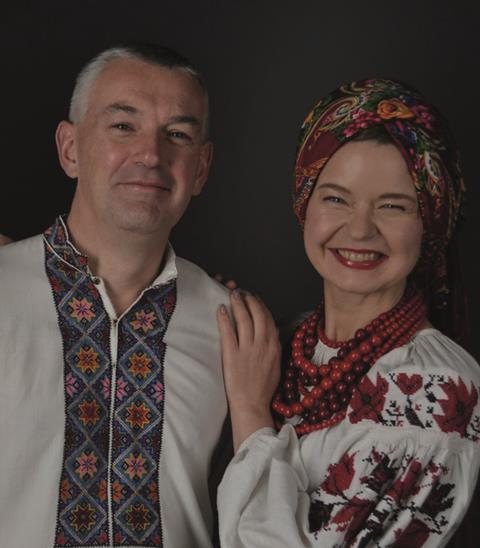 "We're facing a multitude of problems," he had said at the time. "The Omicron variant is now arriving with us, there's a shortage of materials, there's price escalations, you have to make sure projects are running properly.
"We have the same problems as everyone else. It's just we have this extra one, which has us thinking at times. Dealing with Russia is not the biggest problem for me."
But that all changed for the 52-year-old Scotsman when Ukraine's giant neighbour invaded on 24 February. That was a Thursday and, by lunchtime the following day, Colin and Ira (pictured below) had made the decision to leave for Manchester where Colin has a flat and Ira has family.
>> Also read: We have been working in Ukraine for years. I never imagined events as appalling as these
>> Also read: Gleeds prepares to move Ukraine office as Russians reach Kyiv
They picked up their grab bag – which included bank cards, credit cards, wedding certificate, wills, other paperwork and three types of currency – stuffed some clothes into a suitcase, scooped up their cat, jumped into their borrowed car and left.
The initial plan had been to head to the Polish border, but that changed because red tape issues meant they did not have the right paperwork to get into Poland, so the pair headed south-west for Slovakia instead.
They first stopped at a friend's on the outskirts of Kyiv, normally a 45-minute journey away. It took them five hours. From there, on the Saturday morning – day two of the war – they set off at 6am for Slovakia. Fifteen hours later they were still driving, having had to pass through several army checkpoints.
"We were caught in huge traffic jams," Ross says. "We were still 115km from the border." That was on Saturday night.
They eventually got through on Tuesday morning – more than 80 hours after leaving Kyiv – before driving all the way to Brussels to meet their grown-up daughter, Veronika. They got to the Belgian capital the following Thursday, six days after leaving Kyiv.
"We are slowly decompressing and when we get to Manchester it will hopefully get better," he said at the time. A few days in Brussels and then a Eurostar to England on the Sunday were followed by a journey up to Manchester.
Ross first went to Ukraine in 1997. "Two years later, I was married. Christmas Eve, 1999," he says.
In the 25 years since he arrived, he reckons he has spent 16 years in the country, largely with Scottish consultant Thomas & Adamson on various jobs, latterly the clean-up of the Chernobyl nuclear reactor, close to the border with Belarus, which blew up one April day in 1986. It is now in the hands of the Russians.
>> From the archive: Containing radioactivity at Chernobyl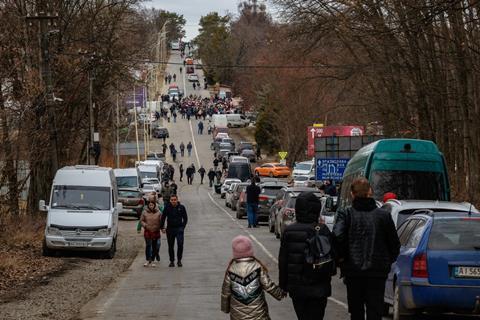 When T&A left Ukraine in 2019, Ross went back to London leaving his wife, who is from the city of Dnipro in the middle of the country, in Kyiv. There was some umm-ing and ahh-ing about whether to move back to London for good, but the pair decided that Kyiv was where they wanted to be.
Now he is back in Manchester, something he had not expected. "Things are manic at the moment," he says, "between trying to assist our colleagues in Ukraine and trying to get our apartment in Manchester habitable." Before the invasion, he had said: "I would hate to see it invaded by anybody. A decision to leave would be very difficult."
He added: "If we can live here and earn money here and we have our health, we will stay here. I love this country and the people.
"Kyiv is very green; it's a beautiful city. It has cold winters and warm summers. The coldest I have known it is -37C and the warmest has been 45C. It's usually low 30s from May to September. It's got great restaurants, a cafe culture – very cosmopolitan."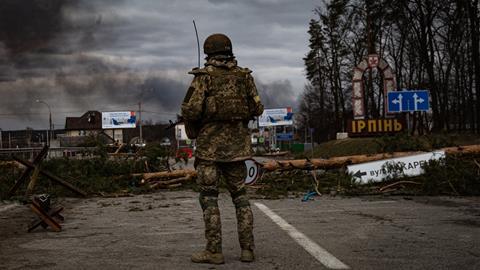 A week before the invasion, he had told Building that people in the capital were carrying on as normal. It's a description that seems now to have come from a lifetime ago. "There are no queues at petrol stations, there are no shortages of toilet rolls or pasta. People aren't panicking."
Now well over three million Ukrainians have fled out of a population of 44 million. Arriving in Slovakia, Ross sent a message scarcely imaginable from just a few days before. "We are in Slovakia!" he wrote. "Tired, very emotional but out of Ukraine."