In the beleaguered North, public sector spending cuts are biting deeper for local contractors already defending their patch from the attentions of the big boys. Building looks at how bad it is, and asks three contractors how they're coping
'Crossrail, the Olympics, the tube upgrades, Thameslink …" Graham Nicholson, vice-chairman of the Association for Consultancy and Engineering (ACE), reels off the list to a recent gathering of engineers at the House of Commons. "Think about all these fantastic infrastructure projects the UK is building, all not more than 20 miles from here."
For contractors working in the North of England, it must be an unintentionally galling comment. "I want to flick two fingers up at him," whispers one engineer at the back of the room. "What about the rest of the country?"
Well, it's looking pretty bleak. Experts have been warning for months now that the industry should be prepared for the return of the great North-South divide as the existing gap is potentially exacerbated by government policy - particularly in relation to the public sector spending cuts. And now, the evidence suggests that it is starting to happen.
The signs have been there for a while. Even before the CSR, claims that the government's policies were especially unfair to the North were voiced. Most notably, it was the North that bore the brunt of cuts when 735 BSF projects across the UK were cancelled. Liverpool lost 26 out of 35 schemes, expected to cost the city £410m, and deprive local construction firms of £350m of work. Manchester, Salford, Rochdale, Cumbria and Bolton were also hit hard.
It's tough out there. In the past 48 hours I'm aware of three members who are going through the liquidation process

Helen Osgood, FMB
Treasury statistics show that around 30% more public money is spent in the North and public sector cuts are expected to put 3.8% of jobs in the North under threat, 3.4% in the Midlands and 3.2% in the South. In October, the Institute for Public Policy Research demonstrated how damaging benefit cuts would be to this part of the UK, where 20%
of the working-age population are claiming state support compared with 15% in London, 13% in the South-west and 12% in the South-east. And further research by ratings agency Standard & Poor's released earlier this month found that the level of arrears among mortgage borrowers in the North was almost 25% higher than in the South.
But now the expert comments and research figures are less about what could happen, and have become more focused on what is actually happening. Michael Ankers, chief executive of the Construction Products Association, says: "Everyone I have spoken to, and all the evidence that I have seen in recent weeks, recognises that the industry is much weaker in the North than it is in the South. And, more important, immediate prospects are still much more favourable towards the South as this is where all of the major projects are happening."
The latest Federation of Master Builders (FMB) figures, published in October, show SME confidence in Yorkshire and Humber and the North-east is lower than it has been since the first half of 2009. Most southern areas saw levels remain more or less steady, bar the South-west.
On how much the widening gap was down to government policy, one senior industry figure said that while he didn't believe the government was deliberately favouring the South, it wasn't perhaps being as "mindful" of the situation in the North as it could have been.
It's undeniable that the CSR cuts have hit those northern areas most reliant on state funding especially hard. There are two main reasons for this - most of the UK's future development pipeline is in the South, and the fact that the North relies more heavily on state funding.
Apart from the aforementioned mega-projects highlighted by ACE's Graham Nicholson - all based around London and the South of the UK - these are also the areas that will most likely hog the meagre pickings of housing and commercial office growth. "Although there are a couple of hundred train station refurbs that are still going to be done [in the North], most higher-profile projects are based around central London," says Noble Francis, economics director at the Construction Products Association (CPA).
He adds: "Over the next 5-10 years, you will see a return of the North-South divide, primarily because much of the North has become reliant on the public sector in terms of jobs and spending."
Funding slashed
On top of all this are changes to social housing funding. Capital spending by the communities department was slashed by 75% in the CSR. To raise more money, housing associations will be able to up rents to 80% of market value. This will boost their coffers considerably in London and the South-east, but in some parts of the North, where private rents are not much higher than those of social housing, this is unlikely to compensate for the decrease in capital grants.
Helen Osgood, the FMB's regional director for Yorkshire and Trent, says many contractors in her region are living on the edge of administration. "It's tough out there," she says. "In
the past 48 hours I'm aware of three members who are going through the liquidation process. It's a cash-flow problem, where in the domestic sector clients haven't paid maybe £10,000 - with such tight margins that can push people over the edge."
So, contractors in the North face a host of problems not felt as keenly in the South: customers fearful for their jobs delaying extensions to their homes; a glut of office space in cities; and a heavy reliance on the public sector. Opposite, we speak to three about how they're coping and what their survival strategies are for the tough times ahead.
MAF Design and Build, Manchester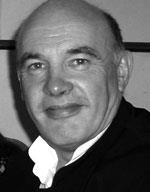 Turnover: £930,000
Profit: margins about 25% in 2009
Staff: 9
Work: "Grand Designs" bespoke houses, house repairs and maintenance, warehouses
"I'm now hearing that we are coming out of recession," says Chris Maffei, head of MAF Design and Build. "We can't see that here."
Maffei believes things will get worse in Manchester before they get better. "There's an absolute glut of commercial buildings," he says. "Every street corner you turn, you will find that 10 out of 20 warehouses on industrial estates are empty. Within 100 miles I couldn't name anybody who is building houses."
But there are some silver linings, such as cheaper and more willing subcontractors. "Two years ago there was no way I could have phoned up a subcontractor and have somebody working for me the next week," Maffei says. "I was being charged £400 per 1,000 bricks two years ago, and now it's more like £250."
The Green Deal, which is due in autumn 2012 and is expected to give homeowners up to £6,500 to improve their energy efficiency (to be repaid from savings in energy bills), could be good for small businesses. Maffei says the renewable energy part of his business is thriving.
"There's a massive stream of business which is coming off the work in sustainable housing," he says.
Maffei says customer service is key to finding work in future: "If someone turns up in a rusty Transit van and gives you an estimate on the back of a fag packet, then I turn up in a uniform and send you an estimate by email, who are you going to give the job to?"
Wildgoose Construction, Midlands, South Yorkshire, Humberside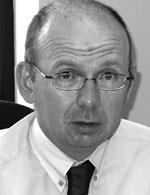 Turnover: £25m
Profit: £1m
Staff: 70
Projects: Health, education, care homes, pubs, restoration
For Tim Walker, managing director of Wildgoose Construction, it's the calm before the storm. "We've been very busy with enquiries, but I think some of it is the last of the Labour money - we're currently doing 123 units of social housing. But we are trying, like everybody else, to diversify."
Several £20m-50m turnover family firms in Nottingham, Otley and Mansfield have gone under in the past year, which has led to more enquiries for Wildgoose. But it is now having to compete with national contractors for increasingly smaller jobs, and with limited resources.
"You are seeing Wates and Kier going for £2m jobs," says Walker. "If the bid is on both price and quality, then they will have an advantage over other smaller contractors because they can throw more money at the scheme. We'll have an estimator and contract manager, and they will have about six people all working on it."
Wildgoose is therefore looking further afield. "Care is a big area, and in the private sector we have successfully bid for a framework for Marston's pubs," he says. "Care homes have historically been in the Midlands, but we're also moving to Kidderminster for a medical centre, and with the Marston pubs we're building up as far as Carlisle."
Staff may have to relocate for four days a week for up to a year for these projects, but they understand that times are tough, says Walker. And they know there's plenty who are willing to take on their jobs.
Border Craft, Hexam, Northumberland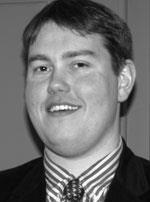 Turnover: £1m
Profit: "Breaking even"
Staff: 12
Work: Housebuilding, kitchens and bathrooms, barn conversions, extensions
You can plan and strategise all you like, says Julian Weightman, who runs Border Craft with his father, but, ultimately, the difference between a healthy turnover and bankruptcy can come down to luck. "It's all about whether you pick up a couple of big jobs. It's a case of winning two or three contracts and you can have eight months' work," he says.
When much of your work comes from upgrading homes, it leaves you vulnerable to clients postponing projects because they are worried about the security of their own jobs. "Some of our customers are contracted in the public sector," says Weightman. "They might say, 'I'll leave that to next year,' and that's the problem. One of the biggest problems is getting continuous work."
As clients look to squeeze costs, the temptation - which Weightman is adamant he has not given in to - is to try to avoid paying VAT. "The common question is 'how can we not pay VAT?' It's wrong, but it's what customers ask you. The black economy is growing. In the past year we must have been asked at least 12 times - 5% asked before the downturn,
30% ask now."
Border Craft is optimistic that the Green Deal will give homeowners a more prudent way of spending money on their homes than conservatories and Agas. "We are looking to get into renewable energy because a lot of clients are interested in solar panels, PVs and heat pumps," says Weightman.
The North-South divide
Number and value of projects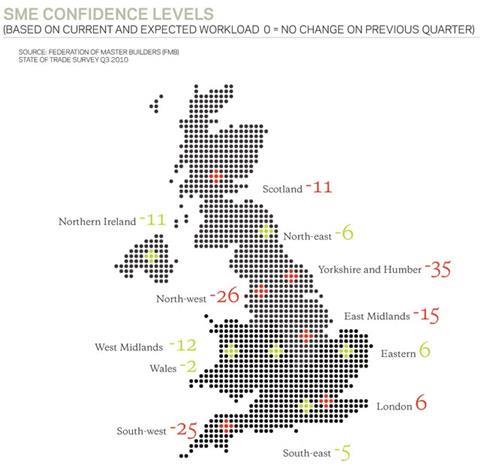 Deep cuts hurt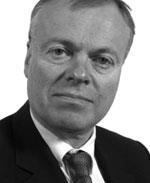 Clive Betts, Labour MP for Sheffield South East and chair of the communities and local government select committee, on how the government's policies favour the South:
"New social housebuilding was concentrated in urban areas which includes northern cities. Local authorities in the North tend to be more deprived, so have a higher level of grant as
a proportion of their budget, which is being reduced.
On transport, it's pretty clear there has been a balance in favour of the South and London. Schemes in the North have just been taken out - the Midlands main line electrification is not going to happen. I'm not saying that Crossrail isn't a good thing, but it's dwarfing anything else.
Work for contractors in Sheffield is drying up. It's possible that some contractors could go under [in the next year]. I don't think the government has thought through the effects of their cuts on the private sector.
You can't easily help businesses who lose their income stream because of cuts. There's little more to be done."
Source
This article was orginally published under the headline 'Angels & Demons'.