Firm plans to re-establish itself in civils and infrastructure work, chief executive Paul Hamer tells Building
For those who think Sir Robert McAlpine is all about building, think again.
The firm behind a string of high-profile schemes in recent years, including Arsenal's Emirates stadium, the main stadium for the 2012 Olympic Games and the redevelopment of the Broadgate complex in the City, now wants to muscle in and trade blows with the roads and rail specialists.
Under chief executive Paul Hamer, who joined the business four years ago from WYG – then a listed consultant which was taken private two summers ago after being bought by US firm Tetra Tech – McAlpine is now looking to target more civils and infrastructure work over the next five years than it probably has done in the previous couple of decades.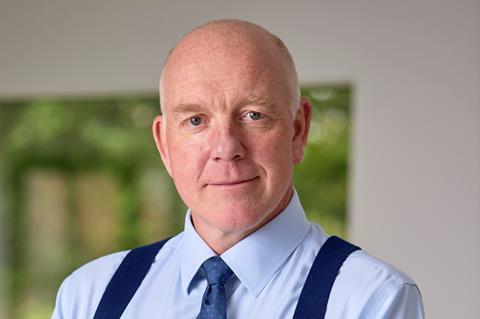 "There's some very big established players [in civils] but the market is big enough to accommodate McAlpine with some of the skills we've got," Hamer says.
The move should not be too much of a surprise to McAlpine historians. The firm has always worked in civils and, after all, acquired its Concrete Bob nickname from its work on the extension of the West Highland Railway to Mallaig on Scotland's west coast in the 1890s. The structures on the route, including the 21-arch Glenfinnan Viaduct beloved of Harry Potter fans, involved new techniques designed to save labour through the pioneering use of concrete.
But a concerted effort to get civils work up from its current 18% of business to more than 30% does feel like a bit of sea-change. "Our plan is to roughly double our business in the sector," Hamer admits.
He says the government's focus on construction to lead the country's economic recovery from the covid-19 pandemic has helped the firm make up its mind to look at more jobs away from its traditional building core.
In the National Infrastructure Strategy, published last November, the government committed to address the historical under-investment in critical infrastructure by pledging to spend over £600bn over the next five years, focusing on roads, railways, communications, schools, hospitals and power networks.
In the last recession, construction was the first in and the last out. The focus on construction [this time] was long overdue
"I'm really pleased the way government has prioritised construction," he adds. "In the last recession, construction was the first in and the last out. The focus on construction [this time] was long overdue.
"It's pretty clear we would see [government] investment in this [civils and infrastructure] sector and [for us] being mostly building and mostly private clients is not a sustainable place to be for a 152-year-old firm. Infrastructure is public sector, it's long-term and it's more benign in terms of contracting terms."
If it feels like a case of following the money, then McAlpine is not alone in doing that. Keltbray, one of McAlpine's key subcontractors in the London office market, is branching out into civils, targeting structures work for Highways England. And consultant Gleeds, where more than 90% of its UK business has been from building, now wants a quarter of its revenue to be in infrastructure in the next few years.
Hamer says its two biggest current clients in this market are HS2 and Highways England. McAlpine is part of the Align joint venture on the former where, along with Bouygues and VolkerFitzpatrick, it is carrying out a £1.6bn tunnels and crossing contract for the railway in the Chilterns. Last week, Align took delivery of a huge tunnel boring machine (TBM), the first of 10 that HS2 will use on the railway, which will start to dig its way through the Chilterns' chalky and flinty earth.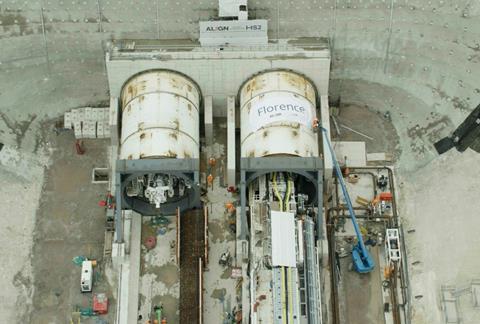 Its jobs for Highways England, include remodelling junction 19 of the M6 as well as upgrading parts of the M56.
For a firm, whose current tally of 65 live jobs is dominated by building work – around 85% of its schemes on site are in the sector – Hamer concedes that McAlpine is not expecting to challenge traditional civils giants like Balfour Beatty and Costain straight away.
"It's a return to the skills and capability we've always had. It's possible to build momentum slowly and see where the money is going to be spent."
Hamer spent five years at Costain in the late 1990s where he was recruited by Sir John Armitt, before Armitt headed off to head up Railtrack. He then worked for Armitt's replacement, Stuart Doughty, who is now a non-executive at Balfour Beatty.
He left Costain in 2002 and spent five years at the British Nuclear Group, where he was responsible for decommissioning work on the estate's fleet of nuclear reactors. So the 52-year-old, who started out at 16 as an apprentice draughtsman at the Stockport office of Humphreys and Glasgow, the 100-year-old engineering contractor bought by Kvaerner and Jacobs in the early 1990s, should know his way around the civils and infrastructure sector.
One job that McAlpine is eyeing is the £200m deal to build the HS2 station at Solihull, called Interchange. With a Mace team building the two stations at both ends of the first phase of the line –Curzon Street and Euston worth around a combined £2bn – it would seem one potential rival will already have its hands full. There will be other bidders, of course, but Hamer admits: "Interchange suits us."
The firm is also looking at working for Network Rail, again on civils jobs only, and is considering bidding for some of the civils schemes that are planned as more nuclear work – a sector Hamer points out McAlpine was often associated with in the 1960s, 70s and 80s – comes on stream.
Hamer expects civils and infrastructure to provide up to a third of the firm's profit in the coming years, which is timely as last year's bottom line was decimated by the covid-19 pandemic.
We've all been through recessions before but there's been no living precedent about going through a pandemic
"We've all been through recessions before but there's been no living precedent about going through a pandemic," he says.
The firm spent about £23m dealing with the pandemic, including the cost of mothballing sites – jobs in Scotland which include office schemes in Edinburgh were shut longer than England – and footing the bill for the loss of productivity and picking up the tab as jobs went on longer than expected. Yesterday, Landsec, the developer on McAlpine's office scheme at 21 Moorfields in the City of London, which will be the new headquarters for Deutsche Bank, said practical completion of the block would now be next July – five months after it was supposed to finish – because of the fall in productivity at the site caused by the pandemic.
While its profit and turnover took a battering – a £27m pre-tax loss and income down 19% to £819.5m – the firm's cash position improved. "Our focus was on cash," Hamer says. "It was just over £96m, ahead of where we wanted to be."
Hamer says this year's numbers are resembling those before the pandemic took hold, when turnover was just over £1bn and pre-tax profit was £14.5m.
The pandemic meant the firm was forced to furlough more than 1,000 staff at the height of the first lockdown, in the end seeing 52% of its 2,250 employees put on the government initiative which saw McAlpine claim £7.3m. "[Furlough] created that safety net, it was a critical intervention for sure."
But those dark days have gone and, last week, the Office for National Statistics said construction output had now topped the level seen before the pandemic, reaching an 18-month high in March.
Some good has come out of it all. "[The pandemic] really did bring the industry together," Hamer says. "It felt like a positive shift in sentiment and people started to work as a collective unit.
"The key now is making sure we don't go back to how it was pre-covid. Embrace the change and show the government we can move the agenda forward on things like MMC and better productivity rates, which we've been talking about for years."
He admits he has been surprised at the level of activity that has come back. "But I'm delighted as well. It's come back quickly and hard."
Even commercial, which threatened to be the ugly sister to infrastructure's Prince Charming, is riding high again and McAlpine is in talks with British Land about the developer's schemes at 1 Broadgate, designed by AHMM, and 2-3 Finsbury Avenue, a 37-storey tower drawn up by Danish architect 3XN.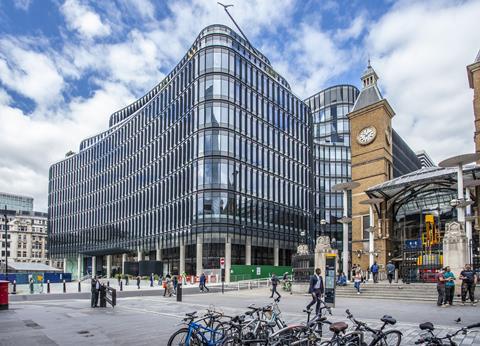 Both have a combined value approaching £600m and the firm is also one of two – the other is Laing O'Rourke – left in the race for a Derwent development on Baker Street worth around £120m and designed by Hopkins.
Derwent, who McAlpine hasn't had much experience of working with before, wants to start in earnest this autumn and recently appointed a demolition contractor, Erith, to begin tearing down a set of existing buildings at the site.
About half of McAlpine's London business is commercial work – around £350m a year – so the market remains key. The British Land and Derwent schemes will all have a significant amount of office space in them and Hamer says the demise of the office has been exaggerated, calling the suggestion a "misnomer".
He adds: "We've got a very strong pipeline of commercial opportunities. The UK is still seen as a top investment destination.
There was a thought that people wouldn't return to work. We disagreed with that and it's not what we're seeing
"When the pandemic hit, there was a thought that people wouldn't return to work. We disagreed with that and it's not what we're seeing.
"Developers want adaptable, flexible floorspace and they want it to be net zero. They want to future-proof buildings and a huge element of the market is refurbishment [to do that]."
He sees the level of activity first-hand from his trips to sites and, when he is in London, the McAlpine office is just off Bishopsgate – apt, really, given that through the autumn and winter lockdown months the only people in the Square Mile seemed to be builders.
Hamer comes down to London from his Cheshire home around twice a week and, when he can, he and his wife Cathy visit their two, 20-something children who both live in the capital and have jobs outside construction.
But for this son of Lancashire, the man from Saddleworth – a town near Oldham which sits in the moors high above the M62 and where it can seemingly rain for months on end – the north is where home is.
A Manchester City fan, he is also a supporter of Leeds Rhinos, the rugby league club across the Pennines and has made many a trip to the club's Headingley home. He says Cathy, who hails from the city, made it a condition of marriage. "I'm an adopted Yorkshireman, really," he adds.