Barratt's chief executive Mark Clare may not have seen the recession coming - he is, after all, the man who splashed out £2.2bn acquiring Wilson Bowden just months before it hit - but he certainly has a clear vision of where the company is heading now. He talks to Building about forging a path back to growth in a crisis-hit market
Barratt's chief executive Mark Clare is one smooth operator. The 54-year-old, who took over the UK's second biggest housebuilder in 2006, is riding high on the back of last month's impressive half-year results, has all the numbers at his fingertips and is adept at dealing with awkward questions.
But he gets defensive when called on to cast his mind back to the real boom times and asked whether - as a newcomer to housebuilding - he should have been more cautious.
Given that one of his first major acts in the hot seat at Barratt was the acquisition of Wilson Bowden for £2.2bn just months before the onset of the global financial crisis, did he not see the recession coming? "I didn't see it coming no … no," he admits, sitting back on a show home sofa within Barratt's new Dalston Square regeneration scheme in east London. Should he not have seen it coming?
'Clearly the timing of the acquisition was not great given what then happened to the economy. Did we see that coming? no, we didn't'
"We did as much due diligence as we could at that stage to try and understand what the future looked like. We were careful to use a limited amount of our own debt - we used shares as well to make the acquisition.
"I think the acquisition was the right one but clearly the timing was not great given what then happened to the world economy. Did we see that coming? Well, no, we didn't and there were a lot of big deals done after ours."
But even without the benefit of hindsight surely there were indications that a bubble was forming, particularly in a sector like housebuilding? "I think you'd have to challenge every single sector in every single country right across the world with that question," Clare replies bluntly.
Bold decisions
A journeyman in the world of business who worked in telecoms, airports and defence electronics before joining Barratt following a 12-year career at Centrica and British Gas, Clare insists that despite speculation, the company was never "close to the wall".
"The housebuilders are always hit particularly hard because they have to spend a lot of money on land," he reasons. "You've got no choice because you have a planning system which is slow and you have to acquire a big landbank to be able to build … we are a capital-intensive industry."
Whatever the reasons, Barratt had to lay off around 40% of its directly employed staff and lose 60% of its trades workforce in 2008. Even today, its shareprice is more than 80% below the heady days of the Wilson Bowden deal. But it's also fair to say that the firm's fortunes are looking up. Operating profit jumped 40% in the second half of 2011 to £61m and turnover rose 8.6% to £953m.
Barratt has also been buoyed by the forthcoming introduction of the government sponsored NewBuy scheme, which from the end of March will make 95% mortgages available again under a system whereby the government and the developer take a share of the risk of negative equity.
Interest from customers is such that Barratt has already had 13,000 people register an interest in the scheme on the firm's highly popular website.
Clare traces Barratt's impressive recovery right back to the worst times of the financial crisis when he and other senior managers took another bold decision and decided to hold an internal conference on "planning for recovery" just weeks after Lehman Brothers went bust.
"In 2008, you think 'what recovery' but we took the view that this was about galvanising the workforce into action," he says. "How do we get all our senior management to understand what we need to do now to ensure that our business is in the best state it can be when we came out the other side? I think we had one of those moments where everyone got it and from that point on, the whole organisation was pointing in the right direction."
The direction Clare had in mind involved driving down its high level of debt, making the business more efficient and investing £1.3bn on new land since May 2009. The firm intends 50% of completed sales to be from these new "high margin" sites in 2013, rising to two-thirds for the following year.
Barratt says that this land is lower risk because investment in these sites is around 34% lower than in its previously held sites. And although it is coy about targets, it says that the organisation could support up to 460 sites around the country compared to the 400 it currently has.
Clare's new direction for Barratt also involved more standardisation of product, which again helped reduce costs, and - crucially - a sustained push to improve the quality of homes and aftercare service.
Clare believes that it is this, along with the landbank changes and more selling of larger family homes for second or third time buyers, which has enabled the firm to increase its average selling price by 15% over the past two years without any real underlying price growth in the market.
"It's definitely paying off," he says, proudly reminding me that Barratt, the only major housebuilder to have the five-star quality rating from the Home Builders Federation, now has another unique selling proposition in giving its customers a five-year guarantee on their homes. "We've proved that actually a very large builder can deliver the quality that you associate with a small local builder … we are selling the most expensive thing our customers will ever buy and why shouldn't they expect the best service? This is a cultural thing and everyone in our organisation has got this."
Hurdles to housebuilding
As a business, Barratt has been growing since autumn 2010 and now employs 4,500 direct employees with another 15,000 subcontractors employed on site, a rise of around 10% over the past year.
With its activity fairly evenly spread around the country - a third in the Midlands, a third in the South and a third in the North - the firm is expected to deliver around 12,000 units this year (800 up with 11,200 last year. While this sounds healthy enough, it is sobering to recall that this figure was 22,000 units at the peak of the market, a level that seems a world away given that Clare expects annual growth of around 5% "until the economy allows more people to buy homes".
But isn't a big part of the problem that house prices, especially in parts of London and the South-east, remain over-inflated? And aren't the likes of Barratt conspiring to keep prices at these unsustainable levels by taking part in 95% mortgage schemes like NewBuy? Clare is insistent that you won't solve Britain's housing crisis by helping to bring prices down.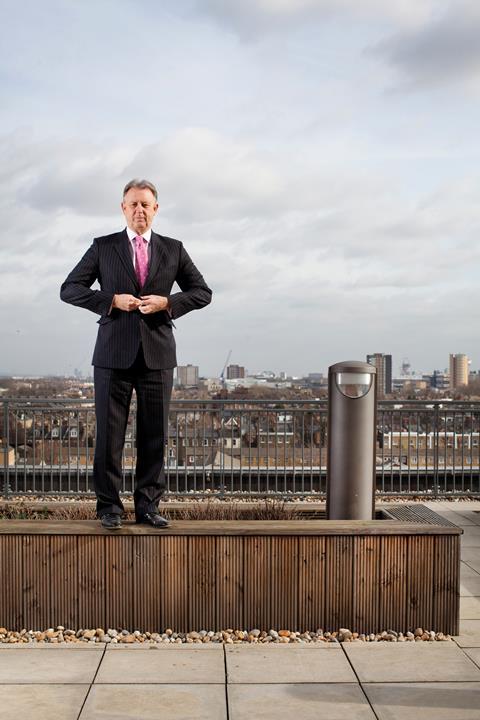 "The solution to all of this is to build more houses," he says. "You are never going to solve the UK housing problem by dropping prices because if you drop prices you get less built. You get less land being purchased and you get less supply. The one thing we need more than anything else is supply."
He admits though that the crisis has become far more acute thanks to the economic downturn and quotes Savills' estimate of a 1.5 million shortage of homes by the end of this decade unless there is a "step change" in achieving a supply of between 230,000 and 240,000 homes a year.
Solving that, he believes, depends on clearing three huge hurdles: improving mortgage availability, freeing up public and private sector land that is ripe for development, and reforming the planning system.
As for Barratt, surely the business is now out of the danger zone and Clare has achieved the bulk of the transformation he envisaged back in 2006? Might he now be tempted to move on to pastures new?
"My ambition is to finish the job of transforming this business … so we're back to the profit we should be earning," he says. "While we've made great progress in the past couple of years, we recognise there is still a long way to go because we are coming out of those difficult times we had in 2008 and 2009.
"What do I do next? I've not given that a lot of thought because I absolutely believe there is a job to be done here."
Could Barratt and housebuilding really be where he finishes his career in business? Clare shrugs, laughing quietly and once again coming up with the right answer to a potentially tricky question.
"Who knows?" he says. "Who knows?"
Mark Clare is speaking at Ecobuild in a debate called
Mainstreaming low carbon construction,
10:45, Tuesday 20 March, Platinum suite 1

Source
Portrait by David Levene