The charismatic Sir Lawrie Barratt passes away after long illness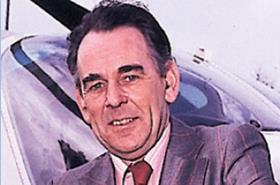 The founder and driving force behind Barratt Developments, Sir Lawrie Barratt, has died after a long illness.
Barratt, who was 85, founded the housebuilder in 1958 after becoming frustrated with the high prices for new homes. He proceeded to turn it into one of the biggest names in UK housebuilding, listing it on the Stock Exchange in 1968, and famously selling a house to prime minister Margaret Thatcher in 1985.
Barratt also pioneered the use of television advertising for new homes, becoming in 1978 the first housebuilder to use the medium, and consequently making the firm the best known UK housebuilder of the time.
Barratt retired from the firm in 1988, before returning to rescue the company when it was hit by the housing crash in the early 1990s, and retiring for a second time in 1997.
News of Barratt's death comes less than two years after he and his wife were victim of an assault at their Northumberland home in which three masked intruders stole over £1m of valuables, a raid which was said to have left him "extremely shaken."
Mark Clare, current chief executive of Barratt, said: "Sir Lawrie had the vision to understand how deeply rooted the desire for home ownership is within this country and he then set out to meet that aspiration by designing and building high quality affordable homes.
"Under his leadership the company brought homeownership within reach of many people through innovative support for home buyers and the high profile way it was promoted.
"I believe that it is no exaggeration to say that there are hundreds of thousands of people in the UK today, across every walk of life, that have bought or lived in homes inspired by Sir Lawrie."
Lawrie Barratt's former colleague and subsequent chief executive of the firm, David Pretty, said Barratt was a "visionary" and a "legend."
He said: "Quiet and reserved by nature, he was a true visionary who revolutionised the selling of new homes across Britain.
"More than any one single person, he made it much easier for young couples and singles to buy their first home. He was also one of the first to recognise the potential of regenerating Britain's inner cities, well before it became fashionable. He was a true legend and they certainly don't make them like him anymore.''
Stewart Baseley, executive chair of the Home Builders' Federation, said: "Sir Lawrie was one of the industry's most influential figures, who played a unique part in the history of house building in this country. Our thoughts are with his family."