Patricia Moore only meant to leave her native Scotland for a couple of years down south, but 24 years later she's still in London – and has risen to become Turner & Townsend's UK managing director. She tells Joey Gardiner the secrets of her own and her employer's success. Photography by Julian Anderson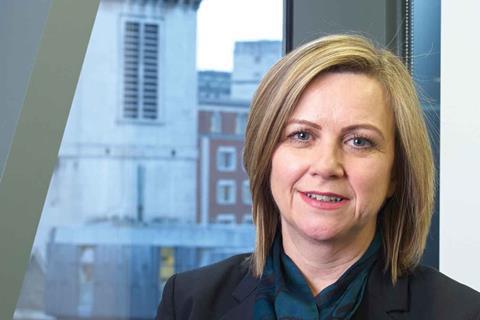 In March last year, Patricia Moore chalked up a little bit of history as the first woman to head consultant Turner & Townsend's £250m-turnover UK business, when she was appointed managing director. In an industry where senior female executives are still the exception, this alone gets her noticed. But as a lively and determined Scot, Moore makes an impact for many other reasons besides.
"I always used to say, when other women asked me: use it as an advantage," she says in the broad accent she has kept despite 24 years living and working in London. "If you're female, with a Scottish accent, capable and confident in what you do, it's actually an advantage rather than being one of many men. No client ever left the room and didn't know who Patricia was."
Having worked at Turner & Townsend (T&T) for the best part of 20 years, Moore can claim a substantial part in the success the firm has seen under chair and chief executive Vince Clancy. T&T's fee income has grown nearly twentyfold since she joined, making it now the biggest QS and second-biggest project manager in the UK measured by numbers of chartered staff.
"The market is less predictable. But we've become the go-to provider on infrastructure schemes – we're on all the mega-schemes"
Initially working as a commercial manager on big building projects such as the Wellcome Trust headquarters, in 2006 Moore was promoted to become head of its new rail business, proving herself by leading the team that won its role on Crossrail. Later, as head of infrastructure, she won the sole provider role on Heathrow for cost management, commercial and project controls services for capital investment. Now that she's in charge, how will she negotiate this tricky pre-Brexit market and where does she want to take the business?
Vanguard
Moore began her career as an apprentice working on defence civil engineering projects in Scotland, before moving to London in 1994 – supposedly for just two years, to work on the Jubilee line extension. "I cried all the way down," she remembers. But instead of heading back north, in 1999 she met with Vince Clancy, then managing partner of cost management, who persuaded her to join T&T. "I thought I was coming for two years, and 24 years later, I actually feel like a Londoner now," she says.
Entertaining and refreshingly no-nonsense, she exudes an air of being likely to achieve whatever she sets her mind to. One former colleague said to Building: "She'll be great in the MD role. She's well thought of and well connected. She's been on the tools herself for many years so she's well-rounded."
Among her firsts, Moore says she was the first professional at T&T ever to go on maternity leave, something she repeated twice more in the ensuing decade. "Baby #1 was the Wellcome Trust; baby #2 was the Darwin centre." Not their actual names? She laughs: "The project equivalent of my babies. And baby #3 was Crossrail." Clearly she had the determination to ensure these breaks were no impediment to her professional momentum.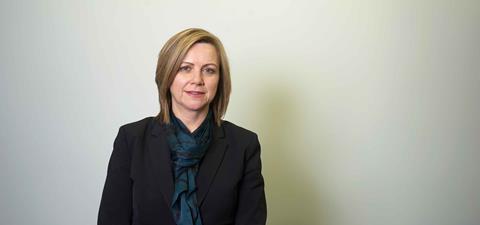 Tricky
Moore may have all the right attributes and experience for her new role, but she has undoubtedly come into it at an awkward time. After eight years of growth at T&T, during which period the business has more than doubled in size, deepening political and economic uncertainty is making this trick ever harder to pull off. In the six months to September 2018, construction new orders fell to their lowest level for six years, on the back of weak commercial and public sector demand, and there is concern about how long Help to Buy can keep the new-build residential market immune from the Brexit malaise hitting the housing market overall. Speaking before Christmas, Moore said she remained confident, with continuing revenue growth at the firm underpinned by its huge infrastructure workload. "The market is less predictable this year. But we've become the go-to provider on infrastructure schemes – we're on all the mega-schemes, the four Hs as we call them – Heathrow, Hinkley, Highways England and HS2.
"We're quite content we're going to beat budget […] and going to land double-digit growth this year in the UK."
Of course, she is concerned about Brexit – but you don't get the impression it's keeping her up at night. The lack of commercial mega-schemes, for example, is made up for by growth in high-tech and manufacturing. "What we're seeing is it's taking clients longer to make decisions, so our pending list of decisions for tenders submitted is growing. But the difference with us is we have a very diverse business model," she says.
"Everyone's concerned about Brexit. What you really want is something that gets us through the short term with as much ability to trade and as little impact as possible. But even that's probably my Christmas list rather than reality."
Moore is reluctant to talk about the delays to HS2 and Crossrail. Now £2bn over budget and at least a year behind schedule, Crossrail employed T&T as programme partner, with its role being to "ensure that the project is completed to time, to the desired standard and within budget", according to T&T's website. Given the huge political row over the project, Moore unsurprisingly declines to answer specific questions about the delay – despite her years on the project – beyond saying she still believes it will ultimately be regarded as a stunning success.
Some will no doubt raise questions about the extent to which T&T should shoulder responsibility for the problems. But Moore says: "We're proud to have been associated with Crossrail since its early stages. Major programmes are particularly complex to initiate and to bring into use. We welcome the new management arrangement to get the project completed and the line operational."
More generally, she says that even if there were delays or problems on T&T's big infrastructure contracts, it wouldn't hit the firm because of the type of pre-construction, client-side advisory roles that T&T typically takes on. The point being – though she doesn't say it like this – that T&T earns fees for its advisory services, regardless of whether anything gets built or not.
"We're a business that's delivered growth through the last three recessions. This management team has done that, and knows how to do that," she says.
No joke
She's not joking there. Through the whole of the post credit-crunch recession T&T had just one year of falling revenue, and never reported a loss – maintaining its salary levels while its competitors were slashing theirs. Project manager on the Shard, client programme partner on Heathrow's expansion and programme partner on Crossrail – it has had a knack of winning the right project at the right time to get it through. As a big component of that success, the UK business will presumably continue that ruthless commercial focus under Moore's leadership.
This is exemplified by her list of 10 key London "strategic targets" – projects that T&T simply must win to claim #1 status in the capital, with a similar list for all the cities in which the UK business has offices. These targets include forthcoming real estate advisory work for Heathrow in advance of the new runway, and the Old Oak Common project in north London.
Moore's real challenge now, she says, is to change what she claims is an "amazingly good company" into a "truly great" one. Part of that, she says, involves being a bigger contributor to society by helping the industry to reform and increasing corporate and social responsibility efforts. But more important is meeting the oncoming challenge posed by digitalisation and technology. "When I was writing pieces for college in 1988 it was all about how the QS was going to get substituted [and that] digitalisation is coming, that the role of the QS will die," she says. "Well, it's taking a long time."
"But now the change is starting to come, the change is hitting us really quickly. For T&T it's about: how do we accelerate, how do we go faster with our investments?"
As well as advising clients on how to set up projects to enable them to be delivered in a digital environment, T&T has also just completed "the first wave of delivery" of digitalising its core QS service, the culmination of an 18-month project with a team of developers.
She won't say how much the business is investing, but it's clearly a lot. "More than we've ever invested in anything," she laughs. In part this is a defensive measure, given that digitalisation has the potential to further commodify standard QS services, but she insists it's more than that. "There definitely is a trend in the market for increasing commoditisation of the service; absolutely there is. But absolutely there's also an increasing demand for data. They [clients] want it well presented; they want deep analysis and the knowledge and insight that comes from that."
This is also changing who will work at the business in future. "It's already started," Moore says. "We take a whole load more maths grads, and developers, and data analysts and data scientists now than we ever did in the past."
Pay gap
It is somewhat ironic, perhaps, that you won't necessarily find T&T shouting about its record on recruiting and promoting women. The firm's gender pay gap report, published last spring, demonstrated that while it is hardly the industry's worst offender, neither is it leading the way. Women are paid on average 26% less than men at the firm, with their bonuses on average one-third lower. Although 30% of the firm's workforce are women, just 7% of the 218 directors are female.
Moore says being a woman in a male-dominated industry "never really fazed me". However, she accepts the firm needs to do better. Last year T&T announced it was setting specific gender targets around recruitment, alongside a range of initiatives including mentoring and "returners" programmes for women who have taken career breaks.
Moore says a pilot at T&T has seen 10 women returners start back at the business this year. "The last 10 years we've got our graduate recruitment much more towards a 50:50 [gender split]. But the big challenge is always about the progression and the development.
"There are some pretty fundamental things such as getting women through the childbearing years. It's just mad that we train all these highly qualified women, kick them out of the workforce and then make it really, really hard for them to come back."
Here her own experience is relevant. "The first time you go on maternity leave is a really bewildering time. I never forget coming back the first day. I'd gone from having all these numbers and rates and costs in my head, to sitting thinking 'I can't do this job'. You really lose your confidence," she says. The rewards, though, are worth it. "My advice to young women is expect to feel vulnerable, expect to lose a bit of yourself. But also, expect and know you can get it back really quickly."
For Moore, there's no doubt that journey has been worth it. "You take a bit of a step back to come forward again. But you get to be the mum, and that's pretty unique," she says.
The firm will be hoping Moore's performance in her new role is equally exceptional.