Work on Hinkley C's construction may be about to start but hopes for a whole new fleet of power stations are at risk after a 'crisis' in market confidence triggered by EDF's Hinkley delivery problems, Toshiba's expected exit from one key project and a funding shortfall on another. Now the government is facing calls to step in to calm nerves. Joey Gardiner reports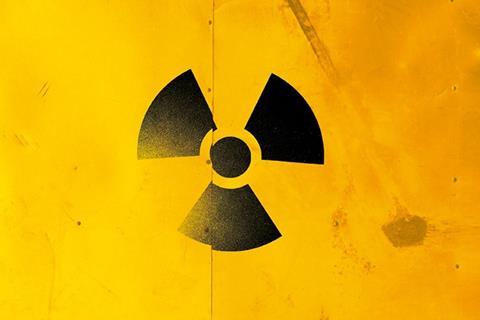 It should be a time for celebration for those involved in nuclear new build. Because within weeks, the first concrete will begin to be poured on the first new UK nuclear power station for almost 30 years: the £18bn Hinkley C. Given the obstacles faced by its developer, French utility giant EDF, for many it is incredible the project has got this far. It is supposed to be the project that kick-starts construction of 16GW of nuclear generation capacity – an £80bn pipeline of work – over the next decade.
However, instead of the sound of popping champagne corks, there is an eerie silence. Because, far from Hinkley's start opening the floodgates, the government's hopes for a fleet of new nuclear power stations have rarely looked more unlikely. It's not only that Toshiba, the backer of the £10bn Moorside plant in Cumbria that is the next project on the stocks, is in financial crisis and is looking to sell the scheme before building it out. Horizon NP, the backer of the next plant after that – Wylfa, in Anglesey – also requires new investors before it can build. Meanwhile, all over the world construction of plants of the kind envisaged in the UK are running seriously over budget and behind schedule, while the UK's impending exit from the EU threatens to pose serious headaches to the necessary importing of nuclear kit.
With longstanding critics such as Paul Dorfman, senior research fellow at UCL's Energy Institute, unsurprisingly concluding the programme is in "meltdown", even die-hard nuclear supporters admit the seriousness of the situation. One, former Tory MP and climate change committee chair Tim Yeo, calls it a "crisis" which is "a potential turning point for the industry". So, amid calls for the government to step in and take a stake in ailing projects, what are the prospects for those firms in the new build supply chain?
Tortured Toshiba
There's no doubt that top of the list of concerns are the travails of Japanese conglomerate Toshiba, the joint owner (with French engineer Engie) of the NuGen firm developing the 3.8GW Moorside plant. Last week Toshiba delayed issuing its third quarter accounts for the second time, after last month revealing a write-down of more than $6.3bn (£5.1bn) on problems at its US nuclear division Westinghouse, which it has put up for sale.
Following a review of all its nuclear activities outside Japan, Toshiba has made clear it intends to sell its stake in NuGen before the plant is constructed, though it intends to continue with development of the project in the meantime. While NuGen, which hasn't yet procured construction partners, won't comment on sale plans, it insists that the planned sale does not affect the project's development, and is always what it had intended. Nevertheless, a spokesperson admitted it was delaying submission of its planning application for the scheme, originally earmarked to be filed in the first quarter of this year. The spokesperson said this was in the light of the huge quantity of responses to its last round of consultation, and its desire to conduct a "deliverability review" to ensure plans were buildable. "We will submit the application when we're ready," a spokesperson said.
Toshiba's financial problems have cast doubt on the future of NuGen. [The situation] poses something of a crisis

Tim Yeo, New Nuclear Watch Europe
There is another layer to the problems at NuGen, derived from the fact NuGen is planning to use Toshiba's own reactor technology in the plant, which comes from its troubled subsidiary Westinghouse. The Westinghouse AP1000 reactor destined for Moorside is the same as that being installed in the two delayed US projects (Vogtle 3 and 4 in Georgia and VC Sumner 2 and 3 in South Carolina) which are at the heart of Toshiba's $6.3bn (£5.1bn) write-down. While it is understood the costs are not down to technical failures with the reactor design, the problems mean there is uncertainty over the future of Westinghouse along with its technology. Tim Yeo, now chairman of pro-nuclear lobby group New Nuclear Watch Europe (NNWE), said in a letter to business secretary Greg Clark last month that "Toshiba's financial problems have cast doubt on the future of NuGen", and told Building that the firm's situation "poses something of a crisis".
Notwithstanding Toshiba's problems, 2017 was already shaping up to be a vital year for the new nuclear pipeline. Alongside Hinkley's start on site, the industry is also expecting regulatory approval for both NuGen's reactor design and the Advanced Boiling Water Reactor being planned at Wylfa. Both are also expected to apply for their nuclear site licences, and the Planning Inspectorate says it expects their planning applications to be submitted this year. Horizon has appointed a top tier project team including Bechtel to work up plans, and is also in discussions with Kier, Bam, Balfour Beatty and NG Bailey, among others, to take supply chain roles.
The official voice of the nuclear industry is more sanguine about developments at Toshiba in the light of this progress. Tom Greatrex, chief executive of the Nuclear Industry Association, says he disagrees there is a "point of concern" following the revelations at Toshiba. "We're not in a fundamentally different place now than we were three months ago. We've got one power station under construction and two more getting to the next stage in the regulatory process. The trajectory is right."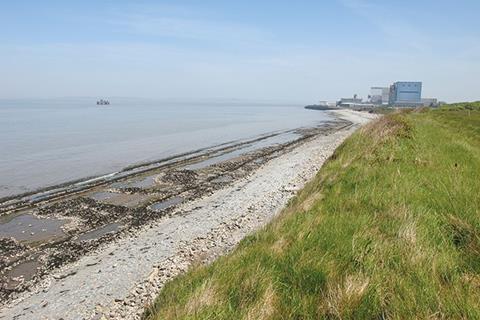 But others spy wider problems. All of the reactors planned for the UK are so-called "third generation" power stations, incorporating far more sophisticated safety measures than previous plants. But the experiences of building these so far have not been reassuring. EDF's Flamanville project using the same EPR reactor as planned at Hinkley is three times over budget and six years behind schedule, with many doubting the revised 2018 completion date will be hit. Couple this with doubts over the future of Westinghouse's AP1000 reactor, and it is perhaps not surprising that Infrastructure UK, the predecessor to the government's Infrastructure and Projects Authority, gave the project a sub-investment grade credit rating of BB+ –, making it inevitable that the new build programme could only proceed with state-backed funders.
The technical challenges besetting Flamanville are continuing to give cause for concern as regards Hinkley. UCL's Dorfman describes the Hinkley deal – under which the government guaranteed to pay £92.50 per MW/hr for energy generated by the plant for 35 years – as a debacle and also questions whether, even now, Hinkley will actually be built out. But Hinkley has already signed billions of pounds of contracts for the plant, including with main contractors Laing O'Rourke and Bouygues, alongside Balfour Beatty, NG Bailey, Kier, Bam and many others. While EDF, a company which is in debt to the tune of €37.4bn (£32.4bn), maintains it is fully committed, Dorfman says: "It might happen, but it's dependent upon a number of things, primarily EDF's credit rating." Yeo, likewise, says that until Flamanville is completed "there has to be a question-mark over what the completion date of Hinkley will be".
Spooked
All this amplifies the natural caution of investors in first-time projects of such colossal scale. While EDF, with the help of the UK government and co-investor China General Nuclear, has managed to get the Hinkley project away, the tortured process to get there, the difficulties still faced by EDF delivering it, and the extent of the commitments required of the UK government, have all raised questions with other investors. Hiroaki Nakanishi, chairman and chief executive of Hitachi, the Japanese firm that owns Horizon, last year told the Telegraph he had been "spooked" by the commercial terms of the deal for Hinkley.
We need a production line of nuclear power stations to drive costs down – that's what our government's policy is designed to enable

Tim Stone, Nuclear Risk Insurers
Yeo says the market was "unsettled" by the process and fears the impact of construction problems on investor sentiment generally. "The industry's track record of delays is there for everyone to see. It feeds into the anxiety of those funding it, and the public cynicism about whether these projects will happen.
"We've had so many delays that unless the industry maintains momentum people will say it's never going to work and move on to something else," he says.
Yeo points to positive examples such as Korean state-backed nuclear firm Kepco, which is building four reactors, currently on time and on budget, in Abu Dhabi, and says the UK should look to emulate this. Kepco, indeed, is widely seen as the frontrunner to purchase Toshiba's stake in NuGen, which is giving some in the sector cause for optimism. However, both Dorfman and a senior industry source say Kepco's reactor technology does not have sufficient safety systems to obtain regulatory approval in the UK. This means it would have to either stick with Westinghouse, or redesign its own reactor – which would then need to go through a five-year UK approval process.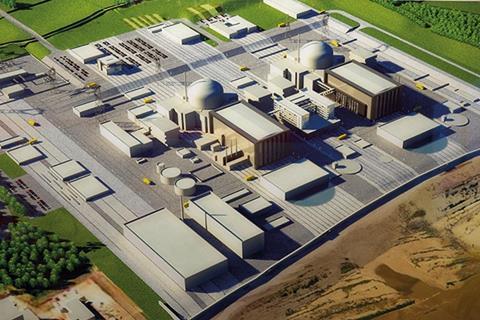 Tim Stone, a former senior adviser to the UK government on nuclear, and now chair of Nuclear Risk Insurers, is one of many in the industry to lay the difficulties at recent projects on poor business decisions, rather than inherent problems with the technology. But ultimately, Stone says, the only way to bring the cost of projects down is by repeating them and learning lessons – which is why he says the project in Abu Dhabi has worked so well. "We need a production line of nuclear power stations to drive costs down – that's what our government's policy is designed to enable to happen."
Why is the Euratom treaty important?
The Euratom Treaty, signed in 1957 alongside the founding of the EU, established the European Atomic Energy Community. Its significance is both that it acts to safeguard nuclear material in EU states, something the UK will have to set up a system to do separately, and also that it governs the cross-border trade in nuclear industry products. Nuclear Industry Association (NIA) chief executive Tom Greatrex says this means a new nuclear co-operation agreement will be needed to allow trade not only with other EU states, but also with countries outside of the EU – because Euratom negotiated trading terms on the UK's behalf. While with some countries this may mean having to go through the bureaucracy and cost of securing import and export licences in order to trade, with others – including the US – trade is completely barred without a specific nuclear co-operation agreement being in place. The NIA's Greatrex says: "This covers the movement of both parts and skilled workers. A whole range of things would need to be put in place or else things would become much more complicated." New Nuclear Watch Europe chair Tim Yeo said the body was currently researching the impact of the decision to leave Euratom, but that he feared it could affect construction costs at Hinkley.
And while that hope may look a long way off, in the short term Brexit is another potential stumbling block, taking the attention of government away from the sector. Paul Stapleton, founder of consultancy Stapleton & Stapleton, says: "It's very quiet. All of the government's attention and focus has moved off the agenda to Brexit." Potentially more damaging is the fact that leaving the EU will mean the UK departs from the Euratom treaty, created alongside the Treaty of Rome, which governs safeguarding of nuclear material as well as international trade in nuclear products. Yeo says that leaving Euratom could hinder the importing of goods necessary to build new reactors – a vital issue given reactor technology is all French, US, Japanese, Korean or Chinese (see: why is the Euratom important?, right).
Direct action
These fears are leading more and more people to conclude the government needs to take even more direct action than it has done to date – by actually investing in the projects during construction. The government is already guaranteeing the future price at which it will buy power generated by new plants – the so-called "strike price" – but this still leaves developers needing to borrow money to finance construction. With the UK government currently able to borrow at historically low rates of interest, government investment could significantly reduce the cost of this capital. Stone says that a reduction of 1% on the interest rate on the project's overall financing could reduce the ultimate strike price by as much as £13 per MW/hr – which equates to a reduction of around 14% on the Hinkley electricity price.
Hence Yeo's NNWE group is now publicly lobbying for the government to take a stake in schemes and clarify the rules around foreign investment in order to get them off the ground. "The time has come for the UK to recognise the government needs to put its hand in its pocket," Yeo says, estimating that by buying a stake during the construction phase the government could reduce the strike price by "£10 or even £20" per MW/hr. Reports surfaced last year that the UK government is already in talks with Hitachi and the Japanese government about taking a 25% stake in Wylfa as part of a wider funding deal, something it has neither confirmed or denied.
Despite this pressure, many remain sceptical that a Conservative government will choose publicly to fund controversial nuclear projects at a time of austerity. Consultant Paul Stapleton says: "A Labour government might have a different view but I think it's very difficult for this government. Are they really going to want to take on project risk?"
With Hinkley's strike price around 2.5 times higher than the current wholesale electricity price, these difficulties come as the cost of renewably generated power is reducing sharply. Dorfman, for one, believes the future for low-carbon generation is in renewables. "There are problems with both nuclear and renewables, but clearly now we can see the problems with renewables can be dealt with. The energy revolution is out-pacing nuclear." For Yeo, this argument adds to the urgency of getting nuclear on track: "Critics are pointing to how the cost is falling in renewables, and the low gas price – all of which is making nuclear more difficult."
Hence at the point of the nuclear industry's greatest triumph in a generation, it is also in the midst of its deepest crisis. Those firms lining up to build Moorside and Wylfa still have reasons to remain hopeful, but they may need a stiff drink or two to get through the coming months.
Nuclear new build project file

Hinkley Point C
Location: Hinkley, Somerset
Promoter/developer: A joint venture between EDF and China General Nuclear Power Corporation
Technology: European Pressurised Reactor
Stage: Construction started, first concrete to be poured within weeks
Final investment decision: Taken July 2016
Expected first generation of power: 2025
Prospects: Very good – this project is way past the point of no return. However, doubts over the EPR technology and EDF's financial strength remain. After Hinkley, the consortium plans to build two EPR reactors at Sizewell C in Suffolk and one of China General's HPR1000 reactors at Bradwell, Essex, for which the regulatory approval process has just started.
Moorside
Location: Moorside, Cumbria
Promoter/developer: Nugen, a joint venture company owned by Toshiba and Engie (formerly GDF Suez)
Technology: AP1000 Pressurised Water Reactor, designed by Toshiba-owned Westinghouse
Stage: Expected to receive regulatory approval for the reactor design imminently. Submission of planning application, previously expected shortly, now delayed. Submission of site licence application expected this year
Expected final investment decision: End of 2018
Expected first generation of power: 2024
Prospects: Decidedly tricky given Toshiba's financial woes. With Toshiba's intention to sell public, there is mounting speculation its stake will be bought by Korean firm Kepco. However, the project also has to get a reactor licence, planning permission, a site licence, a subsidy deal with the government and procure construction before work can start.
Wylfa
Location: Wylfa, Anglesey, Wales
Promoter/developer: Horizon, which is owned by Hitachi-GE
Technology: Hitachi's Advanced Boiling Water Reactor
Stage: Regulatory approval for the reactor expected later this year, site licence application to be made imminently, planning application to be submitted later this year
Expected final investment decision: end of 2019
Expected first generation of power: 2025
Prospects: Unclear. While Horizon isn't currently enduring the turmoil of NuGen, it has been public about the fact it also requires further funding before going ahead. It has made more moves to procure a construction team than Moorside, but like the Cumbrian plant it still has to pass all the significant regulatory hurdles. After Wylfa, Horizon plans to build at power station at Oldbury, south Gloucestershire.