Not before time, construction is getting its act together on reducing carbon emissions, as Jordan Marshall found out at Building's two-day Net Zero Live conference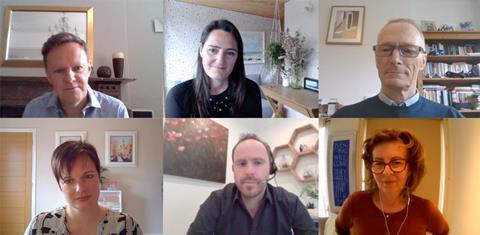 Whether it is Boris Johnson setting out ambitious carbon cutting targets for the UK or US president Joe Biden hosting a climate summit - both of which took place last month – global leaders are finally starting to take environmental policy seriously and make it a top priority.
Construction has been relatively slow to find joined-up approaches to tackling carbon emissions but that is changing fast. To highlight the work that is now being done, Building, Building Design and Housing Today last month hosted a two-day conference, Net Zero Live. Across four sessions our panels of experts explored the implications for all parts of the industry, as well as what the sector's oversight body, the Construction Leadership Council (CLC), is doing to play its part in tackling the crisis.
Here we outline some of the highlights from the event webinars, all of which are now available on demand at building.co.uk/net-zero-live-2021.
Next steps for contractors
Contractors looking to achieve embodied and operational carbon neutrality face big challenges, and the key driver for taking the necessary steps comes directly from their clients. Crawford Wright, head of architecture and design at the Department for Education (DfE), laid out what he is looking for from contractors. The DfE has a reputation for foresight when it comes to modernising its capital programme and it has ambitious targets for contractors it works with. Wright said the department will be looking for contractors to implement standardised designs to help achieve net zero from next year, with a complete platform approach expected to have been implemented in 2025. This will only be possible, Wright made clear, with better communication between contractors, designers and manufacturers to ensure there is shared knowledge around progress on embodied carbon.
Jesse Putzel, head of sustainability at contractor Bam, said communicating carbon requirements down the supply chain requires a lot of work from main contractors. Speaking as part of the session on how to deliver net zero buildings, he said: "There is a huge education piece to be done down the line. It's one thing to engage with your direct subcontractors, it's another to have that then communicated further down the supply chain."
He said another issue for firms is having clear dialogue and understanding with materials suppliers about the embodied carbon of products. Simon Wyatt, partner at Cundall, said a key part of tackling the materials issue was ensuring that contractors started considering the reuse of materials more carefully as it is one of the only ways to truly reduce carbon in construction.
Consultants' views
"Designing for reuse needs to be central to a structural engineer's role in designing for net zero," said Simon Nicholas, UK managing director at Robert Bird Group. Designing for modern methods of construction, volumetric and design for manufacture are all key to this, in his view, as it enables the reuse of materials at the end of a building's life.
On another issue for consultants, Lynne Sullivan, chair of the Good Homes Alliance and member of the Green Construction Board, said there needs to be a consideration of how the industry creates standards to deliver true net zero buildings. Sullivan said that 72% of respondents to the government consultation on changes to the Building Regulations, which closed at the start of 2020, did not believe the proposed Future Home Standard goes far enough to ensure net zero ambitions.
David Bownass, head of UK net zero design consulting at JLL, pointed out that all these new regulations are mainly for new build, and completely missed the point with retrofit. While they may not be targeted at retrofit, the retrofit changes that are proposed are, to say the least, "weak", he said, meaning that overall, there is still a long way to go, particularly when you consider 80% of the buildings that will be around in 2050 have already been built. One of Sullivan's fellow speakers, Alan Fogarty, sustainability partner at Cundall, said that while it is important that designers and consultants take Passivhaus as a starting point, this involves a significant trade-off between building systems and building envelopes and as an industry the focus should be on closing the performance gap.
Bownass said another consideration is who bares the cost of delivering on the standards required to drive to net zero carbon in the built environment. It is much more affordable to build in net zero requirements than have to retrofit, for example. And he argued that if costs are kicked down the road, they end up falling at the feet of homeowners and end users. In Bownass' view, the sector has a responsibility to bear some temporary financial pain having to implement the technological changes and new methods of development – something that is likely to be forced on consultants by investors and developers that are increasingly making net zero a requirement of their projects.
Enthusiasts for digital and MMC
A common thread across all the Net Zero Live sessions was how important digital platforms and offsite construction are to achieving construction's net zero targets, both for new builds and for a much needed retrofit programme for existing homes.
Nigel Banks, director of special projects at Ilke Homes, put the case for much more use of offsite and modern methods of construction to tackle embodied carbon. He said this is because the processes themselves are more sustainable and the assets that are manufactured are easier to monitor in terms of the performance gap.
On the performance gap issue, James Mills, product manager at Rockwool UK, highlighted the importance of embracing technology in the construction process. He said looking at the implications for building external walls with u-values of less than 0.15 made the need for MMC clear. He said the walls would have to be built to too great a thickness if the required level of efficiency was to be achieved using traditional construction methods and materials meaning that from a design and materials perspective it only made sense to use MMC.
But to enable any of this, Marion Baeli, partner at PDP London, said training had to be rolled out right through the supply chain. She said the existing workforce had to be upskilled quickly and new talent attracted to the sector. The potential for green job creation was raised by Hannah Vickers, chief executive of the Association of Consulting Engineers, who, speaking on behalf of the CLC, said that around 500,000 new construction jobs would be needed to upgrade homes in line with the 2035 carbon target.
CLC and the net zero agenda
As part of Net Zero Live, the CLC unveiled how it intends to implement CO2nstruct Zero, the construction industry's zero carbon change programme. The programme is based on nine priorities. These have been divided into three areas, transport, building and construction activity, and include accelerating the use of zero emission vehicles, onsite plant and modern methods of construction, work with government to establish a national retrofit programme and implementing carbon measurement. The team working on net zero and sustainability policy at the CLC, who are establishing the programme, are all volunteers but they get support from the Green Construction Board, trade bodies and Department for Business, Energy & Industrial Strategy civil servants.
The priorities are designed to be used to frame three strands of activity. These three areas are performance measurement, signposting and support, and communications and engagement. The end goal is to establish a suite of milestones, metrics and targets that businesses and the industry can use to demonstrate progress. The CLC's intention is to launch a series of events to share knowledge and it will be using what it calls "business champions" to build up learning materials.
Vickers outlined the CLC's goals for the next quarter. She said a draft performance framework of metrics and targets for the industry that will be used for regular progress reports would be out for consultation next month. It is expected the consultation will run for about three weeks. She also said that the first quarterly performance report for the industry would be made in June and that a new part of the CLC website, which directs businesses to the relevant support and initiatives, would launch in May.
As part of the same webinar, David Pinder, chair of the Green Construction Board, said the CLC has put in a formal recommendation for a national retrofit strategy and is awaiting a response from Treasury, something Pinder says "is the part of government policy that is most seriously lacking at the moment". Vickers also revealed that the CLC has submitted an expression of interest to be at both COP26, set to be held in Glasgow in November, and at the Department for International Trade investment summit the month before.
Vickers also said the CLC is looking for businesses to get involved in a number of ways. These include responding to the industry consultation in May, participating in reporting net zero metrics, and volunteering to be a CLC "business champion" which involves sharing net zero knowledge and best practice with the wider industry.
NET ZERO LIVE 2021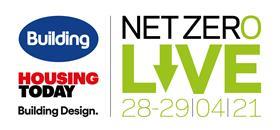 If you missed the event you can access all the high-level keynotes and interactive panel discussions from the experts in the industry on a series of issues relating to net zero. Click here for on demand webinars