Chief executive of Taylor Wimpey acted faster and more decisively than most firms during last year's lockown. Here he looks back at those decisions
The anniversary of Boris Johnson's first televised "lockdown" address to the nation and the life-changing weeks that followed a year ago – along with everything that has befallen the world since – have given almost all of us reason to stop and reflect on what we did then, and why. Taylor Wimpey chief executive Pete Redfern is no exception.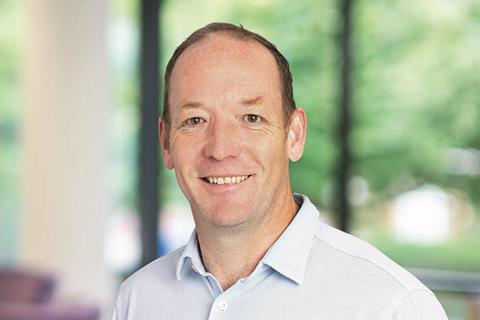 In the face of unclear government advice, his business became – the morning after that address on 23 March – the first national housebuilder to announce that it was shutting sites, a decision copied by nearly all of its rivals within a matter of days. A series of initiatives that followed during April 2020 – on executive pay, supply chain payments, making public safe working protocols – meant that he was seen as the de facto industry leader in terms of responding to this national crisis.
The day after the prime minister's address, Redfern even spoke on Radio 4 about the "moral compass" that informed his decision – a phrase you rarely hear from a FTSE 250 chief executive. "I remember it all quite clearly," he says now. "You tend to remember formative events in more detail. You go back over them in your head.
"I don't think momentous is an exaggeration. It felt like we were taking decisions that mattered and on which we would judge ourselves and be judged by others, for better or worse."
Since that remarkable few weeks, the scale of the damage done by the lockdown and the actions taken have become clear – with profit at the firm dropping by two-thirds last year and completions down by nearly 40%. In contrast, some other businesses that took less drastic action – most notably Persimmon, which shut sites but kept staff working during the weeks that followed – seem to have suffered a less significant hit.
Redfern is still reflecting on those few weeks that changed the world, and says he stands by most – if not quite all – of his decisions. Despite it all, he is now optimistic for the future of the business.
Lockdown
Taylor Wimpey's preparations for lockdown began about three weeks before the prime minister spoke on March 23. The news flow had begun to indicate that a more serious government intervention was on the cards than the broad social distancing given advice up to that point. So a steering committee was set up to work out how the firm was going to respond, culminating in daily management meetings.
Redfern reveals that this process saw the business actually take the decision to shut sales offices on the Friday before the Monday announcement, amid increasing concern from staff working in the capital. Nevertheless, it was still unclear exactly how the government would respond. So, like 27 million others, Redfern tuned in to the address at 8.30pm, realising alongside everyone else the gravity of the decisions communicated. Within half an hour, he says, he had convened a meeting of the firm's managing directors, at which a "unanimous" decision was taken to shut sites the next morning.
Pulling out so we could come back safer later still feels like the right answer
This call was made, he says, despite the fact that it became quickly clear from the government that construction sites would be technically allowed to keep operating in some form. But there was at this point no clarity on what safe operation looked like, so making the decision to close, in Redfern's eyes, was unavoidable.
"It was clear that it would have been next to impossible for us, with the nature of construction sites, with a subcontractor and a self-employed workforce, to just click our fingers and operate a new set of covid rules, with people going on with their day jobs. We didn't know what the new rules should be or were. Pulling out so we could come back safely later still feels like the right answer."
He does not blame the government for the lack of initial clarity. "We were taking decisions for just one company, one industry. To have expected them on that day, or even that week, to have reasonable, relevant, clear, industry-specific guidelines about what was OK and what was not – I think that is a bar it would have been impossible for any government to meet."
Honest decision
Not every company in the sector was finding it as easy to come to the same conclusion, however, with the announcement of site closures taking days, in many cases, to come through. Redrow initially said that it was going to keep sites open, only to change its policy, while Berkeley Group never shut all of its sites.
So, what gave Redfern the clarity that this was what he had to do? "I know it sounds very corporate, but we do have this mini internal mantra of, 'when you're faced with a difficult decision, just do the right thing'.
"We all watched the announcement, looked at the statistics, listened to the message underneath it. That night there was a unanimous view from our management team that we should shut sites.
"It may seem cheesy, but it is what it is. At those points you just have to take a decision that feels right for you, that you have got the best information, and you take an honest decision based on your principles."
Did political considerations, given an industry very much in the government's bad books following the leasehold, cladding and executive pay scandals of recent years, enter into it? No, Redfern says. At least, not at first.
"That was not in any meaningful way in our thought process in March and April. [But] I wouldn't be honest if I denied that managing our reputation, and to a certain extent the reputation of the industry, started to be a part of it [later]. Reputation is, after, all part of our responsibility to manage."
And is reputation perhaps one small positive to come out to the situation? "I think it has probably helped the government in a very general sense to see the industry as a group of people who are trying to run businesses sensibly and well."
Resilient
The obvious comparison, in Redfern's case, is with his handling of Taylor Wimpey's debt crisis in the wake of the 2008 credit crunch. As a new and relatively inexperienced chief executive, the firm came perilously close to collapsing under the weight of bank debt.
This time, Redfern says, the firm's secure finances meant that it was not scary in the same way, while his track record meant that he did not feel the same personal jeopardy.
"From a personal point of view, for me, it was easier because in 2007/08 I had been doing the job for a year, I was still learning. You do become more resilient over time and more confident of following your decision."
Events since then have not changed his attitude to this initial call, or the speed at which the business was able to come back on to site (it was the first, alongside Vistry on the same day, to announce plans to begin re-opening). But the impact of shutdown was enormous – despite the housing market surge in the second half of the year.
Taylor Wimpey saw revenue fall by 36% and profit 68%. While the different timings of different firms' financial year-ends obscures exact comparisons in many cases, it was by no means alone in taking this kind of hit – but neither could you say that it outperformed.
Certainly, in financial terms, the firm does suffer by comparison to Persimmon, which does have the same year-end and which saw its profit fall by just 25% on revenue down less than a tenth. Persimmon decided to keep staff working throughout the spring, a decision which appears to have enabled it to get back up to full operational capacity much more quickly when sites restarted.
Asked about the comparison Redfern has no regrets and, while he clearly does not want to make any direct criticism with a rival, the implication for Persimmon in his response is pretty clear. "I'm really comfortable with the decisions we took being in line with our values, even if it may have impacted on our financial performance," he says.
His certainty about the initial lockdown decisions does not mean that he thinks he got absolutely everything right in 2020. While initially, he says, it was correct to send out the clear message to staff that safety was the overwhelming priority, and that financial considerations should take a back, he thinks – with 2020 hindsight – that he was too slow to put the pedal back down on performance over the summer.
"We were right to de-emphasise financial performance through that second quarter, in the decisions to come off site, to go into furlough, in lots of things that were covid related. But I think we could have, in July particularly just have switched that financial performance message back on a little bit more.
"At the end of July we were still very much focused 90% on covid and safety, and I don't think that was true across the industry. By September we were building that balance of performance pressure back on, but we could have been a month or two earlier with hindsight."
Another big call was the surprise June decision to raise £500m from shareholders to spend on land, in the anticipation of being able to pick up sites cheaply in a falling market. Cenkos analyst Kevin Cammack says Taylor Wimpey has faced criticism from shareholders for this.
"Taylor Wimpey took a gamble that they could buy land cheaply as prices dropped," Cammack says. "But, as we know, that didn't happen. It's not clear they've got measurably lower prices from that land that'll give them a margin advantage."
Suffice to say, Redfern does not buy this analysis. While he does not dispute that the overall market has been stronger than expected, he says the capital raised allowed the business to invest £1.6bn in 100 sites – more in eight months than it normally would in two years – at a time when few rivals were in the land market.
It is clear that his experience of the global financial crisis was instrumental here, when he had to watch powerless as financially stronger rivals such as Berkeley hoovered up cheap land in the wake of the crash, reaping the benefits in the decade that followed. Redfern says this investment has left Taylor Wimpey "streets ahead" of its rivals on land, this time around.
It is time for a new energy and positive goal to focus on. Everyone needs a rest, but also needs something positive to move forward on
"We could not have bought those 100 sites without the capital raise – that was a one-off opportunity when very few others were playing in the market," he says. "We didn't have the capacity and capital in 2008 to 2010 to invest, so we were watching for that opportunity [this time].
"Because the housing market was stronger than expected, yes the level of discount [on land purchases] was lower than had the market gone south. But also the risk was lower, and the opportunity to invest greater."
New vision
All of which, Redfern says, contributes to a strong outlook for the builder. Covid-19 challenges remain, he says, with the chronic tiredness and stress of a workforce having faced multiple lockdowns top of his list of concerns.
As well as offering them support, Redfern hints that he is working on a "new vision" for the company to motivate staff. "I've been thinking about it a lot over the last few days but I think now, as we come to the end of it, it is a leadership question. It's time for a new energy and positive goal to focus on. Everyone needs a rest, but also needs something positive to move forward on."
The outlook is further boosted by measures announced in last month's Budget, which so far appear to be ramping up demand. While Redfern has never been one to call for temporary stamp duty cuts – the chancellor announced a further extension to the current holiday for purchases under £500,000 – he is much more enthusiastic about the imminent introduction of a mortgage guarantee scheme, designed to see government underpin lending to first-time buyers.
Some criticised a previous version of this policy – brought in by former chancellor George Osborne alongside the generous equity loan scheme Help to Buy – as potentially fuelling unsustainable price rises. But Redfern actually sees it as a potential replacement for Help to Buy, which is due to run out in 2023, and which he agrees should not continue indefinitely.
"I've always been an advocate of some kind of broader support that helps first-time buyers if they are buying second-hand or new-build, and that isn't quite so intensive [as Help to Buy], so government can help more people with a lower contribution. The government is right to think very carefully of how it helps first-time buyers."