With the industry dependent on EU workers, major restrictions on immigration as part of a 'hard Brexit' could be disastrous. So are EU nationals leaving already and how can firms stop projects from grinding to a halt? Joey Gardiner reports in the first of two features about the impacts on employers and workers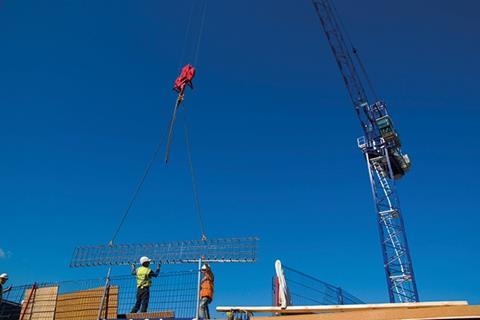 It's not often that data about the number of people applying for jobs in nursing sends shockwaves through the construction industry – but last week's figures showing a 96% fall in applications from foreign EU nationals may be an exception. The data, from the Nursing and Midwifery Council, stokes industry fears that, whatever Brexit deal the UK finally achieves, the flow of skilled labour to these shores from across the EU could be about to cease.
"Nursing is the classic case of what can happen," says consultant Mark Farmer, author of last year's government-commissioned report on construction labour – Modernise or Die – the title of which was supposed to act as a warning to the industry. "The real danger is that we have the same thing in construction – fewer and fewer deciding to come to the UK," he says.
Official data shows how the industry is reliant on overseas labour, from Eastern Europe in particular. The proportion of foreign-born construction workers doubled between 2004 and 2014, to around 12% of the 2.1 million-strong workforce, according to the ONS Labour Force Survey. While EU migrants from the accession states – the EU's new members in Eastern Europe – make up about half of that migrant construction workforce.
But if this overall picture presents a big challenge, the concern in key construction markets like London is much more extreme, where migrants make up a majority (54%) of construction workers. According to the Greater London Authority, 25% of construction workers in the city were from elsewhere in the EU, and anecdotal evidence suggests the situation is similar in other major UK cities.
With the industry already facing severe skills shortages, and the shape of a future Brexit deal looking less clear by the day, it is hardly surprising that major construction employers are wondering what all this will mean. "They are hugely worried about retaining the labour force. It's the biggest issue facing the industry," says Steve Beechey, group strategy director at contractor Wates. So, have European construction workers already started going home? And how will the industry cope if they do?
Dire predictions
There is no shortage of dire predictions of what will happen to UK construction without the support of EU staff. The RICS has calculated that 8% of the UK construction workforce is potentially put at risk by Brexit, and Lewis Johnston, parliamentary affairs manager at the body, says that without a deal guaranteeing rights for existing and future EU staff, "projects won't be delivered, there could be delays and it will increase the cost of projects".
The knock-on is that the government's ambitions in other areas, which rely on infrastructure and housing, could be in jeopardy

Lewis Johnston, RICS
For example, housebuilder Barratt Homes, in evidence to the All Party Parliamentary Group (APPG) for Excellence in the Built Environment, said 59% of its London workforce was from the EU.
The RICS' Johnston adds: "The knock-on is that the government's ambitions in other areas, which rely on infrastructure and housing, could be in jeopardy." Last year a study by consultant Arcadis estimated that a "hard" Brexit which installed the same points-based immigration system for EU staff as already exists for non-EU workers, would see 215,000 fewer EU workers in the UK by 2020, turning the current skills gap into a "skills gulf".
Government data suggests some workers are already leaving, despite there being no legal change to their status so far, though it is important to point out that overall there are still far more EU citizens coming to the UK than heading back. Figures from the Office for National Statistics (ONS) show that migration from the accession states – which provide most of the UK's EU construction labour – shifted significantly. The number coming to the UK in 2016 from the so-called EU8 states (Czech Republic, Estonia, Hungary, Latvia, Lithuania, Poland, Slovakia, and Slovenia), which joined the EU in 2004, dropped by a third to 48,000, and the number leaving the UK rocketed by 59% to 43,000 – nearly as many as arrived. Meanwhile the number of workers returning to Romania and Bulgaria (the EU2 countries) doubled – though it is still far below the number arriving.
Workers' unease
But with no legal change, why would staff look to return home? Gail Cartmail, assistant general secretary at construction union Unite, said: "The workers who are leaving feel that they are no longer welcome here and fear that they and their families will be abused and mistreated." Indeed Wates' Beechey admits that around the time of the referendum he picked up anecdotal reports of foreign staff encountering bullying on site, and while there is little evidence this is widespread, he worries it contributed to a feeling that "there is not a future here for them in the UK," he says.
Jonathan Portes, professor of economics and public policy at King's College, who has studied the issue of Brexit and migration, agrees with this assessment: "It's early days, and part of the driver for the change is a slight slowing in the economy, but mainly it appears to be Brexit. There's a psychological impact – migrants feel less welcome, and that their prospects here are less certain than they were."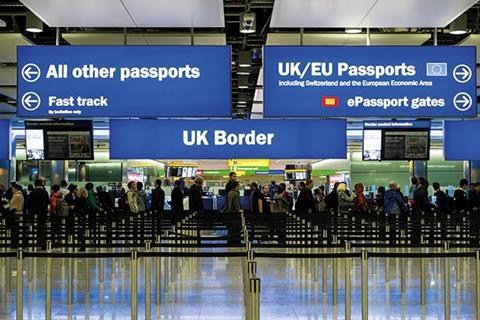 The ONS figures, however, which are for the economy as a whole, do not shed light on the situation for construction specifically. According to Florian Moldoveanu, the Romanian-British chief executive of London-based social housing contractor Pilon, the situation for construction specifically is not as desperate as these fears suggest – at least, not yet.
The mindset of first generation emigrants is very resilient. They are not going to be that sensitive to whether they're not feeling welcome

Florian Moldoveanu, Pilon
Pilon, founded by Moldoveanu 15 years ago, employs around 500 people, of whom he estimates around 75% are Eastern European. While he and the Europeans in his workforce were profoundly disappointed by the result of the referendum, so far he has seen no exodus of skilled staff. "For Romanian workers, the UK had clearly been top of the list on the basis of the pay and the ease of utilising their skills.
Brexit has diminished the UK so now other countries are close to it – but it's still top.
"The mindset of first generation emigrants like these is very resilient, very pragmatic. They are not going to be that sensitive to whether they're not feeling welcome. They'll put up with a lot.
"What will change that is if the government starts implementing policies that affect their ability to earn a good paycheque – that's when they'll go away."
Moldoveanu says the ease of getting the tax benefits of self-employment, for example, is a key driver for the UK's current attractiveness – take that away and Eastern Europeans might change their view. Subjecting Europeans to the immigration system currently in force for non-EU migrants would also restrict the flow. "Then you will see people leave in droves," he says, though he is confident things won't get to this stage. "Any decent government will have to work with the industry to put things in place to allow construction to carry on, otherwise things will shape up very badly. If you stop the pipeline of workers all sorts of things will happen."
An uncertain future
While the election looks, for the moment, to have lessened the chances of a "hard" Brexit, it has also made the government's strategy harder to predict. The Conservative manifesto offered little to allay construction's fears over skills, with policies to make recruitment of overseas workers harder and a renewed commitment to reduce net migration to under 100,000 per year, but it is not clear how much will be implemented.
Farmer says: "The government doesn't want to share its negotiating hand, and that means we will have to live with continued uncertainty, just when the industry doesn't want it."
The manifesto also promised to create an immigration policy tailored to the business needs identified in the government's forthcoming UK industrial strategy. However, it is not yet clear whether construction will manage to play a significant role in the industrial strategy, given it was barely mentioned in the January consultation.
There's a psychological impact – Migrants feel less welcome and that their prospects are less certain than they once were

Jonathan Portes, King's College
Dr Heather Rolfe, associate research director at the National Institute of Economic and Social Research (NIESR), says business concern is understandable given existing immigration rules for non-EU citizens, which don't allow in the tradespeople construction needs.
"The current rules wouldn't allow skilled trades in; they're pretty much [just] about filling graduate positions," she says. "Employers are really concerned about what would happen if this kind of system was put in place across the piece. They're worried a future immigration policy won't take account of the needs of the sector." The high degree of self-employment in construction creates an additional difficulty in forming an effective policy.
Firms are already raising concerns about the impact of any migration clampdown not just on the ability to staff projects – but the cost of labour, quality of build and the overall price of buying construction. Moldoveanu predicts increasing quality problems if labour flows are restricted, leading to "higher and higher pay rates" for the best staff.
In its submission to the Built Environment APPG, contractor Balfour Beatty warned of the direct impact on taxpayers: "Uncertainty around the free movement of labour in the EU could cause the industry recruitment and staffing difficulties and may increase costs where demand for labour outstrips supply […] as the costs of government funded construction projects increase taxpayers will carry the burden," the submission said.
Wates' Beechey says: "If the UK blocks people from coming over, the impact upon construction prices would be very significant."
Greater volatility
Many that voted to leave the EU, of course, would say that increasing wages for skilled UK workers is no bad thing, contradicting the Remain camp view that freedom of movement didn't suppress pay. But if there were to be a boost to workers' wages, researchers believe there would also be a flip side to the coin – greater employment volatility, without temporary migrant labour to even out peaks and troughs in demand. The Chartered Institute of Building's APPG submission said that "the loss of the dampening effect of migration on the UK construction labour market" would subject workers to "periodic bouts of deep job losses" and "make working in construction more precarious and less attractive" to UK staff.
Any decent government will have to work with the industry to put things in place to allow construction to carry on […] otherwise things will shape up very badly

Florian Moldoveanu, Pilon
The cyclical nature of construction would, therefore, pose an even bigger challenge to employers and staff alike than it does now. The NIESR's Rolfe says: "Even if the UK trained more of its own staff it would still be very difficult to meet demand from the industry because there are so many peaks and troughs."
Unite's Cartmail says the only way to address the problem is to massively increase the training of apprentices "immediately" or else face "stark" consequences. "The industry is currently only functioning because of our reliance on migrant workers, due to our abject failure to train apprentices," she says.
Certainly there is anecdotal evidence of increasing training rates, particularly in the housebuilding sector, in recent years. For Farmer, the only option for the industry is not to waste effort lobbying the government for the continuation of any temporarily relaxed immigration rules, but to focus on modernising the industry through modern methods of construction to make it less reliant on migrant labour.
"It would be the wrong strategy to focus on protection from Brexit," he says. "It should be about future-proofing the sector. If modernising the industry is five to 10-year process, then it must start now – not in five years' time."
Big ideas: Solving the workforce challenge
While not everyone thinks the UK construction industry, with its periodic booms and busts, can be expected to train all of its labour domestically at all times in the cycle, all agree it can do a lot better than it does now. There are essentially two approaches to ending the industry's reliance on hundreds of thousands of foreign-born workers.
1. Train more domestically
According to CITB figures the number of first-year construction trainees fell to a 40-year low in 2013 of just 20,000 – under half the 2005 figure. In comparison, the CITB estimates 46,420 new recruits are needed in the industry every year until 2020, without even factoring in the impact of those retiring. The obvious solution is to train more people with the right skills domestically – which is the purpose of the government's economy-wide apprenticeship levy, as well as the purpose of the current review of CITB. There is also evidence that some employers are starting to do more, with big housebuilders such as Berkeley and Redrow setting up training academies. Contractor Balfour Beatty, which trains 150 apprentices and 700 other young people at any one time, is a member of The 5% Club, set up to address the skills gap and promote recruiting apprentices and graduates, its membership made up of employers who have signed up to 5% of UK workforce over the next five years being young people in training.
Karen Cooksley, head of planning at property law firm Winckworth Sherwood, says: "Construction firms are paying more attention to running in-house training programmes than they did before the referendum, setting them up themselves. It could be one good thing to come out of this."
2. Modernise the industry
The other approach is to attempt to reform the way the industry works to mean less skilled workers are required, through digitisation of processes and prefabrication of buildings in off-site conditions. Consultant Mark Farmer is a proponent of this suite of different approaches, which he calls pre-manufacture, and without which he says the industry has no future. The last year has seen significant investment in off-site construction, with the likes of insurer L&G building a factory near Leeds to build thousands of homes each year. Housebuilder Barratt said in a submission to the built environment APPG that it was building at a rate of 1,200 timber frame homes a year last year and also exploring other modern construction methods such as light-gauge steel frame and large format concrete block systems.
And earlier this month Building reported that Berkeley is looking at a potential site for a modular homes factory. Farmer says the industry needs to start moving towards these new ways of working quickly. "It doesn't look as if there's going to be government support for an industry which is continuing to rely on outdated modes of delivery.
It's about digital delivery now," he says.