Turner & Townsend's Robert Deatker is the man responsible for ensuring the smooth delivery of one of the UK's most mind-bogglingly complex schemes - the 2 million ft2 London Bridge Quarter, which includes the 310m Shard. And he's determined to pull it off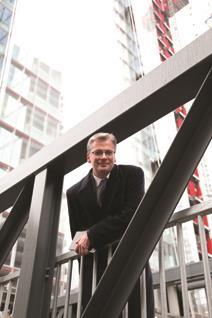 When he was 23 years old, Robert Deatker returned from spending a northern hemisphere summer as a ski bum in New Zealand. He had no money and no job. He went to an employment agency and, as an engineering graduate, was given two options: doing some CAD layout designs for Marks & Spencer or working on a then little known project called Canary Wharf.
He opted for the latter, and from that moment on he has worked on some of the biggest and best known projects in the world. These include T5, the Ba Hama leisure complex in the Bahamas and Al Raha Beach in Abu Dhabi.
In June last year, Deatker took on his latest role with Turner & Townsend and it's one that certainly continues his career trend for working on mega schemes. He is now head of project management for developer Sellar's London Bridge Quarter (LBQ), which entails overseeing the entire development. This includes the delivery of the Shard, the redevelopment of London Bridge Station and the surrounding concourse plus a new bus station and piazza.
The plethora of different deadlines, investors, occupiers and other stakeholders in a scheme of this size make it an almost unimaginably tough job.
"There are just so many obligations involved in this project that it really does defy belief," Deatker admits, before adding that this doesn't mean he has any doubts that he - and the T&T team - can pull it off. Sitting in Sellar's offices overlooking the site, with the Shard looming up past the window, Deatker explains how he is managing the logistics of such a huge task, what the challenges are likely to be, and what he thinks the scheme will mean for London.
Fitting it all together
If it comes as a surprise that Turner & Townsend is project managing this entire scheme, this may be because its name hasn't been particularly associated with the project.
"We haven't made a huge song and dance of it all," says Deatker. "We've just been getting on with the work. Having said that, we're very proud of the job we're doing. But people like Renzo Piano are famous and everyone wants to know who the architect is. The same is true of Irvine Sellar, whose brainchild this is. So in some respects you can't compete with that. Without them this project wouldn't exist."
But none of this means T&T's role on the scheme is any less vital. "We're not the contractor building it," Deatker says, "or the designer designing it, but we are the entity that knits all of it together - the design, building issues, interfacing with all the various stakeholders …
"The logistics of pulling a scheme like this together comes down to the project manager. It's our job to make sure everything works and that there is a cohesive plan for the entire project that fits within the budgets and with the commercial aspirations. What does the developer want? What's his leasing strategy? Where will the return be coming from?"
On top of the sheer scale of the task, handover dates and deadlines are looming. The Shard is due to have its shell and core stage completed by May 2012 and both London Bridge Place and the new bus station are scheduled for completion by 2013. But Deatker says the fact that the scheme is so big doesn't have to mean more drama - just more organisation.
"Bigger projects have a bit of a myth around them, but construction is always about fitting everything together. The bigger the project, the more people there are - and the more advanced planning.
"We're already thinking about the handover stages, the strategy for how the concourse will interface with the bus station works. What is London Underground's strategy alongside Network Rail's works? We need to know that now. We have to think one or two years ahead and plan it all."
He concedes that things have to be done differently on a project as big as this one: "You have to be more organised and break down all the various functions," he explains. "You need clear strategies for everything separately, from design to stakeholder and risk management. Sometimes on smaller projects they'll be glued together but on a scheme this size it has to be broken down and responsibilities and accountabilities built within that, so everyone knows their place and their role.
"The ultimate goal is to hand everything back smoothly to the various stakeholders and occupiers. For that we have databases and work plans set up to make sure that if a piece of information needs to be sent to a certain person by a certain date, it happens; that if someone needs to be included in a monthly consultation, that those meetings happen and everyone knows what's going on.
"Construction is half communication. Where this fails, that's when cock-ups occur. Communication is vital."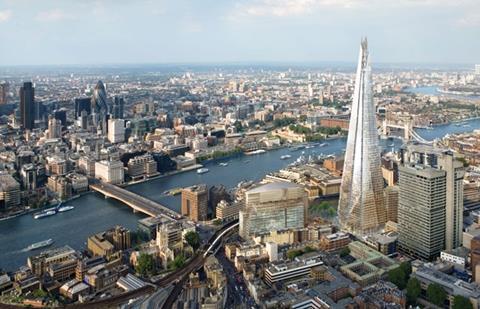 The challenges
It's those cock-ups that Deatker is hell-bent on trying to avoid. The simple fact is that even with all the focus on forward planning, organisation and communication, on a
2 million ft2 project with 850 workers across all elements at the peak of construction, there are bound to be points in time that need particularly careful navigation.
"The completion and handover of the various aspects will be potentially very challenging," admits Deatker, "from completing the concourse and handing back over to Network Rail, through to completing areas of the Shard and handing the hotel section over to the Shangri-La. Then there are the asset handovers. We need to make sure all of this happens smoothly … We are setting up procedures with various people, and assets are being monitored and checked so that at the end we know whose piece is whose."
Anything else? "There has been nothing so far where I have thought: 'How are we going to deal with that?' But the hardest thing is dealing with the whole concourse works because London Bridge is a live railway station. You have to be careful before you just plough in there." He pauses for a minute before conceding: "I suppose that is the challenge that keeps me up at night, thinking how are we going to do all of this work and ensure the daily commuter can pass through and isn't having his or her life ruined for the next year?"
Deatker adds that timings for the Shard are on track, maybe even ahead of schedule, as the contractor, Mace, has had "a great six months". The core has now been topped out, the last steelwork finished up to level 40, all MEP equipment is in the basement, the toilets are being built, the facade is right up behind the structure. Now, says Deatker, it just depends on the weather to see how well they get on. Fingers crossed then for a snow-free few months.
The last of its kind?
As the Shard towers higher and higher over London, it is becoming increasingly clear that it will be one of the capital's most iconic buildings. But what does Deatker think of comments that in recessionary times such extravagant designs are likely to become a thing of the past, as we return to simpler structures?
"I don't agree with that," he says. "There should always be a place for people who have inspiring ideas to come up with something different. It would be a shame if the UK and London didn't allow new projects that challenge architecture and challenge the norms."
Finally, when asked whether he has had a chance to think beyond London Bridge Quarter and on to the next project, Deatker can only muster a small, exhausted laugh: "I have no idea," he smiles. "But what I can say is that I want my career going forward to be all about London. So something here."
Watch this space, then. It's bound to be a big'un.
A developer's eye view
Flan McNamara is project and construction director on the London Bridge Quarter (LBQ) Development. He first worked with Deatker on Canary Wharf in the early nineties.
What is it like working with Robert again after all these years?
It was easy to re-energise our relationship when we met again on this scheme. It probably helps that we both trained as engineers and both have a good sense of humour.
How is the LBQ scheme is going at the moment?
The good news is that the project remains on schedule. The major challenge has been to ensure that the design is available in time to allow the contractor to progress
the works.
What do you think the scheme will do for London?
The Shard will obviously transform the London skyline and become a globally recognised symbol of London. The wider London Bridge Quarter development will create a commercial district located at one of London's most significant transport interchanges, continuing the resurgence of the area.
Do you think it might become the key silhouette on the London skyline - overtaking the Gherkin and Canary Wharf?
As the tallest building in London, the sheer height of the Shard will make it a referencing point from all over London. Its iconic design will also certainly position it as a structure that will be as recognisable around the world as these existing buildings.
Deatker's Favourties
My favourite restaurant … The Cliff in Barbados, it's very romantic. I took my wife there and it was the perfect setting
My favourite dish … clams with linguine
My favourite film … The Long Good Friday
My favourite decade … The nineties, when I got married. The music was great and everything was coming together. I should say 2000 and beyond because of the children. But they're unlikely to read this, so I think I'm OK!