Building looks at a relatively new movement using green roofs to plant our food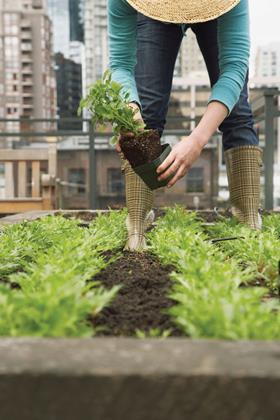 Green roofs have been a feature of our urban landscape for centuries. Vikings would construct roofs out of gently sloping wooden boards covered with several layers of birch bank, surmounted by a thick sod finish.
Throughout the Middle Ages, Scandinavia and parts of northern Europe adopted a similar construction method on some residential and utilitarian buildings in rural and sometimes urban areas. Germany in the sixties led the way in the development of the modern green roof with which we are familiar today and they have now become an increasingly common feature of towns and cities in Canada, Australia, the US and particularly continental Europe.
The environmental benefits of green or living roofs are well publicised. Biodiversity conservation, rainwater harvesting, thermal and acoustic insulation, flood prevention via lower surface water run-off levels, air filtration and the reduction of the urban heat island effect are just some of the benefits that green roofs can deliver. They are also increasingly being used for another sustainable purpose: urban agriculture.
Growing food on roofs is not a new idea, but it is one that is rapidly expanding into both urban culture and strategic planning policy. In construction terms, rooftop food production requires the creation of "intensive" rather than "extensive" green roofs. "Extensive" green roofs are the most common kind and normally incur lower construction costs and are of a lower weight.
They tend to be up to 150mm in depth and comprised of lightweight inorganic materials such as crushed tiles, rockwool or sand. They are often inaccessible and can be used for the cultivation of hard-wearing plants that require little access or maintenance.
"Intensive" green roofs require a depth of at least 300mm of organic growing medium and often feature container or raised beds. Adequate drainage must be provided as well as substantial waterproofing and insulation layers, a root barrier membrane and a filter layer with the plant growing medium above.
These requirements limit how widely or easily green roofs can be created. Intensive roofs in particular require complex and expensive drainage and irrigation systems, which demand a high level of maintenance. Their greater weight also imposes considerable structural loading onto the roof, which severely limits installation to most older existing buildings without significant and expensive structural retrofitting. To counter these constraints, new lightweight, nutrient-rich organic growing media are being developed in which a wide variety of produce, such as potatoes, aubergines, tomatoes and peppers can be grown in soil depths less than 300mm.
Toronto's urban agriculture
Toronto is a city right at the forefront of the urban agriculture movement. It is estimated that about 55% of food consumed in Toronto is imported. Yet in 2009 a study by the National Research Council Canada found that if just 6% of the city's rooftops (1% of the land area) were greened, Toronto would reduce its carbon dioxide emissions by 2.18 megatonnes per year. Additionally, this would deliver greater food security, stimulate the food production economy, provide new employment opportunities and further reduce carbon emissions by lowering food transportation times and distances.
In 2009, Toronto became the first city in North America to legislate for the creation of green roofs. The Toronto Green Roof Bylaw came into effect in 2010 and states that a percentage of roofs on all new residential, commercial and institutional buildings must be allocated for a green roof. With developments with a gross floor area of 2,000m2 or more the requirement is 20% and this increases to 60% on developments larger than 20,000m2. On new industrial buildings 10% of the roof must be allocated for green roof coverage.
As well as the legislative mechanisms being used to encourage food production on roofs in the city, several community-based organisations, such as Toronto FoodShare, are also actively researching and promoting rooftop food production in order to expand the city's urban agriculture market.
Projects in the UK
Closer to home in the UK, the situation is not quite as developed as our Canadian counterparts, although there is growing interest in the subject. Ben Reynolds, network director of sustainability awareness group Sustain describes the UK approach to urban agriculture thus: "We are all familiar with allotments, and community gardens as features of the city landscape, but more often than not a lot of space is wasted, where with a little support we could see projects […] in the UK, where salad crops, vegetables and even fish are produced commercially within the city."
A handful of landmark projects have attempted to realise this ambition. A rooftop allotment in London's King's Cross has been transformed into an urban eco-garden providing naturally grown food for a local eatery. A permaculture garden has been installed on top of the Reading International Solidarity Centre providing 180 species of edible and medicinal plants. And at the North Harringay Primary School in north London, London Community Herbalists have built a 300m2 rooftop garden with plants used for food and medicine as well as a vital educational resource.
In order to try to transport these individual efforts into a more strategic level the Greater London Authority has set up the London Food Board with the express aim of implementing healthy and sustainable food policies for the capital. The board meets twice a year and the expansion of rooftop food production is a dedicated part of their remit. Aecom has also conducted extensive research into the area of how food can be grown in vertical cities and has proposed food production on facades as well as on roofs. As populations grow and resources become more and more finite, urban agriculture may well become a more familiar part of our urban experience.
Ecobuild London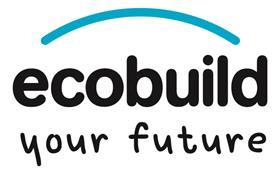 To find out more on this topic, attend the Ecobuild conference session "The self-sufficient city - integrating food production into buildings", 11.00-12.00 Thursday 07 March 2013 ExCel, London www.ecobuild.co.uk