The Department for Education is scratching its head over how to meet the demand for 25% more school places at a time of rising construction inflation and a dearth of available urban land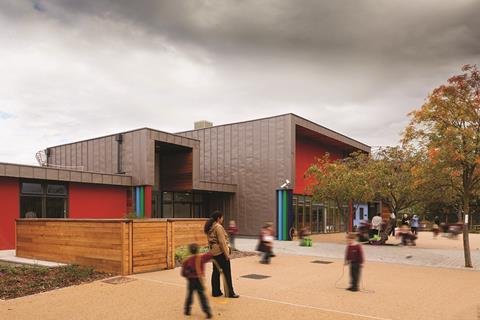 Fresh off the Conservatives' spectacular, odds-defying outright victory at the election, and confirmed as retaining her post of education secretary, Nicky Morgan was calm and confident when she spoke of the government's agenda for schools.
Affirming the government's pledge to open 500 free schools between now and 2020 - taking the total to more than 750 and providing an additional 270,000 pupil places - Morgan declared: "Free schools are at the heart of the government's commitment to deliver real social justice by ensuring all pupils have access to a world-class education. This is at the core of our commitment to govern as one nation - creating a country where everyone, regardless of their background, can achieve their high aspirations."
Morgan can now push ahead with creating more free schools and other education changes, such as punishing hundreds of "coasting" schools that have poor exam results. The fee-paying Surbiton High School and Oxford University alumnus also does not have too much to worry about in the next round of spending cuts. Her department has been ordered to find £450m, but these will be made in further and higher education budgets and will largely come from expected underspends.
Moreover, it seems that Morgan no longer has to worry about the prying eye of her predecessor, Michael Gove. Moved last year, much to the relief of those teachers who could not stand him, Gove was still looking over Morgan's work from the position of chief whip, according to a Number 10 source.
Gove's spokesman has denied the claims, but David Laws, the Liberal Democrat ex-schools minister in coalition who lost his seat in May, hints that this had been the case. However, he says: "Nicky Morgan has got a pretty free hand now because she's been in post for a while and reconfirmed in the post-election reshuffle. Michael Gove has gone to the justice department and he has enthusiasm [for that role]."
With Gove focusing on huge legal reforms and his own £249m of cuts as lord chancellor, Morgan can be content that she is being allowed to get on with the job.
Yet this calm picture hides some deep concerns within the Department for Education over how it will meet demand for 25% more school places over the next five years. With construction inflation on the rise, land scarce in urban areas of population growth, and a commitment to balancing the nation's books prioritised over virtually all else, there are growing fears of a looming schools crisis.
Capital spending
A pre-election briefing by the Institute for Fiscal Studies found that day-to-day school spending in England had been "remarkably protected" during the last, austerity-driven parliament, falling by just 0.6% per pupil in real terms against an 8% fall for public services.
But capital spending was found to have fallen by one-third in real terms, greater than in most other departments, and a reversal of a trend that saw it grow by 12.9% a year under the 1997-2010 Labour government.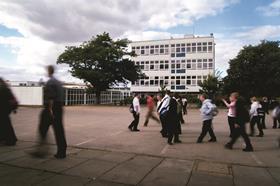 The report states: "Under Labour we saw stronger growth in schools capital spending than in current spending and faster growth in further education spending than in schools. Under the coalition, we see the reverse, with schools current spending growing faster than capital spending and stronger growth in schools than in further education spending."
The department has promised £21bn for capital spending over the next five years, but this includes maintenance and repairs as well as building new schools and expanding existing facilities.
A Department for Education source says: "Capital is constrained, though the revenue budget is protected. Budgets are tight - there's not a huge amount of capital. Money is there for expanding schools, but there's a limited amount for new schools. We can't do the grand schools programmes that previous governments have done."
However, rather than fretting over how much is in the coffers, the source points to the importance of schools commissioners. Led by Frank Green, the former chief executive at Leigh Academies Trust, these regionally-based commissioners recommend to ministers which academies and free schools - which are set up by individuals or organisations but not controlled by a local authority - should be set up in their areas.
"The key thing with a tight, finite budget is to focus money on where it is needed - that's where regional commissioners come in - in contrast to Building Schools for the Future (BSF), where huge expansion plans were drawn up even in schools where it wasn't needed," the source argues.
The brainchild of then-schools minister David Miliband in 2003, BSF was supposed to see every secondary school in England rebuilt or modernised over two decades - 675 primary school building projects were later added. But critics were infuriated by the £45bn cost and Gove almost immediately dropped the programme when he took office in 2010.
Andy Burnham, the Labour leadership contender who was shadow education secretary under Miliband's brother Ed in 2010-11, argues that BSF gave schools the opportunity to develop their facilities in new ways. He says: "BSF was brilliant in places where it was done. I was in a fantastic school, in Darwen [in Lancashire] recently. It's got all these massive new buildings and it's got incubator businesses in it. It's a brilliant model - that's absolutely transformative, bringing businesses inside a school."
Burnham is also angered by his political opponents' capital spending cuts: "It's very much a mistake, particularly the way funding is skewed - it is not given out on the basis of need anymore. Capital gets given liberally to new free schools, but not to existing schools - I've got a couple in my constituency that for love nor money cannot get hold of any investment.
"I think the priorities are all completely skewed and they're politically skewed, which is outrageous really. Surely it should be the condition of the buildings that decides how money is given out, not the status of the school?"
Cost inflation is rocketing
A more limited and, some would argue, more realistic Priority Schools Building Programme essentially replaced BSF, and the first wave will see 260 schools in most urgent need of repair rebuilt. The first school, Whitmore Park Primary in Coventry, opened in May last year and a second phase, worth £2bn and covering a further 277 schools, was announced at the same time.
There is lots of pressure with land, particularly in London, for sites. Identifying land is going to be a big challenge

- David Laws, former schools minister
The 277 schools in the next wave will have at least one building rebuilt or refurbished, and were announced in February. However, further details are not expected until the chancellor's Autumn Statement in December, frustrating the contractors - one complains that the education department has been "quiet" since the election.
Stephen Beechey, group strategy director and managing director of government affairs at Wates, speaks to education department officials "most weeks, if not most days". He says the problem with the plans is that they were budgeted at a time when construction costs were relatively benign.
He says: "There is that challenge [costs], because when budgets were set when you could get a building built for £1,500 per square metre, but it's 25% over that now, to around £1,900 per square metre. Cost inflation in London and the South-east has been rocketing."
Laws, the former schools minister who is now an education consultant, insists that he laid down plans that will allow for inflation: "As the recession in the construction sector was over we had to anticipate that prices would be rising for basic need and maintenance and we made provisions for that. The rates for building are quite varied in different parts of the country, but efficiencies could be found. For example, the Priority Schools Building Programme certainly made savings in procuring more effectively in batches [of schools] rather than individually." However, he admits: "There is lots of pressure with land, particularly in London, for sites. Identifying land, which is scarce and expensive, is going to be quite a big challenge."
This could be particularly difficult with free schools, which were supposed to be less costly to build than their local-authority controlled rivals. Officials have claimed that construction costs are 45% lower than previous school building programmes, while other estimates have suggested free schools cost £6.6m each as against £25m per school under BSF.
But they have also admitted that the publicity surrounding free schools can drive up the market value of the proposed site in evidence to the Public Accounts Committee - parliament's watchdog on how taxpayers' money is spent.
The committee's chair during the last parliament, Margaret Hodge, concluded that £240m had been spent on free schools in areas that were not suffering a shortage of school places. She argued that "financial management and governance in some free schools are clearly not up to scratch" and that rising capital costs will result in the programme's budget being broken.
The free schools and priority buildings programmes are, then, facing severe financial pressures that are arguably the result of the government's economic success - restoring the country's fortunes has created a red-hot construction market. On top of this, the UK's concentration of growth in land-scarce urban areas and the squeeze on public spending restricts the government's options for cheaper sites and funding more expansions.
As content as Morgan appears, then, she will know that there is a real danger of pupils across the country having to travel miles to get to their nearest available schools. Gove might well be feeling a little relief that he's ended up at the Ministry of Justice and no longer has the time to keep a close eye on his successor's work.