As the chancellor prepares to unveil the latest Comprehensive Spending Review and Autumn Statement, each government department is trying to make sure that it isn't the one where savage savings are found. So, where will the cuts be made?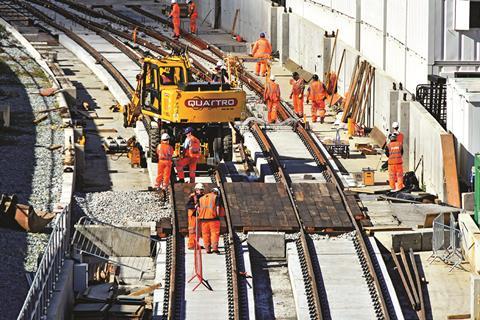 Many a chancellor of the exchequer would want to lie low following defeat over their central and most controversial reforms. George Osborne's plans on controlling welfare spending have seen Labour, Liberal Democrat and cross-bench peers unite to vote to delay £4.4bn of cuts for 3.3 million families in an unprecedented show of strength by the House of Lords.
While the Conservatives have argued this was "a constitutional outrage", the press have described the defeat as "embarrassing" for Osborne and possibly even damaging for his hopes of eventually succeeding David Cameron as prime minister. But Osborne does not have the luxury of hiding in the shadows. On 25 November, the chancellor will unveil the results of his Comprehensive Spending Review (CSR) and his annual Autumn Statement.
The latter is very similar to a budget, letting the chancellor unveil plans for economic growth. The CSR, Osborne's first since October 2010 (see box), will set out longer-term investment plans and how the government intends to balance the country's books by 2019/20.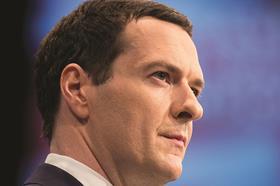 This summer, government departments were asked to draw up plans to model two scenarios that would see their budgets cut by 25% and 40% in real terms over the coming four-and-a-half years. Only spending on the NHS in England, schools and international development commitments are guaranteed protection from these reductions, meaning the rest of Whitehall must come up with £20bn of savings.
Ministers are still striking their bargains with the Treasury over what they must cut, while they are also fighting for protection for their investment plans in the Autumn Statement. As one minister puts it, "there are still quite a few options on the table" for every department that is looking to make sure it is not one of those that will be asked to make the more savage 40% cuts.
Here, Building profiles the decisions Osborne must make which could see construction feeling the pinch, and reveals the current Westminster rumours over where the axe might fall.
Railways
A source at High Speed 2 (HS2), the £42.6bn railway planned from London to Birmingham where it will divide to continue on to Leeds and Manchester, says executives are "feeling pretty chipper" about the forthcoming announcement. "In terms of everything the chancellor has said on the northern powerhouse, he couldn't really get away with cutting anything from the budget," the source says, referring to Osborne's grand vision of massively upgrading infrastructure in the North. "HS2 is seen as the most important way of creating the northern powerhouse. HS2 funding is safe – it's going to be one of the few good stories to come out of this for the Department for Transport."
The Department for Transport (DfT) has already had to deal with a £545m budget cut for the current financial year, which it partly met by reaping £345m from selling land around King's Cross station. But the Treasury has since been infuriated by Network Rail's deepening problems, which included brief "pauses" to the electrification of the Midland Mainline and trans-Pennines railways. Osborne's officials are also concerned by the state-backed group's debt mountain, which could amount to £50bn on the national books by 2020.
Network Rail's five-year upgrade programme, worth £38.5bn, is currently being reset by new chairman Sir Peter Hendy, because construction inflation threw existing plans into disarray. "They can't throw money at Network Rail," says a source close to the DfT. "That's why they're already reprioritising everything [within the five-year plan]. No one thinks that Network Rail is going to get any more money."
Osborne had planned to give Crossrail 2, the £27bn plan for a line running between north-east and south-west London, at least £100m in his summer Budget to help work out the finer technical details of the proposals, such as the route and technical assessments. This, though, never materialised and Boris Johnson, the London mayor, fumed that £250m of funding was "essential" so work could get under way, as planned, around 2020 [see comment, page 23]. With more than 18,000 workers employed during the peak construction years, Crossrail 2 would provide a huge boost to the London economy.
Yet the rumours swirling around those close to the project suggest that Osborne might have offered only £20m - less than a tenth of what is required to keep the project moving. "It could be that's what Osborne has put on the table and he's waiting for them [the Crossrail 2 development team] to come back with a revised number [on what they need]," says a senior rail industry source.
Agencies and roads
Roads were one of the big winners in last year's Autumn Statement, with £3bn committed to new projects in 2015-21 and a further £6bn ringfenced for maintenance. This included the long-mooted tunnel under Stonehenge and £1.5bn of improvements on the A14 from Huntingdon to Cambridge.
Roads are unlikely to get any such boost this time around. Highways England, which looks after the strategic road network, is already trying to save £1bn by working more efficiently – for instance, by planning work better to minimise disruption to drivers.
Perhaps more interestingly, Osborne could also signal the further transformation of Highways England. Previously known as the Highways Agency, the rebranding is part of the corporatisation of the group – it became a government-owned company in April - which allows managers to be semi-autonomous from the DfT on day-to-day work.
A Whitehall source says DfT is "very, very nervous" about releasing its plans, which the source says include tie-ups with large engineering consultants who would oversee much of the future work, because they could look like semi-privatisation. Roads officials have been keen to stress for years that there are no ambitions for eventual privatisation, but trade unionists have long suspected that this is the government's end-game for Highways England.
The commercialisation of Whitehall, from semi-privatising the probation service to outsourcing management of Defence Equipment and Support, which looks after and orders military kit, has been a signature of the Cameron years.
The source says this trend is likely to continue beyond Highways England this month, with further reform of the Environment Agency, which builds flood barriers, also possible in the announcements.
School places
One minister says that although there has to be investment in school buildings as part of the protected budget, this "doesn't mean the funding pot is growing". The source adds: "The education department has put in for whatever it can get, in terms of school places in particular, because there's a demographic bulge coming."
It is understood that ministers are hopeful of securing finances for annexes and buildings at existing schools, as well as approving new schools in areas where there is a surge in pupil numbers. The government estimates that 200,000 more primary school places are needed across the country by 2020 as a result of higher birth rates, rising immigration and poor planning in previous years. The Local Government Authority has calculated that £12bn will be needed to accommodate extra students in England over the next decade.
There is a lot of pressure on capital spending in London: almost one-third of applicants did not get their first choice secondary school this year, down on 2013 and 2014. The proportion who did not get any of their six choices rose from 5% to 6.5%.
But there are also problems in other major cities, such as Manchester and Birmingham. It is understood the chancellor could agree to plans to build a few new primary schools in or around urban areas of the Midlands.
Justice
A Ministry of Justice source says that plans for a consultation on hiking court fees, hugely disliked by lawyers, has been "delayed" as a result of CSR negotiations. Lord chancellor Michael Gove is under tremendous pressure to reduce costs in the British legal system, because it is one of the most expensive in the world.
However, he also wants to improve jails so they are no longer "places of violence, squalor, and idleness", as the chief inspector of prisons, Nick Hardwick, recently described them. Gove wants to grant prison governors the same freedoms as a head teacher or an NHS manager, which
would give them some discretion on upgrading their facilities.
He also wants to sell decrepit inner city prisons to developers who would pay handsomely for such prime development land, leaving the department with some money to build more modern jails that have facilities to improve their education offer and, hopefully, reduce re-offending rates.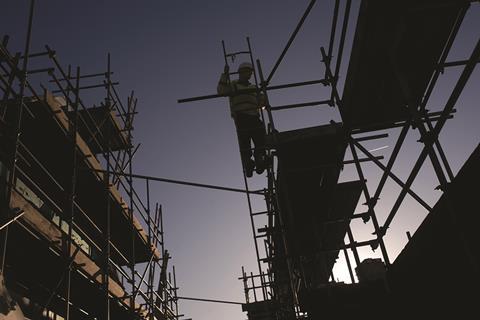 Housing supply
It is understood that the Department for Communities and Local Government is still some way off finalising its CSR settlement and Autumn Statement settlement, though Liverpool is "confident" of securing a devolution deal, according to city council chief executive Ged Fitzgerald.
Experts believe there could be a new round of these city devolution deals - which impose an elected mayor but give urban regions greater control over capital spending - at the heart of the Autumn Statement. Osborne is a devolution enthusiast, believing that such spending decisions are better taken at the local level, where representatives have the knowledge of where investment is needed.
In its submission to the CSR, the National Housing Federation (NHF) pledged to build 25% more homes each year by 2020. However, in exchange it wants devolution to mean that there is greater local control over the "release of land at a price that can deliver homes of every tenure".
The NHF also suggests it could help the government meet energy efficiency targets, by changing the way the Energy Company Obligation works. A stream of this funding could be made available to housing associations, which would then incorporate it into their strategic investment plans.
"Funding for social housing providers could be conditional on programmes delivering energy improvements, where practicable, for a percentage of private rented and homeowners on their estates, particularly where the landlord is the freeholder," the submission argues.

The 2010 spending review
Osborne announced a 19% four-year cut in departmental budgets, with the assumption that around 490,000 public sector jobs would go. This included a 7.1% cut in council budgets, while funding for social housing was slashed by 60%, with rents increasing.
The government scrapped plans for a tidal barrage on the Severn Estuary but found £1bn for the new Green Investment Bank. The environment department and foreign office saw their capital spending slashed by 34% and 55% respectively. Although the NHS' budget was protected, with a budget rise of 0.4%, this did not protect capital spending, which was down by 17%.
Plans for 1,500-place "titan" prisons were dropped, as the Ministry of Justice was hit with a 50% cut in capital spending.
The DfT saw £30bn ring-fenced for its projects, including £500m for the Tyne & Wear Metro and Tees Valley bus network. The first leg of Crossrail, from west to east London, was also approved.

Join us to debate the outcome of George Osborne's announcements the day after they happen, at this year's Building Live event on 26 November.
To book tickets go to: www.building-live.co.uk/programme