This week's cladding products range from insulated wall panels for the new Aldi distribution centre in Goldthorpe, Barnsley, to a fibre cement Equitone facade being installed at the Festival Hall in Erl, Austria
Fibre cement slates
Marley Eternit has supplied their Thrutone fibre cement slates for the garden studio project, Bristol. The project's aim is to extend the existing concrete garage structure to create a new studio in the garden of a Victorian terraced house. The company says the Thrutone fibre cement slates were chosen because of their flexibility and environmental credentials, achieving an A+ rating in the BRE Green Guide. Main contractors Moon Design & Build used the slates to create vertical cladding on the garage facade.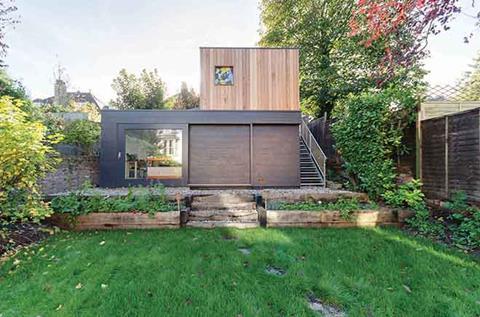 Marley Eternit
www.marleyeternit.co.uk
Insulated wall panels
Insulated wall panels from Kingspan have been selected for the new Aldi distribution centre in Goldthorpe, near Barnsley. The project consists of a warehouse, chilled-food storage areas and new office space. Approximately 20,000 m2 of Kingspan's controlled-environment insulated wall panels have been specified for the project. The centre is due to open in 2015.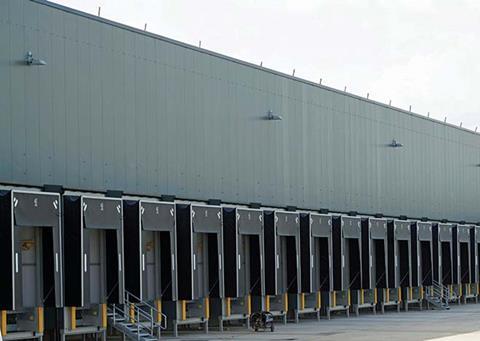 Kingspan Panels
www.kingspanpanels.co.uk
Render system
Saint-Gobain's Weber.rend MT render system has been specified by contractor Leadbitter for a new secondary school and community campus in Bridgend, South Wales. The Weber.rend MT is a multi-coat system incorporating glass-fibre mesh-cloth reinforcement and a resin-rich adhesive coat. The company said that the Weber.rend MT system was chosen as it is ideal for large areas without the need for expressed joints, making it a fast, efficient system in conjunction with modern construction needs. Weber.rent MT is available in a range of different colours.
Saint-Gobain
www.saint-gobain.co.uk
Masonry protection cream
Masonry repair solutions company Safeguard Europe has launched Stormdry masonry protection cream, a breathable, water repellent for brick, concrete and stone walls. The company said that Stormdry helps to improve the thermal performance of buildings as dry walls have better performance than damp ones. Stormdry is supplied in the form of a deeply penetrating cream that is applied to the wall surface using a roller or brush.
Safeguard Europe
www.safeguardeurope.com
Curtain walling, windows and doors
Architectural aluminium systems manufacturer Metal Technology has supplied window, door and curtain walling products at the City View office scheme in Aberdeen. Metal Technology's system 4-35 Hi+ casement windows were installed, along with their System 17 curtain walling and 5-20D Doors. The System 17 utilises polyamide break profiles that have been designed to minimise heat transfer across window profiles.
Metal Technology
www.metaltechnology.com
VIVIX facade panels
Surfacing products company the Formica group have added to their range of rainscreen cladding products with the introduction of VIVIX exterior facade panels. The VIVIX range introduces eight new wood decors and eight new styles. The full VIVX range is FSC certified and is manufactured in the United Kingdom to ISO 9001 standards. The company said VIVIX panels do not create dust when they are being cut, and are easy to clean and maintain.
Formica Group
www.formica.com
Rainscreen Facade
A fibre cement Equitone facade has been installed at the Festival Hall in Erl, Austria. Equitone is an exterior rainscreen facade material that combines aesthetic durability and impact resistance. The company said Equitone was chosen as the material allows the texture of the fibre cement to show through and its tactile, smooth surface further accentuated the symbiotic relationship between the two buildings. Equitone is available in a range of colours and finishes, including an anti-graffiti coating.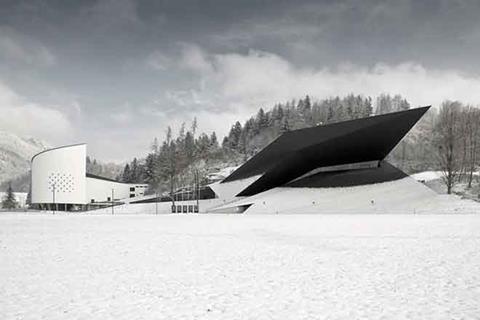 Equitone
www.equitone.co.uk
Premium Cladding
Twinson premium cladding from Deeplas has been specified on nursery and classroom buildings at three schools in Ireland. The cladding was installed at Annalong Primary School in Annalong, Bronte Primary School in Banbridge and Drumadonnell Primary School in Moneyslane. The cladding is available in bark, liquorice or turf colours, and is manufactured using wood from sustainable replanted forests.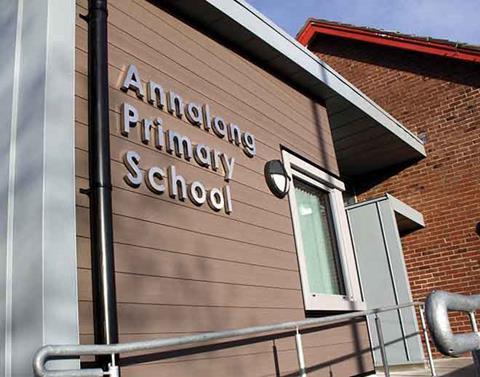 Deeplas
www.deeplas.co.uk
Movers and Makers
Styrofoam and Xenergy extruded polystyrene (XPS) insulation products are now available from a wider stockist network, offering a UK-wide coverage for builders and contractors. Manufacturer Dow Solutions has made the list available on its website at www.styrofoam.co.uk, which enables those looking for the XPS products to search by postcode or locationThe company says extruded polystyrene has uniformly small, closed cells and a smooth surface "skin", producing a set of properties not commonly found in one package.
Architectural aluminium glazing systems manufacturer Technal has launched a range of Building Information Modelling (BIM) components through BIMstore. The range of Technal's facade, window and door systems is now available on BIMstore's website, allowing specifiers to search and download the glazing components for free, to use in their own BIM modelling. The company says that by making their systems readily available on the BIM database, they are providing the industry with a wealth of product information for use at the earliest stage in the building design process.
SIG Zinc & Copper has launched a new decoiler machine, aimed at reducing the amount of zinc and copper that goes to waste. The company claims that substantial savings can be made when specifying hard metals for a roofing or cladding project, as the decoiler machine will give you the exact materials you want, in the format that suits the project. The Zinc sheet is manufactured in the Netherlands, fabricated in the UK and delivered through the SIG national supply chain.