This week's housing products include the installation of Redland 49 roof tiles to prevent the vortex effect for homes under the Heathrow flight path and a 150 window replacement job for Kirklees council
Linear wood ceiling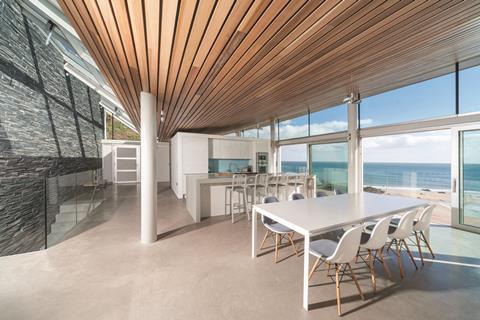 Hunter Douglas has created a solid, linear wood ceiling for a coastal house at Coldingham Bay in the Scottish Borders. The wood has been fire treated and is suitable for internal and external applications. The company said its product was chosen due to its aesthetic qualities and longevity. Internally, the wood has been designed with a black, non-woven felt to provide some acoustic absorption. Externally, Hunter Douglas employed a powder-coated, black, metal infill to prevent danger from wildlife.
Hunter Douglas
www.hunterdouglas.co.uk
Garden Edging
The EverEdge classic range of 1m-long lawn and garden edging is now available in Corten steel. Corten is a type of steel which is designed to weather naturally but not break down like regular steel. The company says it decided to introduce Corten steel to their range as it is now one of the most popular materials, particularly after being used in the Chelsea flower show gardens for several years. EverEdge Classic Corten is available in 100 or 125mm depths and is 1m long x 1.5mm thick.
EverEdge
www.everedge.co.uk
Tiles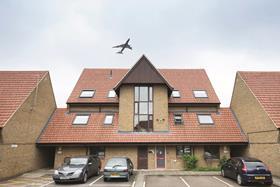 The Redland 49 tile from Monier Redland has been specified to replace roofs around Heathrow airport that have been damaged by the vortex effect. A vortex is a circulating eddy of air, caused by low-flying aircraft, resulting in tiles being sucked off the roofs. The company says the Redland 49 tile was chosen as it is one of the few products to have passed stringent wind tunnel tests, qualifying it for use in this project. Redland 49 is a small interlocking concrete tile that has been in manufacture for 65 years.
Monier Redland
www.monier.co.uk
Self-adhesive panels
Marbrex has launched a range of self-adhesive tile-effect panels. The panels are 5mm thick with a large 500mm tile effect, and are available in slate and granite finishes. The company claims the panels are a fast and effective alternative to using tiles as they reduce the installation time without compromising on quality or finish. The panels can be fitted to both walls and ceilings, and are waterproof - meaning they are suitable for all wet areas.
Marbrex
www.marbrexpanels.co.ukz
Fire doors
Ahmarra has supplied more than 1,000 high-performance fire doors for a residential project on Commercial road in east London. The scheme consisted of transforming a former whisky warehouse into 346 luxury apartments. The doors supplied by Ahmarra were faced in Formica Laminate in a selection of different colours. As both safety and noise reduction were important factors in the design, the doors were fire rated from FD 30 to FD 120 and offered acoustic ratings up to 29 RwdB.
Ahmarra
www.ahmarra.co.uk
Windows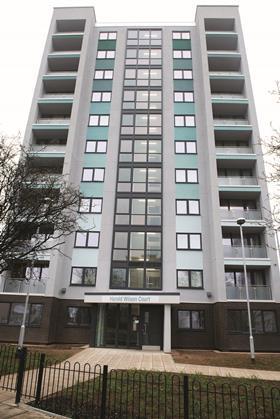 Profile 22 has supplied 150 replacement windows as part of a refurbishment programme for Kirklees council. As part of the original brief for the scheme, the windows were required to achieve a U-value of 1.4W/m2K but under the guidelines of Passivhaus the windows had to get down to a reading of 0.84W/m2K. The company says its products were chosen as they were the only ones capable of achieving the required rating. In addition to the replacement windows, Profile 22 curtain walling and balcony doors were also installed.
Profile 22
www.profile22.co.uk
Soakaway system
220 AquaCell prime units from Wavin have been specified below a parking area at a new apartment complex in Nottinghamshire. The project required a soakaway system to help reduce the risk of flooding. The company said its product was chosen as it has been specifically designed for use in areas subject to regular traffic loading, such as car parks. The AquaCell units were fitted to the rear of the apartment block to create a 5m x 10m x 0.8m-deep cellular unit soakaway.
Wavin
www.wavin.co.uk
Electric shower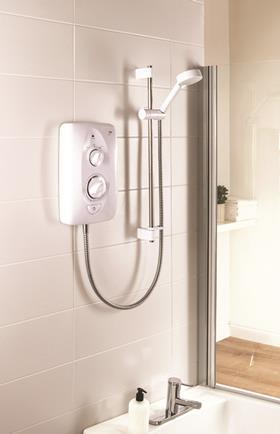 Mira Showers has launched the Jump Multi-fit electric shower. The shower comprises "select & forget" controls with a push button to start and stop, and comes complete with a four-mode, full rub-clean handset. The company claims the benefits of this product for customers include an affordable shower that will outlast less competitive products and deliver a powerful, drenching shower while incorporating the latest in contemporary styling. The Jump Multi-fit electric shower is available in three power ratings: 8.5kw, 9.5kw and 10.8kw.
Mira Showers
www.mirashowers.co.uk
Movers and Makers
Volution Holdings Limited has announced it has acquired the assets and business of Oko-Haustechnik inVENTer GmbH. Established in 1999, inVENTer is a manufacturer of decentralised residential heat recovery ventilation products in Germany. The company claims that the purchase of InVENTer will ensure they can deliver distinctive energy-efficient ventilation solutions across continental Europe.
Ventilation manufacturer Vent-Axia has been awarded the "best brand new product of the year" at the housebuilder product awards 2014. Vent-Axia claimed the award with its Lo-Carbon response range of fans. The company says the Lo-Carbon response won the award due to its unique digital display, which helps housebuilders ensure optimum performance and comply with building regulations.
Guardian Glass UK has announced the launch of its new online training centre. The training centre comprises a video learning library, which covers different aspects of industry knowledge in short film format. The videos are supported by online CPD training sessions. The company said participants can also learn other vital information such as how changes to Building Regulation Document L impact glass and glazing specification on new projects.
GDL has updated its Intellivent Natural Ventilation brochure to incorporate its latest product lines with a revamped style. The new brochure contains technical information explaining where GDL's natural ventilation systems would be suitable and applicable, along with relevant case studies. The company says it has significantly extended its product range to offer customers more choice of sustainable and solar-powered ventilation, with the option of incorporating natural lighting throughout all building types.