A round-up of some of the latest envelope systems, as seen on a Cornish showground, schools in
Stockton-on-Tees and Carmarthenshire, and the Jewish Museum in Berlin.
Movers and Makers
Contour Casings' BIM-enabled fabrication website has been shortlisted as a finalist in the "Best use of website" category at this year's National Construction Marketing Awards. All architectural aluminium and low surface temperature radiator solutions offered by the company can be downloaded directly from the site as BIM objects. Traditional CAD documents, in a range of file formats, are also hosted alongside the BIM "Quick Link" buttons on each product page.
Lakesmere Group has established an office on King William Street in the City of London. The move follows the company's appointment of Chris Oatridge to the role of business development director (London) to help identify opportunities in the high-rise, mixed-use and residential sectors in London and southern England. Lakesmere has expanded its existing range of services following the integration of McMullen Facades, a specialist glass facade designer and contractor.
Knauf Insulation has launched a library of BIM objects that are free to download from the company website. The objects have been created in consultation with architects already using BIM and in accordance with BS ISO 16739:2013 and BS 8541. The library contains more than 200 objects, each containing information including thermal conductivity and resistance, product size and form, third-party data and BBA certifications, sustainability information and any other certifications.
Aluminium rainwater system manufacturer Alutec has launched a range of BIM components and systems, which have been designed in partnership with Bimstore. Alutec will be highlighting its BIM files at this year's Ecobuild event, and will be holding live presentations on its stand.
Breather wall membrane
Manufacturer DuPont has launched Tyvek FireCurb Housewrap, a breather membrane for buildings that limits the propagation of flames. Tyvek FireCurb uses a patented technology to reduce the flammability of polymer-based substrates. The product has a fire rating of class B-s1,d0 under the European standard EN 13501-1.
DuPont
www.flameretardant.tyvek.com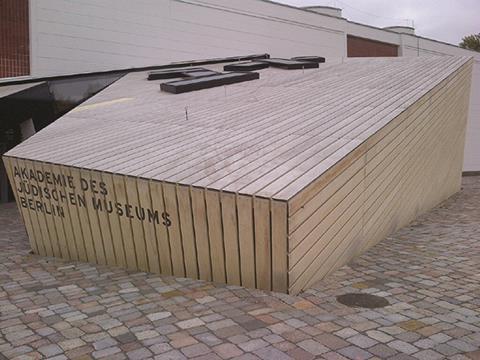 Modified wood cladding
Accoya, the modified wood product manufactured by Accsys Technologies, has been selected as the main cladding material for the Academy of the Jewish Museum in Berlin. Designed as an extension to the Jewish Museum, the 25,000ft2, one-storey academy has been created with cube-shaped timber structures, which will house the museum's library, archives and education centre. Manufactured using Accsys Technologies' proprietary process, the company claims Accoya is able to match or exceed the performance attributes of tropical hardwoods. Accoya is manufactured using wood sourced from forests certified by the Forest Stewardship Council.
Accsys Technologies
www.accoya.com
Facade panels for Norway
Vivix facade panels from Formica Group have been installed at the new control tower for Kristiansand airport in Kjevik, Norway. Vivix panels in Storm - a dark grey - were specified by Archus Architects and Wiig og Horgmo Architects as they can be cut into a variety of shapes, making them suitable for the control tower's egg-inspired shape. Vivix panels carry the Carbon Trust's carbon reduction label and are manufactured in Europe to ISO 9001 standards. The panels meet fire class B-s1, d0 (EDF 6 mm) under European standard EN 13501-1 and are available in plain colours, abstract patterns and wood grains.
Formica Group
www.formica.com
Mechanical concealed fix cladding support
Gloucester County Roofing has supplied Nvelope Rainscreen Systems' NV3 mechanical concealed fix cladding support system to a new Morrisons store in Abbeydale, Gloucester. The support system consists of brackets, L profiles and a horizontal rail and cleat, all manufactured from extruded aluminium alloys conforming to BS EN 573-3 and BS EN 755. The company says that the concealed fixing provided by the NV3 system gives the store an aesthetically pleasing finish.
Nvelope Rainscreen Systems
www.nvelope.com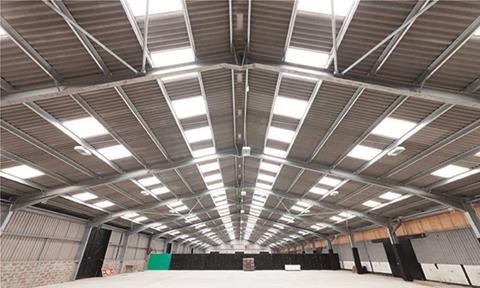 Fibre cement profiled sheeting
Profile 6 sheeting from Marley Eternit has been used to complete the new exhibition hall at the Royal Cornwall Showground at Wadebridge, Cornwall. Smiths Gore's architecture and building surveying team in Truro specified Profile 6 for the roof and vertical cladding because it provided the most complementary aesthetic to existing buildings on the showground. The company claims that the fibre cement profiled sheeting is particularly suitable for such large, multi-purpose facilities, especially those that house animals and livestock, because it is cost effective, reduces reverberation from wind and rain and tackles condensation.
Marley Eternit
www.marleyeternit.co.uk
Curtain walling on Welsh school
Building systems provider Aluk's doors, windows and curtain walling solutions have been supplied for the refurbishment of the Maes Yr Yrfa School in Cefneithin, Carmarthenshire. The SL52 curtain walling system was specified by Lawray Architects along with the 58BW window system and the GT55 NI door system. The company claims the SL52 system enhances the aesthetics of a building while providing the performance required to meet current standards.
AluK (GB)
www.aluk.co.uk
Steel and aluminium envelope systems
Steel and aluminium glazing company Wrightstyle has extended its system range by becoming a network partner for global building envelope company Schueco. All Wrightstyle staff have been trained and approved by Schueco, allowing the Devizes-based firm to offer a range of both steel and aluminium enhanced systems to mitigate against fire, or ballistic and explosive attack.
Wrightstyle
www.wrightstyle.co.uk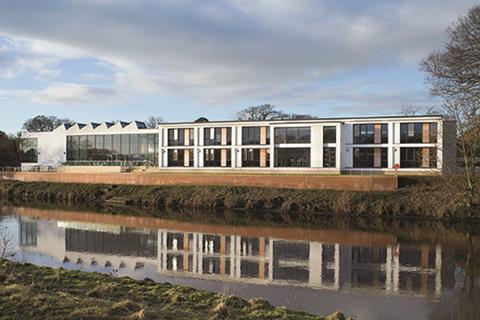 Aluminium glazing systems
A series of architectural aluminium glazing systems from Technal has been used in a redevelopment project at Yarm School, Stockton-on-Tees. Technal's GEODE-MX Visible Grid curtain walling system was used for the dance studio, classrooms, corridors, and to create a double-height entrance foyer for the auditorium. The GEODE-MX SG Mechanical option was selected for the music room - this system allows a flush glass facade and reduces the amount of visible aluminium. The GEODE-MX Visible Grid system can be used to create flat or faceted facades up to 20° and can accommodate large spans of 6-32mm glazing. The company says the system is engineered to achieve excellent thermal performance.
Technal
www.technal.co.uk