This week we have some interesting settings for commercial products, including a fashion house in Manchester, the depths of Amsterdam's subway system and Volkswagen's HQ in Milton Keynes
Aluminum Ceiling Panels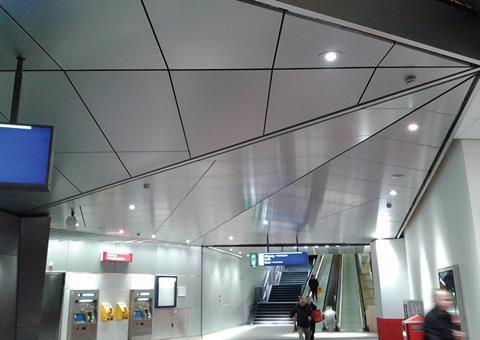 Hunter Douglas has launched a new aluminum ceiling panel system, which has been used for Amsterdam's North-South subway line. The panels have a maximum length of 2.5m and are suitable for heavy duty commercial projects.
The company claims the panels are unique as they retain their flat appearance, whereas most panels that size would bend under their own weight. The panels are made up of a double layer of aluminum separated by a honeycomb filling.
Hunter Douglas
www.hunterdouglas.co.uk
Flooring products
More than 750m2 of Polyflor's flooring products have been used as part of the new headquarters of fashion house SRG Apparel, in Whitfield, Manchester. The products, specified by architect Jenkins Design of Bury and installed by Bramhall Flooring, included Expona Control, Expona Design, 2000PUR, Polysafe Arena and Modena PUR.
Polyflor claims these products were chosen as they are specially developed to meet the needs of heavy commercial environments. They were used
in the entrance hall and showroom of the new 3,716m2 headquarters.
Polyfloor
www.polyflor.com
Pre-fabricated wiring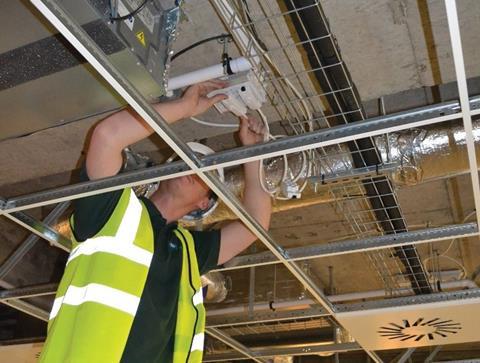 Hager's Klik.System has been installed in new offices in central London (pictured below). The prefabricated wiring system provides power to the lighting control units throughout the new seven-storey building. The company claims Burgin Contracting chose the Klik.System as it is very simple to install and operate.
The Klik.System is delivered complete with detailed drawings, electrical calculations and test information. Hager says it has been designed to operate continuously with minimum maintenance thanks to a range of self-monitoring functions.
Hager
www.hager.co.uk
Trend control system
Building and energy management systems specialist ABEC has installed a trend control system at Volkswagen's new headquarters in Milton Keynes. Working with M&E contractor Briggs & Forrester, ABEC designed the system with energy efficiency as the main priority. The installation will enable the control and monitoring of fan coil units on all floors, along with five primary air handling units, low temperature hot water plant, chilled water and cold water. ABEC claims its system was chosen as it is designed to be efficient and is easy to install and maintain.
ABEC
www.abec.co.uk
Stone panel system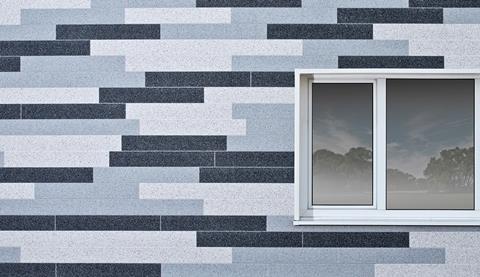 Cladding specialist Vinylit has introduced the Vinystone design, a new panel system featuring natural stone chippings in 1200 x 1800mm "planks". The company claims the Vinystone panels are suitable for public sector buildings because of their ease and speed of installation, versatility and long life.
The panels are made up of a natural stone chip, and come with the addition of a "v" groove, making them suitable for exterior walls. The Vinystone panels are available in a range of 14 different colours.
Vinylit
www.vinylit.com
Heat recovery
Daikin Europe has launched the VRV IV heat recovery system, a building solution that provides hot water and heating. The VRV IV system has been designed with variable refrigerant temperature technology, which means the system uses less power, making it more efficient in the process. Daikin claims the VRV IV system delivers optimal comfort for commercial buildings, as well as reducing energy costs and CO2 emissions. The system is installed through the VRV configurator and is supplied with an operating manual.
Daikin Europe
www.daikineurope.com
Coloured seating
CPS Manufacturing was chosen to supply chairs to create a "love it or hate it" seating venue. The Asset A30 chair was specified for the project, which required 10 different types of fabric covering for 88 seats. The company claims the chair was chosen due to its flexibility and levels of comfort, as well as being easy to install. The Asset A30 chair is available in a wide range of finishes.
CPS Manufacturing
www.cpsmanufacturing.com
Movers and Makers
Water management specialist ACO Technologies has been awarded certification from The Carbon Trust, a mark of excellence in recognition of reducing carbon emissions company wide. The certification means ACO now complies with the impending EU Energy Efficiency Directive (2012/27/EU). www.aco.co.uk
Zehnder has launched a new video on Youtube explaining how its clean air solutions system works. The video looks at the issues Dacon Fabrications was experiencing in the workplace, such as undesirable levels of dust and fumes, and highlights how the clean air solutions system tackled these issues. www.youtube.com/watch?v=fSwdIpsZ_ZM
Knauf Insulation has been named manufacturer of the year at the national Building Awards 2014. Receiving the award, John Sinfield, managing director of Knauf Insulation Northern Europe, said the company was recognised for its dedication to sustainability, and its innovative approach to growing the construction industry as a whole. www.knaufinsulation.co.uk
Komfort is to offer building information modelling (BIM) objects for its Polar Vision glazed partitions system. Komfort says it will offer BIM across more of its product ranges in preparation for the government mandate that all centrally-procured contracts will need to comply with Level 2 BIM from 2016. The new BIM products will be available in Bentley and Autodesk Revit software formats. www.nationalbimlibrary.com
Luxonic Lighting has released a new brochure for its range of LED emergency lighting. The 12-page document covers the full LED lighting test system in detail, with information on current regulations relating to emergency lighting design. www.luxonic.co.uk