This week's housing products include aircrete blocks used in five luxury apartments in Kent and the transformation of shipping containers into student accommodation in Norway
Shingle Cladding
John Brash western red cedar shingles have been chosen for the exterior cladding of the Beveridge Mews Development in Stepney. Cedar shingles were chosen to help the block of eight properties unify a brownfield site, previously thought of as unusable for residential development. Surrounded by existing houses, the company says the timber cladding was thought to continue the visual of current fencing and enable the houses to blend into their environment. John Brash says their cedar shingles offer a high degree of thermal insulation (with a value of K=0.1067W/moC) and, additionally, when designed as part of a low or zero carbon project, can contribute significantly to sustainable credentials.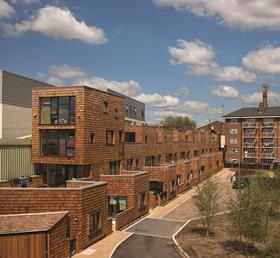 John Brash
www.johnbrash.co.uk
Insulated balcony connectors
Construction fixings specialist, Ancon, has extended its balcony connector range to include three thermally insulated systems designed to minimise the effects of cold bridging at concrete-to-concrete, concrete-to-steel and steel-to-steel interfaces. The cold bridge, formed by direct-fix balconies or where a continuous reinforced concrete slab is used, can affect a building's thermal performance and lead to problems with condensation and mould growth. The new Ancon systems, called Isotec, STC and STS, are designed to provide an effective thermal break while maintaining full structural integrity by transferring shear, tension and compression forces at the joint.
Ancon
www.ancon.co.uk
Axial fan
Airflow Developments has launched iCONstant, a dMEV continuous running axial fan, for new build and refurbishment projects. Airflow say that iCONstant has been designed for use in domestic wetrooms, is quiet and operates using a low-energy motor offering a yearly running cost of approximately £1.50, if operated under normal conditions. The iCONstant's intelligent humidity sensor is able to recognise an increase in humidity, and activates the boost speed before the pre-set value is reached so that preventative ventilation commences. In addition, the iCONstant has achieved IPX5 ingress protection rating, so it can be installed within zones one and two of a bathroom or en-suite.
Airflow Developments
www.airflow.co.uk
Downpipe
Aluminium rainwater system manufacturer Alutec has extended its Tudor downpipe range to include a 76mm pipe for high flow rate applications. Alutec suggest that the Tudor downpipe offers a lightweight and cost-effective alternative to traditional cast iron rainwater systems for heritage and period style properties. The Tudor downpipe range is available in 21 standard colours and is compatible with Alutec's traditional range of aluminium gutter systems. The Tudor downpipe is manufactured in accordance with the appropriate British standards including BS 8530:2010.
Alutec
www.marleyalutec.co.uk
Aircrete blocks
A development of five luxury apartments has been constructed to Passivhaus principles using H+H aircrete Jumbo Bloks, Foundation Blocks and the H+H Thin-Joint system. Oyster Reach in Whitstable, Kent, was built by contractor Masonry Frame Systems. Masonry Frame Systems specified H+H Jumbo Bloks for the internal and external walls primarily because it is what was needed to meet the demands of this Passivhaus construction. H+H say their aircrete blocks offer an advanced thermal performance which adheres to Passivhaus standards. H+H also say that the Thin-Joint system was chosen for its speed of construction, which allowed follow-on trades to start work sooner in a weatherproof environment, while retaining the flexibility of on-site construction. The development was completed in 12 months with a total build cost of £1.1m.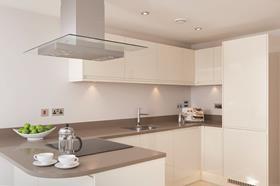 H+H UK
www.hhcelcon.co.uk
Pipe box casing
Pendock pipe box casings have been chosen to conceal and protect a sprinkler system at Marsden Court, a 13-storey sheltered housing scheme comprising 71 flats in Pudsey. Leeds council specified Pendock for the supply of 2,100m of 8mm MX profile and pipe boxing in a white melamine finish, which was installed at high level in communal corridors and residents' flats including the bedrooms, living rooms, kitchens and hallways. The casing was chosen as part of a scheme to retrofit sprinkler systems across high-rise housing stock managed by local authorities following inquests into two fatal fires at high-rise blocks in the south of England. Leeds council chose Pendock pipe box casing as it fulfilled the council's aesthetic requirements.
Pendock
www.pendock.co.uk
External Wall Insulation
Airey houses in west Norfolk are being restructured and clad with external wall insulation by Saint-Gobain Weber. The Airey houses feature pre-cast, large format blocks as cladding hung on a reinforced concrete frame structure and were constructed as a fast-build solution to post-Second World War housing needs. Saint-Gobain Weber says external wall insulation was chosen to improve thermal performance and aesthetics of the houses. A typical un-renovated Airey house construction is expected to have a U-value of
2.0 W/m²K. Saint-Gobain Weber has calculated a U-value of 0.15 W/m²K with the application of 120mm weber.therm EPS to the insulated timber frame construction which will provide an improved living environment for residents.
Saint-Gobain Weber
www.netweber.co.uk
Cladding for shipping containers
Two young entrepreneurs from Norway have formed an innovative response to the demand for student accommodation in the country. Magnus Øgård Meisal and Kristoffer Sørstrønen have had the idea to transform shipping containers into residential flats framed with Accoya wood and clad with Medite Tricoya MDF. MyBox is a pre-fabricated box constructed with Accoya and Medite Tricoya modified wood products, which protect the units from the external environment. The companies say that together the products create an excellent U-value rating and thermal performance. Once the accommodation solution is assembled it will be approved as a permanent building.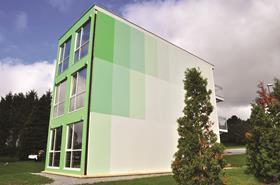 Accoya
www.accoya.com