This week's commercial products include bespoke ceiling panels for the 47 floors of The Leadenhall Building in London, and external wall insulation for the corporate headquarters of DCC in Dublin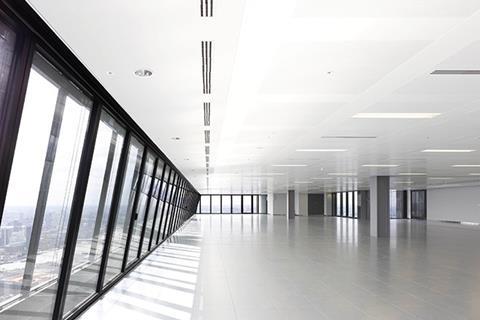 Ceiling panels
SAS International has supplied 57,000m2 of System 330 tartan grid and bespoke triangular panels to 47 floors of The Leadenhall Building. A BIM model was created to ensure compatibility of the ceiling with the existing structure. The company claims System 330 tartan was specified for its robust structure and excellent accessibility. The bespoke triangular panels feature a large half-and-half continuous special perforation for aesthetic quality and acoustic performance. The special perforation used for the north core then became a standard across the rest of the shell and core.
SAS International
www.sasintgroup.com
Movers and Makers
Venture Lighting Europe has released its latest brochure for its high performance Professional VLED Retrofit lamps. The new brochure contains full technical details of the range, including the number of lumens produced per watt, colour temperatures and more. The brochure can be downloaded from the company's new website www.venturelightingeurope.com.
Specialist insulation company, Armacell, has announced that BIM objects of its Armaflex product ranges are now free to download from the NBS National BIM Library. BIM objects listed in the library include tube and sheet range products suitable for the leading Revit Building Design software and in IFC format. The company says that specifiers will now be able to use the BIM objects to create realistic, intelligent 3D models of a building to capture, explore and analyse data associated with heating, ventilation and air conditioning (HVAC) within the overall design model.
The Air Distribution Manufacturers Group of HEVAC has revised its Guide to Air Distribution Technology for the Internal Environment. The document is intended as a guide to designers or contractors who install air diffusion equipment. The guide is downloadable free as a PDF and is available from the HEVAC website www.feta.co.uk/associations/hevac/specialist-groups/air-distribution-group.
Roofing and facades manufacturer Marley Eternit has achieved an improved BES 6001 accreditation. The improved concrete rating was achieved by focusing on the responsible sourcing of the raw materials and the supply chain. As a result of the new accreditation, developers specifying any Marley Eternit roofing products will be able to achieve an additional three credits under BREEAM for the use of 'very good' responsibly sourced materials.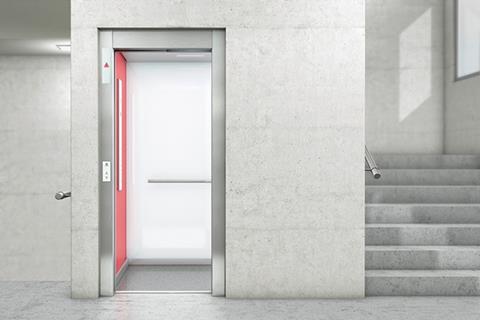 Lifts
Schindler UK has launched a series of new design options, enhancements and energy efficiency features for its Schindler 3300 lift range for commercial and residential applications. The new design options for the Schindler 3300 include three additional car options – 800kg for up to 10 people, 900kg for up to 12 people and 1,000kg for up to 13 people. The company said that the Schindler 3300 combines intelligent design with precision engineering to offer all the benefits of a bespoke lift system with the cost efficiency of a standardised product.
Schindler UK
www.schindler.com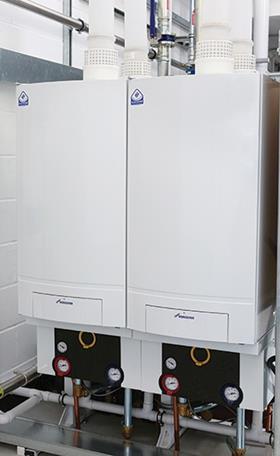 Gas fired boilers
Bosch Commercial and Industrial Heating has enhanced its range of gas-fired boilers with the launch of a 50kW GB162 boiler. The new appliance has been introduced to help bridge the gap between domestic boilers and Bosch's current light commercial GB162 range. The company said the introduction of the GB162 50kW boiler allows heating engineers to benefit from a condensing wall-hung gas-fired appliance, as it is just as suited to large-scale domestic installations as it is in light commercial applications.
Bosch Industrial
www.bosch-industrial.co.uk
External wall insulation
Saint-Gobain Weber has applied its external wall insulation for a refurbishment project at the corporate headquarters of DCC in Leopardstown, Dublin. The specific requirement of the refurbishment brief was to highlight and accentuate these features while improving thermal efficiency in the building. The weber.therm XP EWI with weber.therm M1 one-coat render was applied using 100mm-thick expanded polystyrene insulation. The company says their insulation was chosen as it is thermally efficient and met the project requirements as it improved the U-value from 0.27K/m²K to 0.16/m²K.
Saint-Gobain Weber
www.netweber.co.uk
LED lighting
Indoor and outdoor lighting specialists, Zumtobel, have announced it is adding a number of new products to its continuous-row lighting system. TECTON LED will be added to the TECTON range, combining batten luminaries with other luminaries and reflectors. The company said the new TECTON LED range boasts improved energy efficiency, due to new LED lights, and a significantly pared-down stylistic idiom. The new generation of TECTON LED is available in various colour temperatures of 300K, 400K, and 6,500K at a colour rating of Ra > 80.
Zumtobel
www.zumtobel.co.uk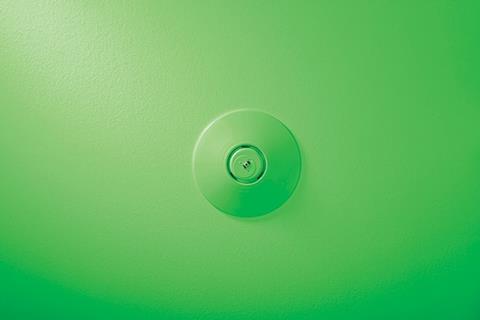 Studio sprinklers
Tyco Fire Protection Products, who specialise in fire suppression technologies, has announced the launch of the RAVEN Studio sprinklers. The sprinklers have been designed mainly for commercial applications such as hotels, casinos, offices, educational facilities and museums. The company says the RAVEN sprinklers provide a quick response, thanks to their heat-sensitive solder type release element. The sprinklers are available in standard coverage for the protection of light and ordinary hazard occupancies and extended coverage for light hazard applications, as defined by NFPA 13.
Tyco Fire Protection Products
www.tyco-fire.com